Dicks Sporting Goods Will No Longer Sell Assault-Style Rifles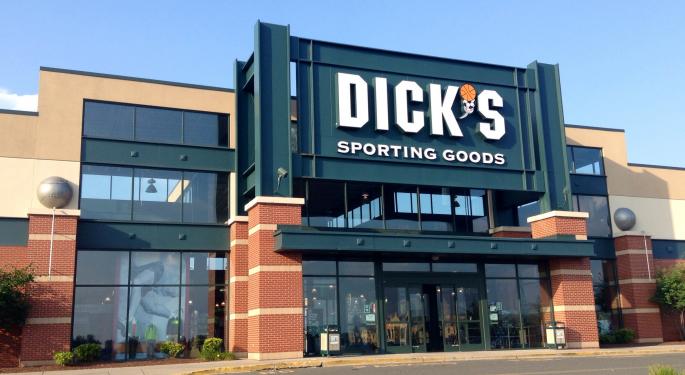 Dicks Sporting Goods Inc (NYSE: DKS) said Wednesday the shooter in the Marjory Stoneman Douglas High School in Parkland, Florida, bought a gun from the company in 2017. While the gun wasn't used in the school shooting, the company feels it's necessary to scale back the type of firearms it sells.
What Happened
Effective immediately, Dick's said it will no longer sell "assault-style rifles," sell any firearm to anyone under 21 years of age, and sell high capacity magazines. The company also emphasized it has never and will never sell bump stocks and other devices that makes a semi-automatic weapon shoot more quickly.
"Some will say these steps can't guarantee tragedies like Parkland will never happen again," the company said in a Tweet. "They may be correct -- but if common sense reform is enacted and even one life is saved, it will have been worth it."
"To think about the loss and the grief that those kids and those parents had, we said, 'We need to do something,'" Chairman and CEO Edward Stack told ABC's "Good Morning, America." "We did everything that the law required and still he was able to buy a gun," Stack said of the shooter. "When we looked at that, we said, 'The systems that are in place across the board just aren't effective enough to keep us from selling someone a gun like that.'"
Why It's Important
Dicks' decision comes at a time when multiple companies are scaling back their relationship with the National Rifle Association.
Delta Air Lines, Inc. (NYSE: DAL) will no longer offer discounted flights to NRA members.
United Continental Holdings Inc (NYSE: UAL) will no longer offer discounted flights to NRA members flying to the organizations' annual meeting.
TrueCar Inc (NASDAQ: TRUE) will no longer offer discounts to NRA members who previously saved on average $3,400 on new and used cars.
Shares of Dicks Sporting Goods were trading up about 1.8 percent at $32.38 Wednesday morning.
Related Links:
American Gun Ownership, By The Numbers
Survey: Gun Owners Not Convinced They Own Enough Guns, Triggering An Upgrade For American Outdoor Brands
Image credit: Mike Mozart, Flickr
View Comments and Join the Discussion!
Posted-In: Gun Retailers Gun Violence guns NRANews Retail Sales Top Stories Best of Benzinga