Volatility Ebbs, Equities Settle In After Yesterday's Gains; Powell Testimony Ahead
The markets appeared jittery in the early going, putting the winning streak in jeopardy ahead of Federal Reserve Chair Jerome Powell's expected insights on the economy, inflation and interest rates later this morning.
In the early going, the benchmarks were mostly hovering on the flat line after yesterday's jolt to the upside. As has been noted many times here, the markets don't like uncertainty. While the Fed's most recent signals about aggressive rate hikes appear mostly muted, Powell's testimony is expected to give them more granularity, according to some analysts. (See below.) In prepared remarks released ahead of his appearance, he repeated a familiar Fed mantra: "further gradual increases in the policy rates will be appropriate…," adding that he will seek "balance" between an expanding and overheating economy.
The markets appear to be relatively convinced that a step up from rates, now sitting at 1.25% to 1.5%, could be coming next month, if the CME FedWatch tool is an indicator. It has jumped to an 87.4% probability reading this morning, the highest we've seen.
Does this kind of market activity mean we might be back to what many Wall Street traders now call the "old" normal days? That's when the markets followed textbook theory: When risk increases, bond prices go up and stocks go down; when risk decreases, stocks go up and bond prices go down. Yesterday's market performance looked more like the correlation of the olden days than much of last year and the beginning of this year did, according to some analysts.
The Dow Jones Industrials ($DJI) finished Monday just shy of a 400-point gain, up nearly 1.6% to close at a level it hasn't seen since Feb. 1. Ditto for the S&P 500 (SPX), which gained nearly 1.2%. The Nasdaq Composite (COMP), which is on pace to finish its eighth straight month of gains, also advanced almost 1.2% to a closing level it hasn't touched since Jan. 29. Leading the way were the financial and technology sectors.
The Amex Airline Index (XAL) also was airborne by nearly 2% yesterday and was up moderately today. (See below.) Elsewhere, shares of Macy's Inc (NYSE: M) jumped as much as 12% in pre-market trading. The parent of its namesake stores, as well as Bloomingdale's, reported earnings that outpaced Wall Street's expectations, revenues that were in line and an upbeat forecast. M also said it is selling some real estate, starting with its iconic State Street store in Chicago. Dillard's, Inc. (NYSE: DDS) shares moved higher after that department-store retailer also turned in better-than-expected results.
Meanwhile, the yields on Treasury notes eased somewhat as bond prices rose. The 10-year yield closed at 2.86%, down from Friday's close of 2.87% while the two-year yield fell 1.2 basis points to 2.23%. Both were mostly unchanged in the early going.
Meanwhile, Wall Street's worry measure, the Volatility Index (VIX), moved in reverse direction, falling some 4.2% to settle below 16. In early trading, it edged over 16.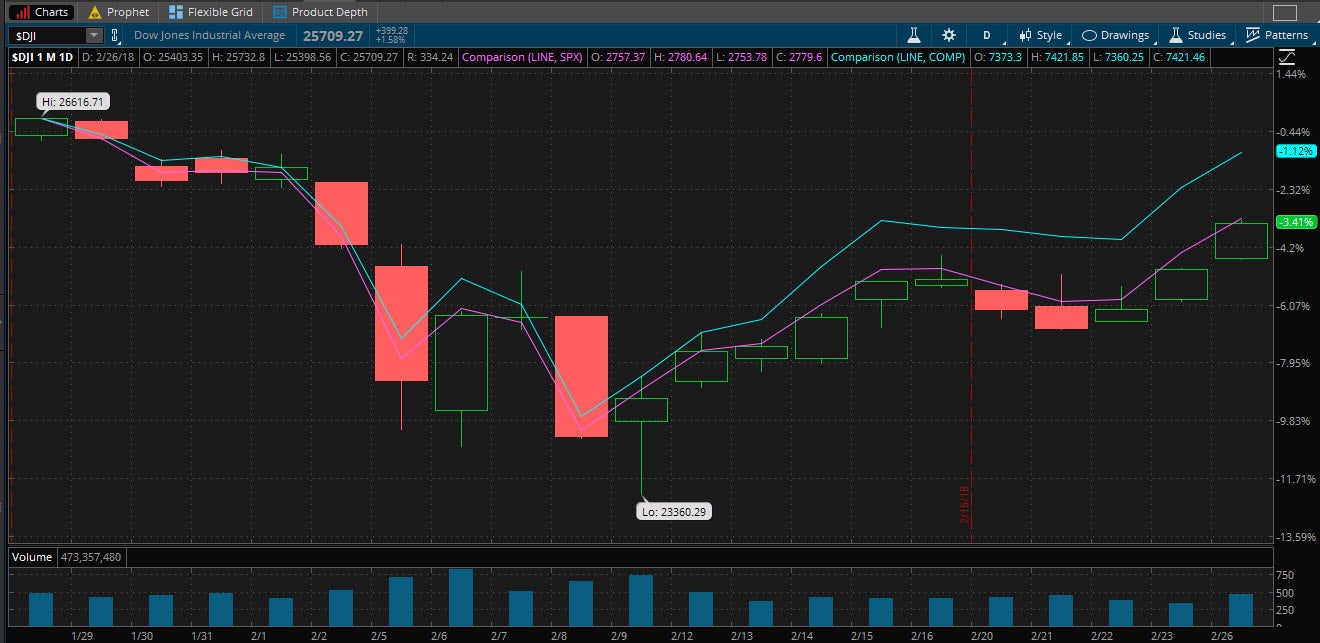 FIGURE 1: ARE WE DONE YET? The market looks like it might be in the midst of making an epic comeback, based on the chart above of the Dow (in bars), the SPX (in purple) and the Nasdaq (in blue) at yesterday's closing. But there's plenty of potential data ahead that could derail the velocity of the recent moves to the upside and today's start appears mostly muted. Data source: S&P Dow Jones Indices; Nasdaq. Chart source: The thinkorswim® platform from TD Ameritrade. For illustrative purposes only. Past performance does not guarantee future results.
When Warren Speaks
What sent airline stocks aloft Monday? Many analysts attributed at least some of the gains to Warren Buffett, who said on CNBC earlier yesterday that he "would not rule out owning an entire airline." Berkshire Hathaway inc. (BRK.B) (BRK/B) already owns nearly $10 billion in shares of the three largest U.S. airlines and Berkshire has some $116 billion in cash that Buffett said he is looking for deals to pursue.
Buffett's traditionally dour attitude about the sector looks like it might have softened. "The industry was suicidally competitive for decades," he said on CNBC. Now the industry "could turn into fierce competitive battles that wipe out earnings or it can be a business that's more decent but still subject to lots of competition," he added. "It's really hard to know for sure how it will develop. It's not risk-free."
Volatility a Matter of Perception?
This month's wild ride put volatility back in the driver's seat, but the market's gyrations may seem worse than they actually are simply because 2017 was so smooth. So far this year, the average intraday swing for the S&P 500 (SPX) has been 1.32%, which feels like a lot to some jostled investors after an average of just 0.51% in 2017. Turns out, it's not, according to research firm CFRA.
"As volatile as this year's action might feel, it has actually been calmer than the average of 1.43% experienced for all years since 1962," CFRA said in a note Monday. The average thus far in 2018 ranks it only 32nd in the past 57 years. The biggest year of intraday swings? It was 2008, with an average intraday swing of 2.8%. The remaining top 10 years also occurred during bear markets, CFRA said. While past isn't precedent, history shows that the more the market sags, the higher the daily swings could be. That could mean if the market's current strength persists, volatility might become more subdued.
Powell Watch:
Today, Jerome Powell makes his first appearance before Congress as chair of the Federal Reserve. But it's not his first time at that rodeo—he's testified numerous times as a Fed governor and as a top member of George H.W. Bush's administration.
Here's what the Wall Street Journal says to watch for: How the Fed might respond if the risks of inflation run higher or lower than expectations; what he says if lawmakers press him on plans the Fed might have to rejigger financial rules; how GOP lawmakers treat him given their earlier concerns over monetary policy under a Democrat-appointed chair; and his demeanor if he faces hostile questioning. His testimony starts this morning and continues on Thursday.
Information from TDA is not intended to be investment advice or construed as a recommendation or endorsement of any particular investment or investment strategy, and is for illustrative purposes only. Be sure to understand all risks involved with each strategy, including commission costs, before attempting to place any trade.
Posted-In: JJ Kinahan TD Ameritrade The Ticker TapeNews Commodities Federal Reserve Markets
View Comments and Join the Discussion!