Tesla 'Clarifies' Elon Musk's Q4 Conference Call Statement On Production Rates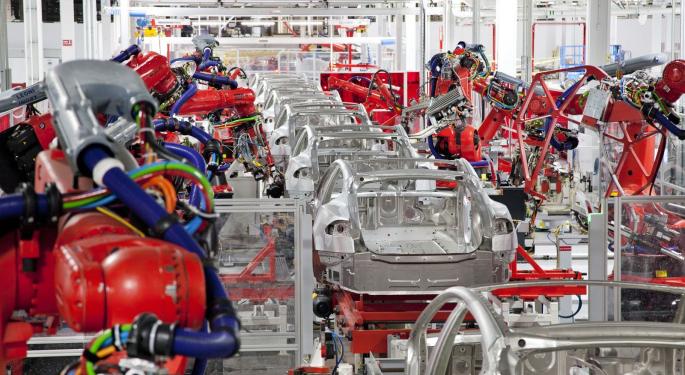 Ambiguous statements on the Tesla Inc (NASDAQ: TSLA) earnings call may have communicated unfounded confidence in the firm's ability to meet Model 3 targets.
CEO Elon Musk said Wednesday he expected the Gigafactory's new automated lines, which are set to arrive from Germany in March, to alleviate constraints and increase weekly production rates to "roughly 2,000 and 2,500."
Although "Model 3" was the implicit unit of measurement, Tesla corrected itself in an 8-K filing.
"The '2,000 to 2,500' units per week cited in this comment refers solely to the capacity of the additional automated battery module manufacturing equipment that is currently located in Germany, and not to Tesla's total Model 3 production run rate or to the capacity of the automated battery module equipment that is already present at Gigafactory 1," Tesla wrote in a Friday 8-K filing.
The first-quarter 2,500-per-week target for Model 3s is not dependent on equipment installations, which are only factored into second-quarter rates, according to Tesla. The 2,500-per-week target for battery modules is likewise considered achievable with existing equipment.
Tesla's regulatory filing confessed uncertainty in these estimates.
"It is important to note that while these are the levels we are focused on hitting and we have plans in place to achieve them, our prior experience on the Model 3 ramp has demonstrated the difficulty of accurately forecasting specific production rates at specific points in time," the 8-K said. "What we can say with confidence is that we are taking many actions to systematically address bottlenecks and add capacity in places like the battery module line where we have experienced constraints, and these actions should result in our production rate significantly increasing during the rest of Q1 and through Q2."
Related Links:
This Bull Thinks Tesla's Still Charging, Expects Further Slowdown In Model 3 Rollouts
Bernstein: Tesla's Q4 Full OF 'Some Puts, Some Takes'
Photo courtesy of Tesla.
View Comments and Join the Discussion!
Posted-In: Elon Musk Gigafactory Model 3News Trading Ideas Best of Benzinga