Sports Betting: The Next Lucrative Legal Frontier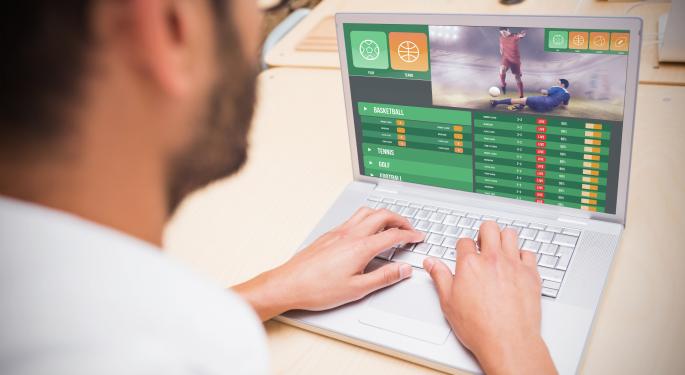 Cannabis is legal in 30 states, with others putting measures on the ballot each election season. Bitcoin is on a rollercoaster, soaring to close to $20,000, then plummeting, and making headlines every day in the meantime. Most recently, South Korea made news for planning to ban cryptocurrency altogether.
Before the dust settles on any of these issues, we need to look toward the next big legal frontier -- sports betting.
Sports betting has been an unspoken, yet widely known truth for years. Recent news makes it clear that 2018 will see serious steps to legally capitalize on the sports betting industry -- which has strong potential to rake in $6 billion annually within the next few years.
The sense of urgency to legalize sports betting and begin profiting from this multi-billion dollar industry was made apparent recently by the NBA. The league spoke in favor of legalizing sports betting outside of Nevada -- and also requested a 1% "integrity fee" for any bet placed on NBA games.
The league spokesman, Mike Bass, said that this fee would cover the increase in risk the league is taking on by legalizing betting.
"If sports betting is legalized federally or state by state, we will need to invest more in compliance and enforcement," Bass said.
States Are Pressing The Issue
According to Sports Illustrated, 18 states are planning to produce bills to legalize sports betting in 2018. The same report suggests that 11 of these states have a strong chance signing these bills into law.
New Jersey is leading this charge, as the state is looking to overturn the Professional and Amateur Sports Protection Act, which makes betting illegal. Other states will be watching this case closely, as the outcome sets a strong precedent.
Supporters assert that sports betting has become largely analytics based -- taking away the gambling stigma that has hampered it.
Companies are prepared to capitalize in ways relevant to the 2018 customer. BlitzPredict, for instance, will launch its own cryptocurrency, which allows betters to receive payouts instantaneously when making bets with BPZ tokens.
Verizon is ready to capitalize, as the company's acquisition of Yahoo gives them access to their popular fantasy sports platforms. Opening up online betting on the platform would mean serious profits.
A Worldwide Picture
The United States isn't the only country taking a hard look at sports betting.
For those looking to invest in India, sports betting platforms might become a reality. The country is seeking suggestions from stakeholders and citizens on how to best regulate online betting.
India has an underground betting market that reportedly is worth Rs 3,00,000 crore.
Making these bets above board would bring in revenue due to the sale of licenses and issuing of taxes.
These are issues that aren't going away anytime soon. In the United States, expect 2018 to close with a much different legal landscape than we've seen regarding sports betting.
The preceding article is from one of our external contributors. It does not represent the opinion of Benzinga and has not been edited.
Posted-In: contributor contributors gamblingNews Politics Legal Sports General Best of Benzinga
View Comments and Join the Discussion!