Helios And Matheson Investors Are Loving The MoviePass ICO Talk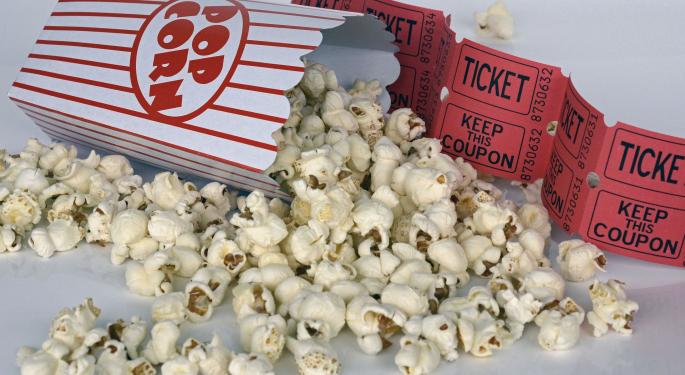 Helios and Matheson Analytics Inc (NASDAQ: HMNY) management mentioned the magic word that sends stock soaring on Tuesday.
In an interview with Yahoo, Helios CEO Ted Farnsworth uttered the word "cryptocurrency," which is all it takes these days to send stocks like Helios skyrocketing 25 percent.
When asked if Helios was considering an initial coin offering for MoviePass, Farnsworth and MoviePass CEO Mitch Lowe chuckled.
"Sure," Farnsworth said. "Absolutely. We look at all that stuff."
Farnsworth said the company always has its ear to the ground for technology that can improve its customers' experience, and that the company's lawyers had been looking into the regulatory implications of a potential ICO.
"The exciting thing is that any time you make a service available that you can use cryptocurrency in your day to day business helps support that altogether with people," Lowe added.
Shares of HMNY were up more than 20 percent at $8.65 Wednesday morning.
Say The Magic Word
In recent months, the magic word has worked wonders for a number of struggling stocks. It sent shares of Eastman Kodak Company Common New (NYSE: KODK) soaring more than 100 percent Tuesday and another 80 percent Wednesday morning.
Traders are so starved for anything related to cryptocurrency at this point that buyers don't seem to even care how viable or realistic the company or the idea actually is. On Monday, the SEC halted trading of UBI Blockchain Internet Ltd (OTC: UBIA) after the stock skyrocketed more than 1,000 percent in a matter of days in December. The SEC also halted trading of The Crypto Co. (OTC: CRCW) after the stock gained 2,700 percent in a month.
On Wednesday morning, Warren Buffett, who famously called bitcoin a "mirage" back in 2014, doubled down on his bearish stance on cryptocurrencies.
"In terms of cryptocurrencies, generally, I can say with almost certainty that they will come to a bad ending," Buffett said.
Related Links:
What Is An Initial Coin Offering, Or ICO, And Which Should You Invest In?
The Definitive ICO Checklist: What To Look For, And What To Avoid
View Comments and Join the Discussion!
Posted-In: ICO Mitch Lowe MoviePassCryptocurrency News Top Stories Movers Tech Best of Benzinga