BlackBerry Investors Cheer Baidu Partnership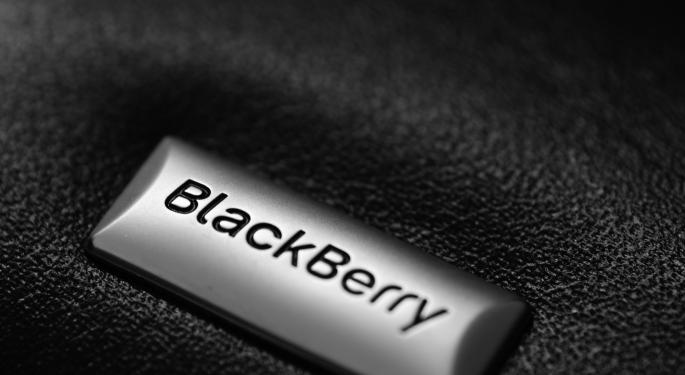 Shares of BlackBerry Ltd (NYSE: BB) gained 9 percent Wednesday and hit a new multi-year high of $13.09 after the company announced a partnership with China's Baidu Inc (ADR) (NASDAQ: BIDU).
What You Need To Know
BlackBerry said Wednesday it reached an agreement with Baidu to jointly collaborate and accelerate the development of connected and autonomous vehicle technology for automakers and suppliers. As part of the agreement, the companies agreed to make BlackBerry's QNX's safety operating system (OS) the foundation for Baidu's Apollo autonomous driving open platform.
The companies will also work together to integrate Baidu's CarLife, a smartphone integration software for connected cars in China, its conversational AI system DuerOS, and high definition maps, to all run on the BlackBerry QNX Car Platform.
Why It's Important
"BlackBerry QNX has established itself as the OS platform for safety-certified production-based systems," said Li Zhenyu, General Manager of Intelligent Driving Group, Baidu. "We aim to provide automakers with a clear and fast path to fully autonomous vehicle production, with safety and security as top priorities. By integrating the BlackBerry QNX OS with the Apollo platform, we will enable carmakers to leap from prototype to production systems. Together, we will work toward a technological and commercial ecosystem for autonomous driving, intelligent connectivity, and intelligent traffic systems."
What's Next?
"Joining forces with Baidu will enable us to explore integration opportunities for multiple vehicle subsystems including ADAS, infotainment, gateways, and cloud services," said John Wall, Senior Vice President and GM of BlackBerry QNX. "Baidu has made tremendous strides in Artificial Intelligence and deep learning. These advancements paired with their high-definition maps and BlackBerry's safety-critical embedded software and expertise in security will be crucial ingredients for autonomous vehicles."
Related Links:
Analyst: BlackBerry Owes Q3 Beat To Licensing, Continued SaaS Pivot
Citron's Andrew Left Makes A Bold Claim: BlackBerry Could Be The Next NVIDIA
Image credit: Ben Stassen, Flickr
Posted-In: Andrew Left Autonomous Driving Blackberry QNXNews Short Sellers Contracts Legal Tech Best of Benzinga
View Comments and Join the Discussion!