A Cryptocannabis Rally: India Globalization Capital Spikes 100%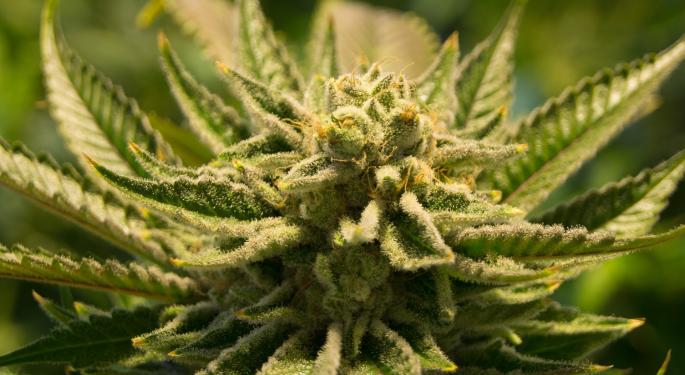 Blockchain and marijuana have proven a heady concoction for the shares of India Globalization Capital, Inc. (NYSE: IGC), which are up 100 percent Tuesday morning.
The News Behind The Move
India Globalization Capital announced Tuesday that it will develop methods utilizing blockchain in areas such as product identification assurance, leveraging its existing team of technology and healthcare experts.
The Company
Maryland-based India Globalization Capital has two lines of business: a legacy infrastructure business and a cannabis pharma business.
IGC has four proprietary cannabinoid-based products, with Hyalolex being its cannabis-based formulation for Alzheimer's disease. The company said it hopes to make the product available for patients in early 2018.
The liquid formulation therapy uses tetrahydrocannabinol, or THC, the psychoactive cannabinoid found in the marijuana plant, in combination with other formulations for slowing the build-up of plaque in the brain.
See also: NXT-ID Rallies After Announcing Cryptocurrency Retail Payment Platform
While moving Hyalolex through FDA registered preclinical and clinical trials in 2018, the company said it also expects to simultaneously license its formulation technology for distribution as a complimentary and alternative medicine through licensed cannabis dispensaries in key markets in the U.S.
The pivot to blockchain technology stems from the company's quest to address issues related to over- or under-labeling of cannabidiol products sold online.
"According to a recent study that was published in JAMA and detailed on www.pennmedicine.org, nearly 70 percent of all cannabidiol products sold online are either over or under labeled," IGC said in its Tuesday announcement.
" ... As we work to develop blockchain in the rollout of Hyalolex, our goal would be to establish a universal cannabis platform applicable to solving multiple industry challenges facing dispensaries and consumers. This would include addressing issues such as transactional difficulties, inadequate product labeling, product identification assurance and product origin assurance," said CEO Ram Mukunda.
Stock On The Move
Shares of India Globalization Capital were up 136 percent year-to-date until last Friday.
Tuesday's release sent the stock soaring, and shares were up 96.87 percent at the time of publication.
Related Link:
What's The Delaware Board Of Trade — And What Does It Have To Do With Cryptocurrency?
Posted-In: India Globalization CapitalCannabis Cryptocurrency News Movers Trading Ideas Best of Benzinga
View Comments and Join the Discussion!