As Expected, Fed Raises Rates, Also Ups GDP Forecasts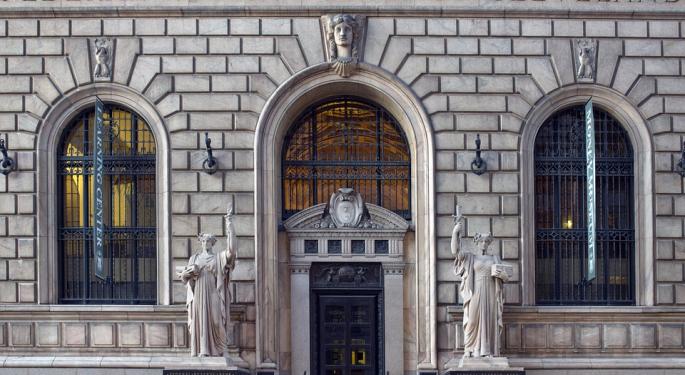 Yes, the Federal Open Market Committee (FOMC) did what nearly everyone who pays attention to interest rates expected today: It stepped up the overnight rate that banks charge each other by a quarter-point, to a range of 1.25% to 1.50%.
Known as the benchmark rate, the Federal Reserve's policymaking body also made clear that more hikes were on the table in 2018 and beyond. The Fed said it expects the benchmark to stand at 2.1% at the end of 2018, 2.7% by the end of 2019 and 3.1% in 2020. Today's action marks the third time this year that the Fed has raised rates and the fifth time since it first reversed course on rates in 2016. The next two-day FOMC meeting is scheduled for Jan. 30-31.
In its usually tightly worded statement today, the Fed made subtle changes to the policy statement, noting that it is now "supporting strong labor market conditions," rather than its long-time stance of "supporting some further strengthening in labor market conditions."
A more notable change might be the Fed's median estimate for gross domestic product (GDP) growth to 2.5% in 2018 from 2.1% while also upping this year's forecast to 2.5% from 2.4%.
There was little question among market makers about the rate advance. Ahead of today's meeting, the CME's FedWatch tool, which uses Fed Fund futures prices to gauge the probability of an upcoming rate hike, sat at 100% all week, a rarity even when expectations are high.
"Averaging through hurricane-related fluctuations, job gains have been solid, and the unemployment rate declined further," the statement said. In her press conference after the announcement, Chair Janet Yellen noted that growth picked up in Q2 and Q3 after a slowdown in Q1.
"Household spending has been expanding at a moderate rate, and growth in business fixed investment has picked up in recent quarters," the statement said. "On a 12-month basis, both overall inflation and inflation for items other than food and energy have declined this year and are running below 2%."
Again left unchanged was that the Fed continues to believe that "economic conditions will evolve in a manner that will warrant gradual increases in the federal funds rate; the federal funds rate is likely to remain, for some time, below levels that are expected to prevail in the longer run."
The Fed continues to worry about the slow rate of economic growth that appears to be keeping inflation stubbornly below the Fed's 2% target for some time. But its statement today suggested that the Fed is working its policy decisions around that though it would not change its inflation target. "Hurricane-related disruptions and rebuilding have affected economic activity, employment, and inflation in recent months but have not materially altered the outlook for the national economy," according to the statement.
At the press conference, Yellen made note of the inflation conundrum facing the Fed. "We all agree that our inflation expectation is extremely important," she said. "We recognize that there has been a shortfall...we have had an under shoot of inflation for some time," she said, blaming it on transitory factors, such as lower costs on cell-phone plans. "Our judgment at this point is that transitory factors that are unrelated to the broader economic outlook are holding inflation down, but…we believe we are on track to achieve" 2% inflation.
She also noted then that job growth was still intact and that the new tax policy, yet to be voted on in Congress, is likely to support a "modest lift" to GDP.
Today was her last press conference with the media, but she added that she will insure a smooth transition from her leadership to that under Jerome Powell when she retires in early February.
Meanwhile, the Markets Were…
There wasn't a whole of anything going on in the markets ahead of the Fed decision, which isn't unusual historically. Considering, too, that the FedWatch tool carried a 100% probability of hike, any market movement after the decision would more likely have been based on what else was said.
Ahead of the announcement the Dow Jones Industrials ($DJI) was less than 0.50% on the upside while the S&P 500 (SPX) and the Nasdaq Composite (COMP) were tiptoeing into the green. They all edged up a bit, but nothing big enough to suggest that this decision might be a game changer for the markets today.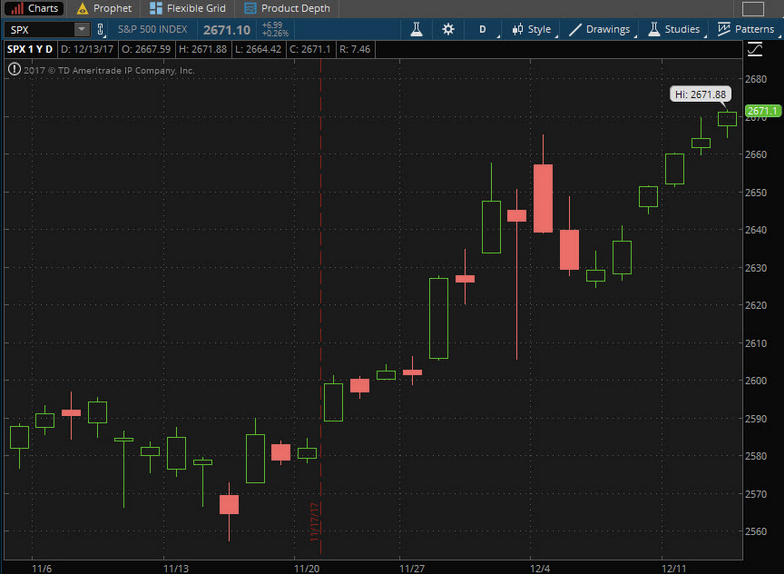 FIGURE 1: SPX STAYS STEADY. Movement among the S&P 500 (SPX) stocks, plotted here Wednesday on the TD Ameritrade thinkorswim® platform, ahead of the Fed decision today was about as interesting as watching paint dry. After the Fed said it would raise rates by a 0.25%, the SPX edged up, but not by much. Data source: CME. For illustrative purposes only. Past performance does not guarantee future results.
A New Year, A New Fed
Some 70% of the Fed is expected to change faces in 2018 amid a slew of retirement and expired terms, according to the Fed. Jerome Powell will take the helm from Chair Yellen in February, which might, or not, alter the Fed's tone. Under Yellen, the Fed has largely spoken in a dovish tenor, though that has changed slightly in recent months as the Fed deliberated raising rates amid the inflation conundrum. Today's action, of course, is a hawkish one.
Many Fed watchers note that Powell's policy views have tended to match Yellen's. He has always voted with her, for example. What differences he might have are likely to remain a mystery until his first press conference, which isn't on the FOMC agenda until March 21.
On the Inflation Issue
As noted here, this has been a challenge for the Fed, which typically raises interest rates as a tool to keep inflation under control amid economic growth. But when that inflation forecast never comes, it appears to worry some Fed members about raising rates. However, critics have warned that they fear there are few tools for the Fed to use to fight off another recession as successfully as it did the last one with near-0% rates.
Yellen appeared to squash that at the press conference: "If there was a negative shock to the economy, we have some scope to cut the Fed funds rate and there are other tools available," she said. "I would not say that we're out of ammunition…but certainly it's been recognized that in the longer run, maybe a low interest rate environment (requires) additional academic research."
And the Vote Count
The vote was widely expected to be unanimous for a couple reasons: The Fed had been hinting, rather loudly too, at public events that the hike was imminent; and given that Yellen's term is winding down, Fed members historically tend to flock together during these times. But that didn't happen today.
Chicago Fed President Charles Evans and Minneapolis Fed president Neel Kashkari voted no for the hike. This is how the score card now stands for the year: January, May, July, September and November meetings were unanimous while Kashkari was the lone dissenter when rates were raised in March and June.
Information from TDA is not intended to be investment advice or construed as a recommendation or endorsement of any particular investment or investment strategy, and is for illustrative purposes only. Be sure to understand all risks involved with each strategy, including commission costs, before attempting to place any trade.
Posted-In: JJ Kinahan TD Ameritrade The Ticker TapeNews Federal Reserve Markets
View Comments and Join the Discussion!