Inflation Ticks Higher; Federal Reserve's Two-Day Meeting Starts Today
The markets appeared to be waking up early this morning after yesterday's snooze fest amid economic reports that showed inflation was ticking higher and ahead of this week's Federal Reserve meeting.
The Fed kicks off the first of a two-day meeting that many Fed watchers believe will end with at least a quarter-point hike in interest rates. The CME FedWatch Tool registered an 87.6% probability of that quarter-rate increase and a 12.4% likelihood of a half-point or three-quarters point move up. (See below.)
The Producer Price Index (PPI) and, in particular the core PPI, were both released earlier this morning and, as widely expected, stayed on the steady upward climb they've been on for most of the year. Both ticked up 0.4%. (See below.) The PPI, which the Fed closely watches for trends in inflation, measures the changes in selling prices of goods and services. The core PPI does the same, but excludes food and energy prices, which tend to be highly volatile.
In the early going, the Dow Jones Industrials ($DJI) and the S&P 500 (SPX) were moving moderately higher into record territory again while the Nasdaq Composite (COMP) retreated slightly. Yesterday, $DJI inched up by 0.1% while SPX was up 0.08% and COMP added 0.51%, within 0.5% of its record close.
Boeing Co (NYSE: BA) shares were higher by 1.7% in the early going. Late Monday, the aerospace giant announced that it was upping its dividend and share-buyback program. Comcast Corporation (NASDAQ: CMCSA) shares advanced by 1.5%. The conglomerate said late Monday that it was pulling out of bidding for the entertainment assets of Twenty-First Century Fox Inc Class A (NYSE: FOXA). Fox's shares were flat early on while shares of Walt Disney Co (NYSE: DIS), which appears to be Fox's only remaining bidder, were up 0.53%.
Crude oil prices were on the upswing. Prices for Brent crude (/BRN), the global benchmark, closed up at 2½-year peaks per barrel yesterday and were heading higher in early trading today. A major North Sea pipeline is still shut down. Per-barrel prices for West Texas Intermediate (/CL), the U.S. benchmark, were moving to the upside as well at $58.50, inching toward its 52-week high of $59.05 reached late last month. (See chart.)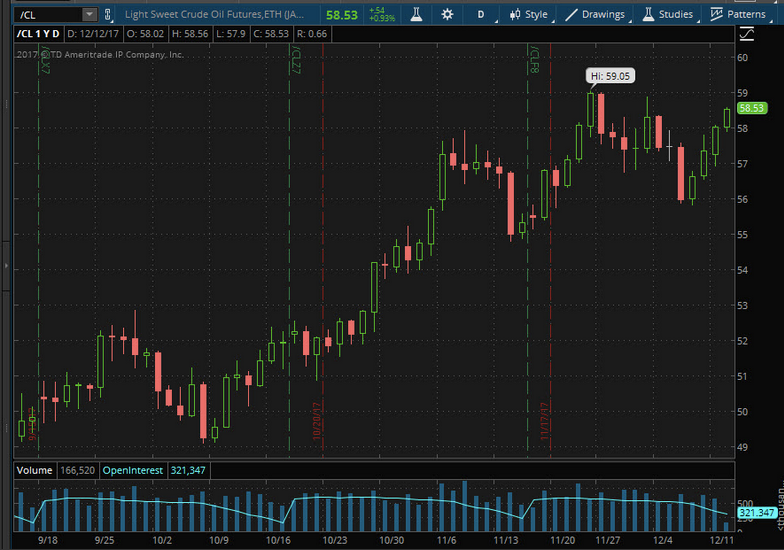 FIGURE 1: CRUDE MOVES TOWARD HIGHS. West Texas Intermediate (/CL) crude oil prices appear to be back on track to pace fresh highs, given their performance since last Monday's 3% dive. Data sources: CME Group, Standard & Poor's. Chart source: The thinkorswim® platform from TD Ameritrade. For illustrative purposes only. Past performance does not guarantee future results.
About the Fed
The Federal Reserve's two-day meet starts today and typically sparks interest among market watchers. Odds favor a rate hike, according to the CME FedWatch tool, which would mark the third one this year. But Fed followers also appear as interested in what Chair Janet Yellen might say tomorrow when the rate decision is announced. She will lead her last press conference after the announcement.
According to CNBC's December survey of economists, many believe that the Fed after Yellen will tend to be more hawkish in 2018. As a result, they are projecting that at the end of 2018, interest rates will sit at 3%. The next Fed meeting on rates is schedule for Jan. 31.
About the PPI
Inflation has been stubbornly weak throughout most of this year, but today's PPI numbers pushed the 12-month rate of wholesale inflation to 3.1%, according to the government. That's the highest point since January 2012. Core inflation, as measured by core PPI, edged up to 2.4%, its highest point since mid 2014.
What happened? Energy prices, as many who drive and heat homes know, were higher in November. Wholesale prices also climbed for new cars and trucks, which were in demand after hurricanes destroyed so many of them. Transportation and warehousing activities, travel-related services, loans and certain foods such as beef and pork also cost consumers more last month, according to the report.
Trade Winds Shifting
That's the word from Wells Fargo, which noted yesterday that the narrowing in the trade deficit has been additive to gross domestic product (GDP) in recent quarters. "But that support looks to be coming to an end," Wells' Economic Group said amid reports that the trade balance widened by $3.8 billion.
"Exports stalled over the month, while imports rose 1.6%," the group said. "The trade data are still being affected from the hurricanes this season, so revisions could be larger than usual. That said, we expect that the trade balance will continue to widen on trend in the year ahead as steady domestic demand leads import growth to outpace exports." Stay tuned.
Posted-In: JJ Kinahan TD Ameritrade The Ticker TapeNews Commodities Federal Reserve Markets
View Comments and Join the Discussion!