Fed Week To Dawn As Tax Debate Continues And Inflation Data Pours In
Buckle your seatbelt.
The coming week is chock-full of potential news, with a Fed meeting, inflation data, and continued tax debate in Congress. Overseas, there's a central bank meeting as well. In addition, quadruple witching looms on Friday (see below), which could stir up a little volatility as the week continues.
First, let's look at the Fed. The outcome of the meeting seems pretty predictable, with the futures market pointing toward 100% odds of a rate hike that would raise the Fed funds rate to between 1.25% and 1.5%. Like so many things market-related, however, it's important to have a look under the hood to see what's really going on. That means paying close attention to the press conference and Fed statement for any hints of what Fed officials see happening from a rate perspective in 2018.
At this point, the futures market predicts about a 55% chance of another rate hike in March, followed by a better than 50% chance of yet another rise in rates by the time the kids go back to school next September. That's a bit at odds with the Fed's most recent "dot plot," which implied that rates might rise four times between now and the end of 2018. A new dot plot should come out on Wednesday when the Fed wraps up its meeting, so pay close attention to how the Fed sees those hikes playing out. If more members look for a federal funds rate of around 2% to 2.25% by the end of 2018, investors might want to take note. At this point, futures point toward greater odds of rates being between 1.75% and 2% a year from now.
One thing arguing against any hurry-up in rate hikes continues to be inflation. Friday's November jobs report showed wages rising just 0.2% for the month and 2.5% year-over-year. Despite job gains accelerating in November to 228,000 — the third month of 200,000 or more in the last four — wage growth still looks tepid. Eventually, some economists argue, the low unemployment rate will tighten the labor pool and result in a corresponding inflation uptick. That hasn't happened yet, but even as the Fed meets Tuesday a fresh batch of inflation data will hit the market with the release of the November Producer Price Index (PPI). That's followed Wednesday morning by November consumer prices. As a reminder, PPI rose moderately in October but CPI barely budged.
As the Fed meets, Congress is likely to continue debating taxes. Separate House and Senate versions of tax reform await reconciliation in conference, and issues remaining on the table include state and local tax deductions, whether to institute corporate tax relief starting in 2018 or 2019, and what the corporate rate should be, along with other points of contention. It's unclear how far Congress might get with these issues in the days ahead, though congressional leaders have set Christmas as a deadline for passage and signing. A lot of this is going to be noise, but that doesn't mean the market won't hear it and possibly rise and fall based on the news du jour. Keep on your toes for possible whipsaw action as investors react to anything coming out of Washington.
One big tax question for investors to consider is whether corporate taxes go down next year, as envisioned by the House plan, or the year after, as in the Senate version. A lot of next year's earnings estimates base outcomes on taxes declining in 2018, so if the Senate version ends up carrying the day, those estimates might have to be re-visited.
Looking back at the jobs report, it was pretty solid across the board. Not only did payrolls rise more than expected; the quality of the jobs created was really high. Manufacturing, construction, health care, and business and professionals services all saw significant gains. Besides the weak wage growth, it's really hard to poke holes in this one.
This tends to be a less exciting time of year from a company news perspective, as we're between earnings seasons and the holidays are on the way. The best-performing sectors over the last week or so have been financials, consumer staples, and consumer discretionary. Real estate, utilities, and health care are among the recent laggards, and info tech remains down over the last month. Financials continue to draw support from hopes for a Fed rate hike, which conceivably could help banks' bottom lines. On the other hand, the yield curve between two-year and 10-year bond yields remains mired near long-term lows, probably pulled down by weak yields abroad. That's potentially a bearish signal for the financial sector.
Speaking of abroad, the Fed isn't the only central bank meeting this coming week. The European Central Bank (ECB) gathers as well, with a press conference scheduled for Thursday. Last time out, the ECB announced it would slow the pace of its bond purchase program starting in the new year. Since then, however, the benchmark German bund yield has actually fallen. The question going into the ECB's December meeting is whether investors get any further clarity about the ECB's longer-term plans to wind down stimulus. The ECB has said it only intends to begin raising interest rates after it stops purchasing bonds, so many investors are interested in knowing when bond purchases might end.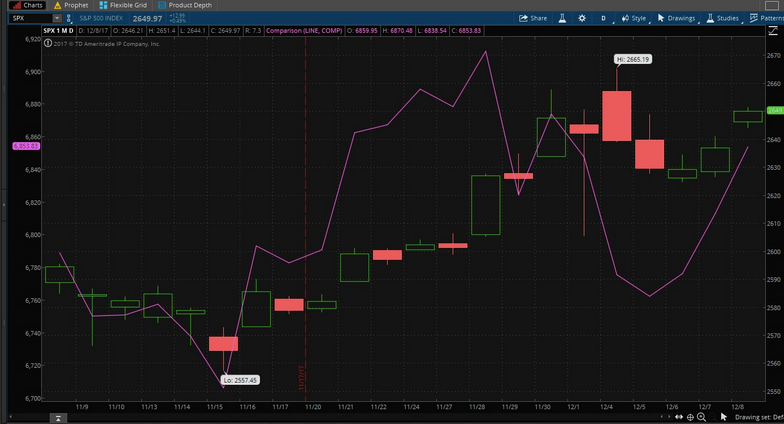 FIGURE 1: NASDAQ RECOVERS ITS MOJO.After trailing the S&P 500 Index (SPX, depicted by candlestick chart), the Nasdaq (COMP, represented by the purple line), seemed to regain some strength as the old week advanced and info tech stocks bounced back from their late-November hiccup. By late Friday, the SPX was testing 2650. Data source: Nasdaq, Standard & Poor's. Chart source: The thinkorswim® platform from TD Ameritrade. For illustrative purposes only. Past performance does not guarantee future results.
Will Witches Fly in December?
This coming Friday brings quadruple witching, that day once a quarter when stock index futures, stock index options, stock options, and stock futures all expire. Typically, this brings a higher volume of people trying to close or roll out positions, often leading to more volatility not only on that day but also in the days leading up to it. The last quadruple witching of the year is normally very big and a lot of people like to get out of their positions so they're clear for the year. It often means a very volatile week. It may be extra volatile this time as we get more news on the tax plan that's under debate in Congress. If we don't get clarity on taxes by Friday, that could delay investors' plans and they might put off their decisions until 2018 when they hope to know more about the tax regime. The next quadruple witching isn't until March.
Looking Ahead to January
It's not too early to start thinking about Q4 earnings, which begin in earnest after the holidays. S&P Capital IQ consensus predicts solid 10.4% overall earnings growth for S&P 500 companies in Q4, which would be better than the year-over-year results seen in Q3. It also looks for overall 10.8% year-over-year earnings growth for the full year of 2017 and 10.7% in 2018. Looking specifically at Q4, the firm forecasts earnings growth for every sector but real estate, led by double-digit growth in energy, materials, financials and info tech. Strong earnings growth in Q4 has the potential to play into the market's price-to-earnings ratio, which now stands at nearly 19 vs. estimated earnings over the next 12 months. That's a 15% premium to the historic average of 16.3 since 2000.
Consumers Weigh In
The last economic report of the day Friday was preliminary University of Michigan sentiment for December. Although the headline number came in a little lower than Wall Street analysts had expected, the report had a mainly positive spin when it comes to what investors think about the economic environment. "Consumer sentiment has remained quite favorable although it continued to slowly recede in early December from its October cyclical peak," said Richard Curtin, the survey's chief economist, in a press release. "Most of the recent decline was concentrated in the long-term prospects for the economy, while consumers thought current economic conditions have continued to improve." One thing to watch, Curtin said, is a rise in inflation expectations, but future months will help determine if this is a trend.
Posted-In: JJ Kinahan TD Ameritrade The Ticker TapeNews Eurozone Commodities Markets
View Comments and Join the Discussion!