You Own It: Investors Can Buy Into Eminem's Royalties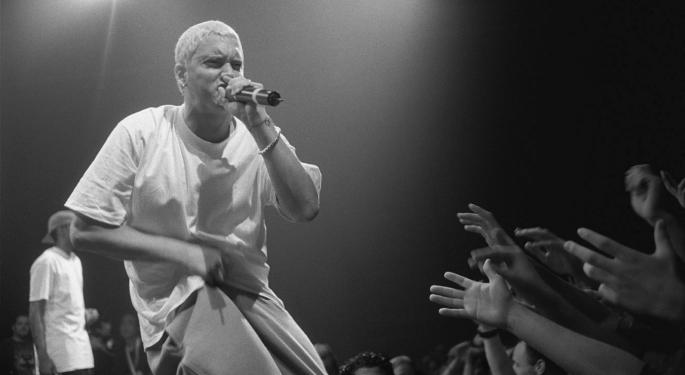 It didn't cost much to build that rhyme-rife Eminem collection. $12 for "Relapse." $10 for "Encore." $7 for "Recovery."
And now you can make it all back by letting Eminem pay you.
In a concept not too distant from David Bowie's 10-year "Bowie Bond," Royalty Flow, a subsidiary of Royalty Exchange, launched an initial public offering Monday to let investors cash in on the earnings of their favorite artists.
Through Royalty Flow's Regulation A+ IPO, in which stakeholders can order a minimum 300 shares at $7.50 each, the company intends to raise between $11 million and $50 million to acquire royalties rights from premium musicians.
Target No. 1 is a 25-percent stake in the Bass Brothers' 1999-to-2013 Eminem catalog, which earned FBT Productions $82 million between 1999 and 2016 and saw a 43-percent increase between 2015 and 2016.
"We did this because after nearly 15 years of declining revenues, the music industry has turned the corner," executive chairman Matthew Smith said in an announcement. "Following a slight increase in 2015, recorded music industry revenues increased 6 percent globally last year and over 11 percent in the U.S. That's the first year of double-digit growth since Napster. At Royalty Exchange, we're confident we've only seen the start of that recovery, and we're not the only ones."
Smith cited Goldman Sachs as forecasting 2030 global industry revenue of $41 billion. So even if you're not a fan of Eminem's performance, you can enjoy the sweet beat of his cash flow.
Related Links:
11 Most Expensive Vinyl Records On The Market
6 Top-Earning Deceased Music Artists
Spotify Could Be A $100 Billion Company
Photo courtesy of Mika-photography/Wikimedia.
View Comments and Join the Discussion!
Posted-In: Eminem Royalty Exchange Royalty FlowNews Best of Benzinga