Exclusive: Axon Dismissive Of Digital Ally's 'Significant Win' In Ongoing Patent Suit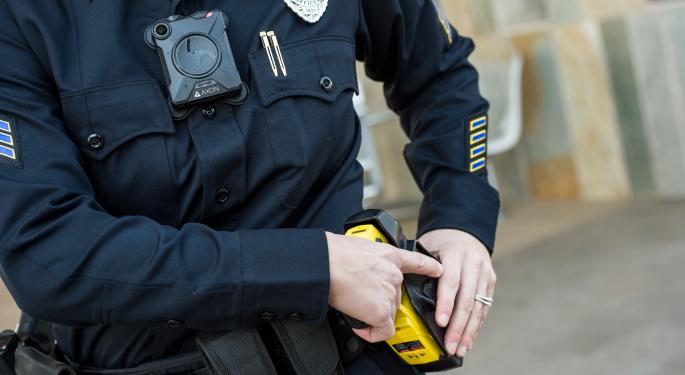 The U.S. District Court of Kansas lifted a stay in the longstanding legal battle between Digital Ally, Inc (NASDAQ: DGLY) and Axon Enterprise, Inc (NASDAQ: AAXN) on Friday, Nov. 17.
What Happened Today
Digital Ally issued a press release calling the decision a "significant win" against rival Axon, which the digital video imaging company said had "desperately" sought to convince the court to maintain the stay.
Steve Tuttle, Axon's vice president of strategic communications, said in an email to Benzinga: "This is hardly a Digital [Ally] victory."
Digital Ally's CEO Said:
""We are very pleased with the court's ruling. This is a significant win for us that vindicates the positions we have taken," CEO Stan Ross said in a statement.
"The '452 Patent represents a pioneering invention that has become or is quickly becoming a standard feature utilized by the law enforcement industry. Axon has recognized the value of the '452 Patent by incorporating our technology into its products and then trying to justify its wrongful actions by attempting to invalidate the patent."
Axon's Response:
"Only Digital Ally could spin the complete dismissal of one of its two patents in suit against Axon as a significant win for the company," said Tuttle.
An Axon spokesperson said "the only independent claim left in the litigation relates to Claim 10 of the '452 patent, and Axon's petition for rehearing on Claim 10 is still pending with the patent office. Digital previously dismissed other claims of the '452 patent in the litigation."
Benzinga asked Axon about the strength of its case now that it appears the litigation will go to trial.
"Axon remains confident that the '452 patent is both invalid and not infringed," Tuttle said. The company points to prior art evidence not admissible in the patent office that it expects will be admissible in the litigation, and said Axon indemnifies its customers on IP issues.
What The Stocks Did
The fact that Digital Ally's suit lives on was enough to propel the stock Monday. Shares were up 14.63 percent at $2.69 in late afternoon trading.
The company recently revealed that it's open to monetizing its interest in its patents and the related litigation with Axon, suggesting the company could cash in on the potential for a large settlement without having to wait to see how the case is resolved in court.
If the market is worried about how Axon will fare in a patent trial, it didn't show in Monday's price action. The stock was up 2.2 percent at $23.64 late in the session.
Related Link:
Axon Responds To Digital Ally's Patent Board Victory: 'This Process Is Far From Over'
Axon, Digital Ally Receive Extension From District Court To Hold Discussions
Photo courtesy of Axon.
View Comments and Join the Discussion!
Posted-In: Axon digital ally U.S. District CourtNews Legal Exclusives Best of Benzinga