Here's Why Vuzix Corporation Just Gained 30%
From its Monday open this week to close of play on Thursday, Vuzix Corporation (NASDAQ: VUZI) rallied just shy of 30%. The company put out third-quarter earnings towards the end of this rally but the majority of the run happened ahead of the numbers hitting press, suggesting there's something else attracting speculative volume towards this company right now.
Here's a look at what this something might be and, in turn, what to expect next from the company.
Vuzix is the sort of company that everybody should have heard of but very few actually have. Ask an audience who the pioneers in augmented reality (AR) and smart glasses technology are in the US and you'll hear names like Alphabet Inc (NASDAQ: GOOGL), Apple Inc. (NASDAQ: AAPL) and, sometimes, Samsung Electronics Co Ltd (KRX:005930).
Sure, from a consumer perspective, these names are leading the pack. Take a look at the enterprise side of the space, however, and it's Vuzix that's on top.
The company is a small, New York-based entity that employs just 75 full-time staff (up from around 40 a couple of years ago) and that currently holds a market capitalization of a little over $103 million.
Vuzix's primary focus is smart glasses technology that allows for the use of augmented reality software to enhance human activity. That sounds pretty futuristic and, from a technological (hardware and software) perspective it is, but in concept, it's relatively simple. Take a picker in a warehouse as an example use case. The individual needs to go and pick a number of items from shelves at various locations in a warehouse, each of which is required to construct some electronics device – say a PC stack. The list of components required to construct the stack shows up in the individual's field of vision through the lens of the smart glasses and he or she is able to select each component one by one to view a location map, which guides them to the shelf at which the component in question is located. Once the component is fetched, the smart glasses carry out a quick stock check, update a central database, tick the component of the picker's list of to-get items and moves onto the next component on the list.
This is just one example but the concept can be applied to a huge variety of different use cases in various different industry sectors.
Many reading will already be thinking that Alphabet tried this with Google Glass but that's not strictly true. Google Glass failed because it was aimed at the consumer for everyday wear and – specifically – that it incorporated a large, very obvious camera lens above the wearer's right eye. This brought with it numerous privacy issues and led to general public disdain for the glasses and their wearers.
This issue doesn't arise in an industrial setting, which is why Vuzix has been able to establish a solid base of commercial customers for its Smart Glasses hardware.
The lead iteration of said hardware right now is what's called the M300, illustrated in the below image.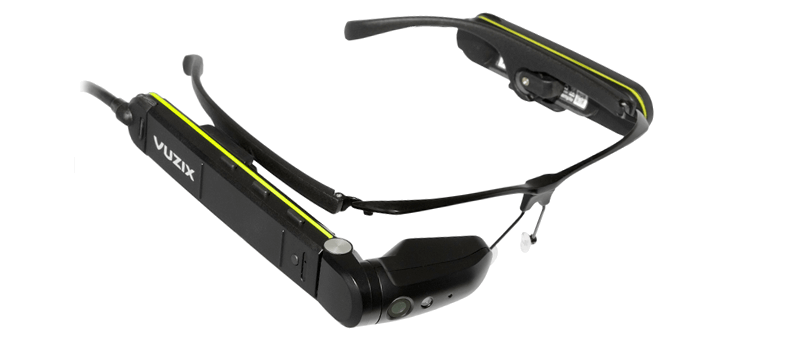 As illustrated, it's not too much different to the Google Glass design (perhaps a little bulkier as the hardware is significantly more powerful) and this similarity serves to solidify the company's commercial-setting-first-approach to the space.
In terms of hardware, the glasses incorporate an Intel Atom processor and are enhanced with a monocular display and onboard processor, expandable memory, recording features and wireless connectivity capabilities. It's got a built-in HD camera and runs on the Android operating system, meaning third-party app development can expand applicability to various use cases, depending on the setting. Bluetooth and WiFi provide connectivity.
It's essentially a smartphone, in a hands-free wearable device.
The company has recently announced two major strategic partnerships, one with MPC Energy and one with Upskill, with both set to drive increased adoption of the M300 headsets near term.
Outside of the M300, Vuzix also has a couple of other devices in its pipeline, the most exciting of which right now are the M3000 and the Blade smart glasses.
The former is a next-generation iteration of the already discussed M300 model, designed primarily for commercial application and fitted with updated hardware that syncs with the company's Andriod developer SDK.
The latter, the Blade headset, is a set of smart glasses that are designed to try and succeed where Google failed. That is, the company is trying to get a set of smart glasses on the market that can achieve penetration into the consumer market.
This is a gamble, of course, given the trouble that Google had doing exactly the same thing, but the Blade glasses are far less intrusive (form a general public perspective) than Google Glass was, with the camera hidden and the glasses designed to resemble sunglasses to a higher degree than the Glass products did, potentially making them more desirable to potential wearers of this sort of product.
So looking at the initial question, then, what could be driving the action we've seen this week?
Well, mid-week, the company reported that it now has more than 350 partners on board with the above-discussed M300 devices. These are enterprise clients that are using the smart glasses to streamline workflows and save money in their respective operating environments and a look at the company's client list reveals that there are some top names working with Vuzix right now – Toshiba Corp (USA) (OTCMKTS:TOSYY) and Ubimax to name a couple.
This would suggest, then, that markets are recognizing the fact that AR is a large and growing industry and that – from a commercial perspective, at least, and with its M300 hardware – Vuzix is a strong player within it.
There's also a good chance that the recent Apple interest in this space and the numerous news media reports that have hit press subsequent Apple's focus on AR being made public are driving traders and investors to seek alternative allocations to AR, of which Vuzix is one of the most prominent right now.
The preceding article is from one of our external contributors. It does not represent the opinion of Benzinga and has not been edited.
Posted-In: contributor contributors Smart GlassesNews
View Comments and Join the Discussion!