'Congress Is Protecting The Banks': Senate Votes To Block Consumer Class Action Lawsuits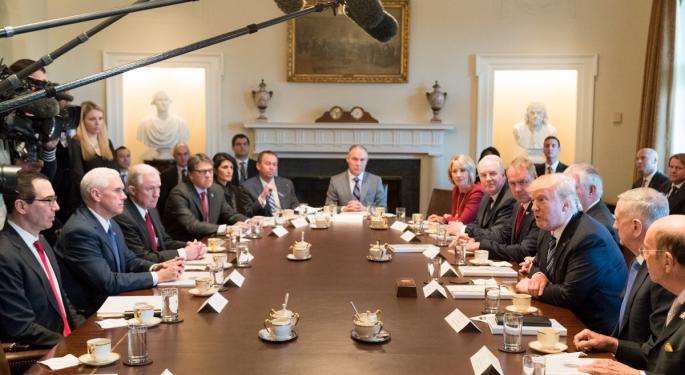 A joint Congressional resolution awaiting President Donald Trump's signature would unravel a rule blocking financial institutions from forcing customers into arbitration to resolve disputes rather than class-action lawsuits.
Tuesday's 51-50 party-line vote by Senate Republicans — Vice President Mike Pence broke the tie — comes in the wake of major breaches of consumer trust by financial institutions.
In August, Wells Fargo & Co. (NYSE: WFC) revised the number of people affected when the bank opened unauthorized bank and credit card accounts upward to 3.5 million.
And the credit reporting bureau Equifax Inc. (NYSE: EFX) announced Sept. 7 that 143 million people could potentially be affected by a breach of the most sensitive data: names, Social Security numbers, birth dates, addresses, driver's license numbers and credit card numbers.
Both firms are among the financial institutions that would have been impacted by the Consumer Financial Protection Bureau rule. It applies to banks, consumer credit lenders, automotive lease brokers, credit repair services, credit reporting services and debt collectors, according to the bureau.
Trump has said he wants to dismantle the Dodd-Frank Act, the law passed after the Great Recession that created the Consumer Financial Protection Bureau.
Benzinga has contacted the White House for comment on the Congressional resolution awaiting Trump's review.
'It Is A Loss Of Protection For Americans'
People have lost trust in financial systems, said Kristen Holt, the president and CEO of GreenPath Financial Wellness.
"We want everyone to have all avenues open to them if they are harmed, and while most people won't be directly impacted by this vote, it is a loss of protection for Americans," Holt told Benzinga.
"At GreenPath, we believe that everyone deserves financial products and services that are respectful, dignified experiences, and that they should have protection from being harmed by the system."
GreenPath, a Farmington Hills, Michigan-based nonprofit, offers services such as free debt counseling nationwide.
Rule Disappears With Trump's Signature
The banking sector's opposition to the arbitration rule isn't surprising, said Susan Tompor, the personal finance columnist at the Detroit Free Press. It would have "opened the floodgates to costly class action suits relating to troubling and perhaps deceptive financial practices," Tompor told Benzinga.
"Congress is protecting the banks, not consumers."
The arbitration rule, which became effective Sept. 18, targets consumer financial products that include agreements that bind consumers to arbitration in any future disputes.
The rule applies to agreements reached beginning March 19, 2018. If Trump signs the Congressional resolution, that date becomes moot.
"This final rule is based on the bureau's findings … that pre-dispute arbitration agreements are being widely used to prevent consumers from seeking relief from legal violations on a class basis, and that consumers rarely file individual lawsuits or arbitration cases to obtain such relief," the bureau said in July.
When the rule was rolled out, "it was understood" that Congress would likely nix it, the Free Press' Tompor said.
Critics argued the CFPB rule would benefit trial lawyers, not consumers, the Free Press columnist said.
"But it's hard for individual consumers to take on a bank when it comes to small fees. Arbitration clauses are used to block lawsuits relating to bad practices."
Many consumers aren't even aware of the arbitration clause in agreements they've signed, Tompor said.
Related Links:
Janet Yellen Argues For Fed Independence, Continued Interest Rate Hikes In University Of Michigan Appearance
Equifax CEO Will Get A 7-Digit Golden Parachute
__________
mage Credit: Office of the President of the United States (@realDonaldTrump on Twitter) [Public domain], via Wikimedia Commons
Posted-In: News Futures Politics Legal Exclusives Markets Personal Finance Interview Best of Benzinga
View Comments and Join the Discussion!