Axon Ventures Further Into Software-As-A-Service With New Public Safety Portal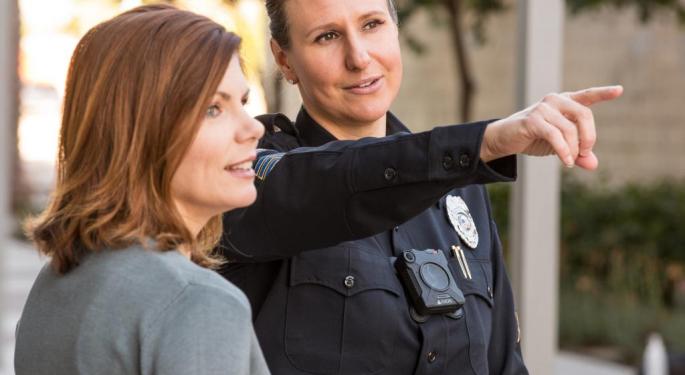 Axon Enterprise, Inc (NASDAQ: AAXN), once known primarily for its Taser stun gun devices, is bolstering its software-as-a-service arm.
Axon announced Thursday the launch of Axon Citizen, a new public safety portal that helps law enforcement securely receive evidence from the public.
Axon Citizen
Axon Citizen will facilitate expedited review of video evidence submitted by community members for open crime cases. The system promises to help agencies determine in a fraction of the time what content is useful, and to inspire more citizens to come forward with video evidence of crimes knowing the process will be secret, secure, and simple.
Police around the country have been trying to harness the modern state of ubiquitous video recording to deter criminals. In Aurora, Illinois, the Aurora Police Department launched a program called 'Click, then Call' earlier this year. In Detroit, Michigan police initiated Project Green Light, offering 24-7 video monitoring for a fee to local businesses. A Washington, DC policy allows citizens to email relevant video or pics to the police.
See Also: Project Green Light: In Detroit, Cameras — And Comcast — Are Helping Bring Crime Down
One Step Further
Axon Citizen takes things a step further. Earlier this year, the ACLU considered the implications of soliciting cell phone video evidence from citizens, expressing concern that conscripting the public in this way could encourage people to be incessantly informing on one another, leading to a sort of 'Big Brother' society.
But Axon would likely argue its program leads to officers spending more time solving crimes and less time processing data, a consistent theme the company has been driving home with recent product and service announcements. It could also become a check against law enforcement overreach itself.
Caught On Tape
Video of violent confrontations - including that of controversial use of force by police against unarmed citizens - have increasingly spread virally on the internet in recent years. Axon Citizen seems an attempt to co-opt the growing tendency among the cell-phone-bearing public to document everything interesting that happens on cell phone video and leverage it for more than just 'likes' on social media.
Axon will be demo-ing its newest innovation at the International Association of Chiefs of Police (IACP) convention in Philadelphia later this month.
View Comments and Join the Discussion!
Posted-In: Axon Citizen TASERNews Tech Best of Benzinga