Energy Sector Earnings: OPEC Calls On U.S. Shale Producers To Help Support Prices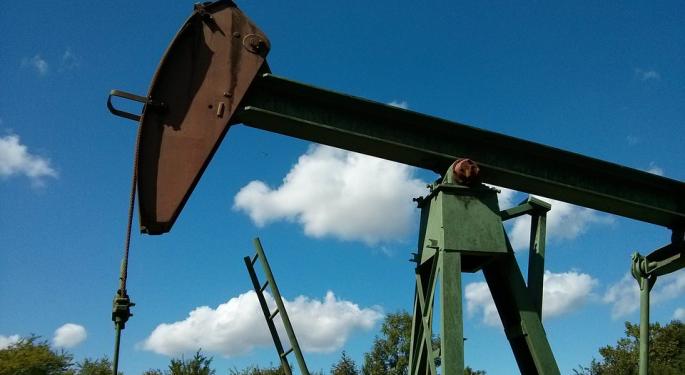 At the start of 2017—when WTI crude oil (/CL) traded in the low $50 range, Brent crude (/BN) was three to four dollars shy of the $60 mark and natural gas (/NG) wasn't far from $3.50–it seemed like there was a little more optimism that energy commodities would continue to slowly recover in 2017. That hasn't necessarily been the case and energy prices have continued their roller coaster ride this year.
Although prices have remained depressed, they're still a far ways off from the lows hit in early 2016, and oil and gasoline prices have been driven up in recent weeks by the string of hurricanes and tropical storms that have hit the U.S. Gulf Coast. Natural gas prices, however, are still down almost 14% year-to-date as of October 10 amid a supply gut and following a warm winter this past year that resulted in reduced demand.
As energy companies get ready to report third quarter earnings, the recovery in energy prices since early 2016 appears to be the primary driver of the expected revenue and earnings growth. For the third quarter, the energy sector in the S&P 500 Index (SPX) is expected to report 17.4% year-over-year revenue growth and 108.4% year-over-year earnings growth, according to FactSet. All six of the sub-industries in the sector are expected to report earnings growth and only the Oil and Gas Equipment and Services sub-industry is expected to report a decline in revenue growth with a 3% year-over-year drop projected.
Below we'll take a look at what else has been going on in the energy sector in recent months.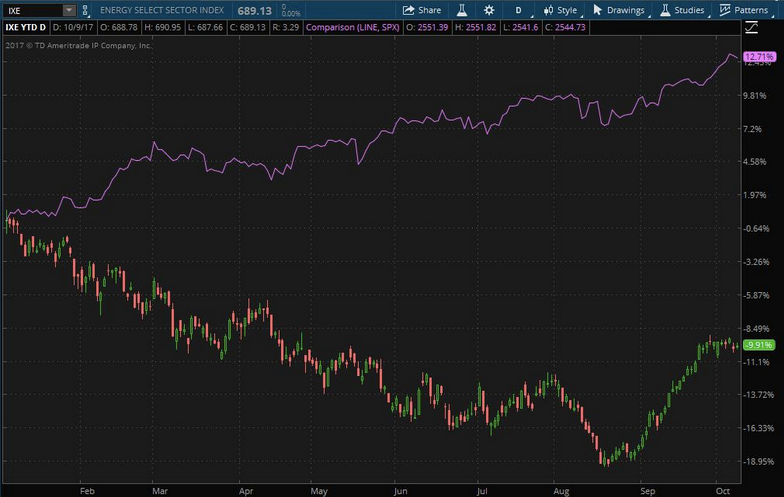 FIGURE 1: LAGGING THE S&P. The S&P Energy Select Sector Index (IXE), charted above compared to the S&P 500 Index (SPX) which is the purple line, has been one of the worst-performing sectors in the SPX in 2017. As of October 10, the IXE has declined 9.91% year-to-date compared to a 12.71% increase in the SPX. Chart source: thinkorswim® from TD Ameritrade. Data source: Standard & Poor's. Not a recommendation. For illustrative purposes only. Past performance does not guarantee future results.
OPEC's Efforts to Support Prices amid Supply and Demand Imbalance
After OPEC and non-OPEC member producers, such as Russia, met in May and agreed to extend their 1.8 million barrel per day supply cut until March 2018, OPEC is looking for more ways to help support prices. Now, OPEC is starting to call on U.S. producers to play their part. At the India Energy Forum, OPEC General Secretary Mohammed Barkindo said "we urge our friends in the shale basins of North America to take this responsibility with all seriousness it deserves." North American shale drillers alone have helped boost U.S. production by nearly 10% this year according to Reuters.
In 2018, the U.S. Energy Information Administration (EIA) forecasts WTI crude, the U.S. benchmark, will average $49.58 per barrel and Brent crude, the global benchmark, will average $51.58 per barrel. Oil demand has been relatively consistent and the International Energy Agency (IEA) forecasts global demand to increase 1.6 million barrels per day for 2017. Supply can be much more erratic as it can be impacted by producers increasing or decreasing production, geopolitical concerns, weather, and more.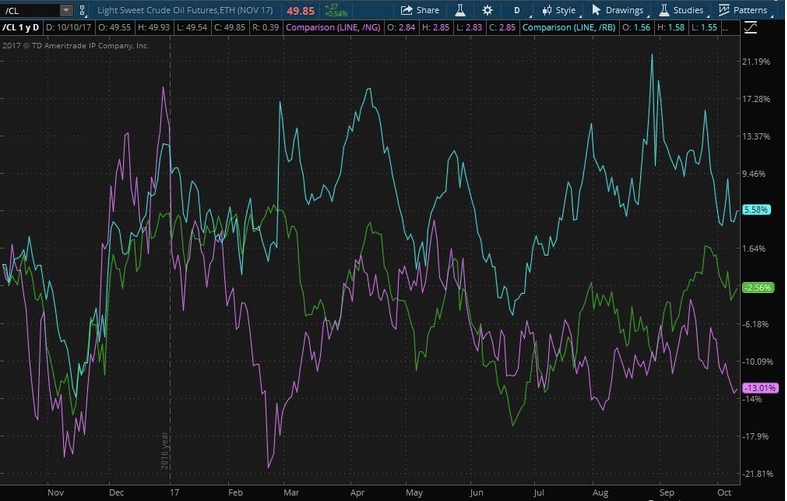 FIGURE 2: RECOVERY SLOWDOWN. After rising through the end of 2016, energy prices have faced a rockier road in 2017. The chart above shows Light Sweet Crude Oil Futures (/CL) as the green line, Natural Gas Futures (/NG) as the purple line and RBOB Gasoline Futures (/RB) as the teal line, with the year-to-date percentage change on the right hand side of the chart. Chart source: thinkorswim® from TD Ameritrade. Data Source: CME Group. Not a recommendation. For illustrative purposes only. Past performance does not guarantee future results.
Impact of Hurricanes
The extent of the impact of those storms on the energy sector is likely to be a topic for discussion on upcoming earnings conference calls. The impact of the hurricanes is expected to be greater on refinery operations and petrochemical production than overall oil production, resulting in refined product undersupply for the second consecutive quarter according to the IEA.
In its most recent Oil Market Report, the IEA wrote "while the industry responded much better than a decade ago when severe storms hit the Gulf Coast, the region nowadays is more important to the global oil market." The IEA highlighted in the report that the area has been a key production and refining hub for a long time, but over the years it's become more important as a global trading center, exporting 4 million barrels per day of products and 800,000 barrels per day of crude oil.
Lower For Longer?
In a recent interview, Royal Dutch Shell CEO Ben van Beurden told CNBC that nobody can predict how energy prices will play out and that companies in the commodity business need to be prepared for downturns. Beurden is far from the only energy CEO with that mentality.
As low energy prices have persisted, companies in the sector have significantly cut their capital expenditures, reduced or halted dividends and increased focus on operating efficiencies and reducing the breakeven costs at their facilities. In mid-summer, many companies announced additional expense cuts amid a summer decline in oil prices, while others had already been operating below their planned capital expenditures in 2017.
Looking Ahead to Earnings
ConocoPhillips (NYSE: COP) reports earnings before market open on Thursday, October 26. Oil giants ExxonMobil Corporation (NYSE;XOM) and Chevron Corporation (NYSE: CVX), as well as Phillips 66 (NYSE: PSX), report results before market open on Friday, October 27. On the data front, the EIA's Petroleum Status Report comes out this Thursday. If you have time, make sure to check out today's market update to see what else is happening.
Stock chart: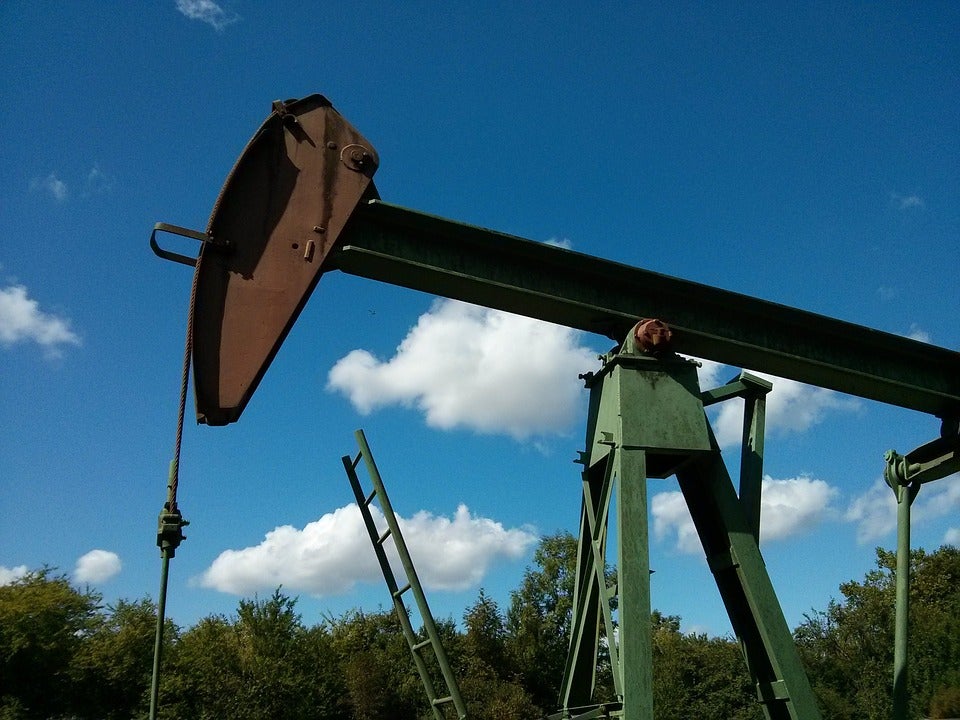 Posted-In: JJ Kinahan TD Ameritrade The Ticker TapeNews Commodities Previews Markets Trading Ideas
View Comments and Join the Discussion!