Analysis: Basketball Corruption Scandal Could Be The NCAA's Tipping Point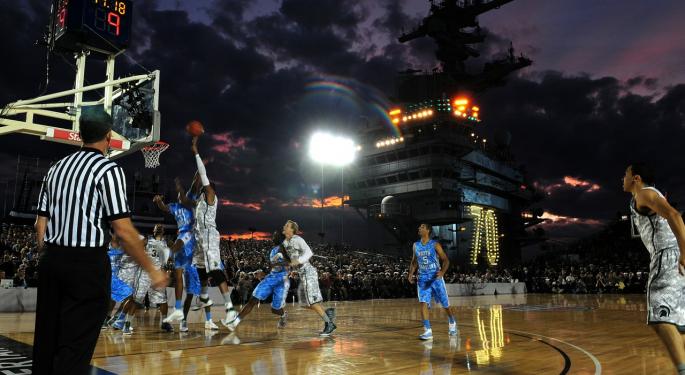 It's news that shocked the basketball world.
The FBI cracked down on several college basketball programs for two alleged schemes of paying players — and assistant coaches funneling players to NBA agents.
Those involved in the sport are less than surprised.
This type of activity has been running rampant in the NCAA for decades, and this could finally be the tipping point where a broken system like the NCAA could finally get the change it so desperately needs.
Hall of Fame coach Rick Pitino was fired as a result of the scandal, and other coaches named in the case are expected to receive a similar fate.
'It's a Broken System'
The NCAA operates as a monopoly at a time when high school athletes in the age of social media are becoming more valuable faster than ever before. These players are worth much more than the NCAA leads the public to believe.
By running a monopoly that prohibits players from being compensated, the NCAA is prompting the corruption seen in college basketball. If players could be paid, much of the corruption would cease to exist. If players were able to seek professional financial help at an early age, they'd be much better off in the long run. But this is a battle that has been fought at the highest level for years.
Mix in the involvement shoe companies have in the grassroots basketball world. Add to that the payments that were allegedly secretly sent to players, and it becomes obvious that this is a broken system.
"The new generation has less and less respect for the NCAA. It is an archaic model that needs to be changed, and that is why you are seeing this much corruption surrounding it," one source tells Benzinga.
"The players are not allowed to be paid, so they are doing it under the table. The solution is to pay the players. They are too big now, they have too [large] of followings, they aren't paid their fair market value and that's why it's all corrupt. The NCAA is corrupt. It's a broken system."
The Sponsorship Pipeline
Adidas AG (ADR) (OTC: ADDYY), Nike Inc (NYSE: NKE), and Under Armour Inc (NYSE: UAA) all have grassroots programs that sponsor top teams' travel and apparel. This is where many college coaches build relationships with AAU coaches.
Depending on how good a player is and their affiliation to what brand they play for, those players are often funneled to colleges that are sponsored by the same brand. Adidas just signed a 10-year deal with Louisville for $160 million; you can be assured they want top players from their grassroots leagues playing for their highest-profile program.
Former Duke standout Jay Williams recently admitted to sending $250,000 to Kevin Love's AAU coach while serving as a representative for a sports agency in 2009, but stated that it was done at a time when it permissible to send money to AAU coaches.
Sources tell Benzinga Adidas will likely have to pull their grassroots program after two of their executives were named in the FBI investigation.
Adidas said in a statement to Benzinga that the company is aware of the allegations and intends to cooperate with authorities.
"The employee identified by the federal investigators has been put on administrative leave and the company has engaged outside counsel to conduct a thorough investigation. In all aspects of our business, adidas is committed to compliance and ethical business practices."
Nike's EYBL is also under investigation.
A Changed Game
The basketball world is rapidly changing, and many of these brands do not — and should not — be playing this game anymore. Basketball endorsements are not necessarily driving big sales anymore, and given the accusations outlined in Wednesday's indictments, Adidas' partnership with Louisville has taken a big hit, at least in the short term.
What many pundits agree on is that this scandal will not affect these companies' bottom lines, despite Adidas seeing a blow to its stock after the news broke.
LaVar Ball, who famously spurned shoe companies in favor of starting his own brand, is a perfect microcosm of what the future may hold for the basketball world.
Despite his outlandish claims, he has been firmly entrenched in this basketball underworld for years, but chose a different route. Knowing that his sons were highly sought after, Ball utilized his leverage to create his own brand — not to be bought and sold by the shoe companies, despite however many millions he may have given up.
Related Links:
Breaking Down The Footwear Sector: Adidas Pipeline Still Strong, Under Armour Under Pressure
Exclusive: Adidas' Mark King Talks About The Company's Comeback, Turning The Corner In North America
Posted-In: Adidas Lavar Ball NCAA NikeNews Sports Opinion General Best of Benzinga
View Comments and Join the Discussion!