Adidas Falls On Corruption Charges Implicating NCAA Coaches, Financial Advisers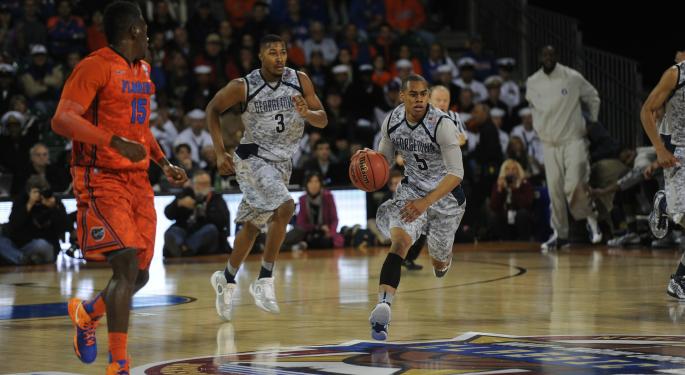 Following a two-year investigation, the Manhattan U.S. Attorney and Department of Justice are attacking a web of corruption at top-ranked basketball programs implicating NCAA coaches, team managers, financial advisers and representatives of sportswear companies.
The Federal Bureau of Investigation began a series of arrests Monday with 10 college basketball officials, including four assistant coaches.
Lamont Evans of Oklahoma State University, Chuck Person of Auburn University, Emanuel Richardson of the University of Arizona and Tony Bland of the University of Southern California are alleged to have accepted bribes to pressure players prospects to affiliate with outside companies.
The head of Nike Inc (NYSE: NKE)'s Elite Youth Basketball League and the director of global sports marketing at adidas AG (ADR) (OTC: ADDYY) have also been charged.
"Today, we became aware that federal investigators arrested an Adidas employee," Adidas wrote in a statement. "We are learning more about the situation. We're unaware of any misconduct and will fully cooperate with authorities to understand more."
Adidas fell 2.6 percent on the news, but sports attorney Darren Heitner said the effects should be short lived.
Black Eye For Adidas
"It tarnishes to an extent the reputation of Adidas, but ultimately I do not believe that it will affect Adidas' bottom line to the extent where in the long term there will be any negative impact on the share price," Heitner told Benzinga. "I think ultimately what consumers care about is the quality of the quality of the product, the endorsers that are behind it, which I don't think will be changing any time soon."
He foresees no impact on sales, but considers the charges a mere "black eye" for the company.
Nike - which reports earnings after the close - remained relatively unmoved by the news, while Under Armour Inc (NYSE: UAA) dropped slightly in sympathy.
"It comes at a time when Adidas almost seemed invincible," Heitner said. "Adidas, which only two or three years ago was steadily declining in market share both domestically and abroad has had quite the comeback, becoming No. 2 behind Nike in regard to the merchandise sold. So this stellar reputation I think has the potential to be diminished and tarnished to an extent depending on the extent of these criminal allegations and these charges being made."
Related Links:
Adidas Jumps Over Jordan Brand To Take The No. 2 Spot In Sports Footwear
View Comments and Join the Discussion!
Posted-In: Adidas Darren HeitnerNews Legal Sports Top Stories Exclusives General Best of Benzinga