Markets Hug Flat Line In Early Going; Yellen Speech, Reports Might Nudge Them
In the early going, the market's three major benchmarks were bouncing around the flat line with potential to snap a three-day losing streak as the day starts the heavy inflow of economic data for the week and an afternoon speech by the Central Bank's chair.
Consumer confidence is out this morning as are reports on home sales and prices. But what might grab an abundant amount of attention is a speech later today by Federal Reserve Chair Janet Yellen, whose words are likely to be carefully weighed. A bevy of Federal Open Markets Committee (FOMC) members spoke yesterday (see below), with another pack of Fed members on the dais today. It might be worth pointing out again that a lack of market impetus often leads to a low volume, big movement session, so be careful with big trades.
The healthcare sector, which took a hit yesterday, could grab headlines again today as lawmakers wrangle with the Graham-Cassidy bill to repeal Obamacare. Federal tax reform is also on the agenda. Keep an eye, too, on the technology sector, which has been battered in recent sessions.
Yesterday, all three benchmarks were sharply lower within the first 90 minutes of trading, and then were on a roller coaster much of the session. Some of the volatility might have been tied to a sharp exchange of words between the U.S. and North Korea. North Korea said the U.S. had declared war on it; a White House spokesperson called that "absurd," and Defense Secretary James Mattis said at a press conference today in India that the U.S. goal is "solve this diplomatically," according to published reports.
By the session's close, all three had managed to settle off their intraday lows. The Dow Jones Industrials ($DJI) slipped 53.50 points while the S&P 500 (SPX) gave up 5.56 points as six of its 11 sectors pulled back. The tech-heavy Nasdaq Composite (COMP) got banged the hardest, losing 56.33 points, its deepest single-session tumble since Sept. 5. Shares of its largest component, Apple Inc (NASDAQ: AAPL), gave back nearly 1% to mark the fourth consecutive day of trading to the downside.
Yesterday, typical safe-haven assets like gold rose 1.24% as sectors like energy, telecom and utilities dipped. Gold was retreating early on. The 10-year Treasury yield slipped to 2.262%, after jumping yesterday and was hovering at 2.223% in the early going.
Crude oil prices, which closed above $52 yesterday were off a smidge early on. The next run to watch is $55. (See chart.)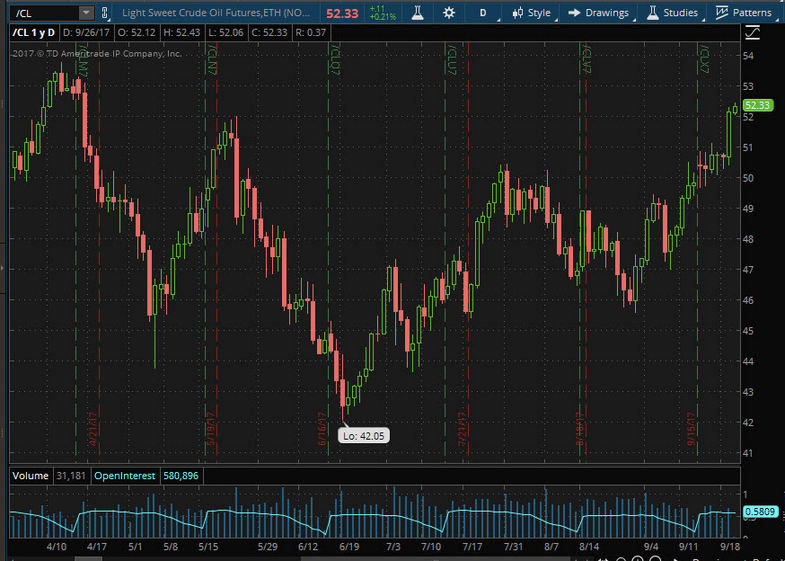 FIGURE 1: IS OIL BUBBLING? Since hitting a 12-month low June 21, crude oil prices have advanced nearly 25%, albeit the path has been a rocky one. Prices have been flirting with the $50 range the last 10 days, landing solidly above that yesterday but slipping slightly in the early going. Data sources: CME Group. Chart source: The thinkorswim® platform from TD Ameritrade. For illustrative purposes only. Past performance does not guarantee future results.
Fed to Remain 'Economically Stimulative'?
That's the assessment from Sam Stovall, chief investment strategist at CFRA Research. In a research note out yesterday, Stovall noted the Fed actions last week to keep interest rates in a 1% to 1.25% range while unwinding the $4.5 trillion balance sheet. Though the Fed indicated that a rate hike will be on the table for December—and the markets appear to mostly believe it will happen, according to the CME FedWatch tool—Stovall apparently does not.
"Investors may now wonder if the economy and equity markets can withstand this dual-front tightening program," Stovall wrote. "Well, if history is any guide, for it's never gospel, the Fed funds rate will likely remain economically stimulative until at least the second half of 2018…. Until the Fed funds rate eclipses the annual rise in core CPI (Consumer Price Index), monetary policy will remain economically accommodative," he said.
What the Fed Is Saying
On the Fed's "dot map" last week, 12 of 16 members favored a third interest-rate increase this year, but now see the rate reaching 2.8%, rather than 3%, by 2020. The forecast for next year is still at 2.1%. Early this morning, the CME's FedWatch tool sat at a 71% probability of a hike by December.
What Fed Members are Saying
On Monday, two members said in speeches that they were among those in the minority. At least one said the opposite. All three are FOMC voting members.
Chicago Fed Charles Evans said the Central Bank should keep monetary policy in place until there are "clear signs" of price pressures, according to published reports. Without it, he suggested, raising rates "could be misread as a lack of concern over the inflation outlook." Evans is slated to speak again today.
Elsewhere, Minneapolis Fed President Neel Kashari said much the same. "The Fed should be under no pressure to raise rates," he said. "We have time to let inflation climb back to target."
"I don't see any signs the economy is close to overheating," he said, adding, "I see no need to tap the brakes" in an effort to use higher rates to moderate the economy.
That's not what New York President William Dudley apparently thinks. "We are in pretty good shape," he said. Firmer import prices and easing "temporary idiosyncratic" factors will help lift inflation to the 2% Fed target, he said, adding, "In response, the Fed will likely continue to remove monetary policy accommodation gradually." What will Yellen say today? Stay tuned.
Posted-In: JJ Kinahan TD Ameritrade The Ticker TapeNews Bonds Commodities Federal Reserve Markets
View Comments and Join the Discussion!