The Top 10 Most Valuable Unicorns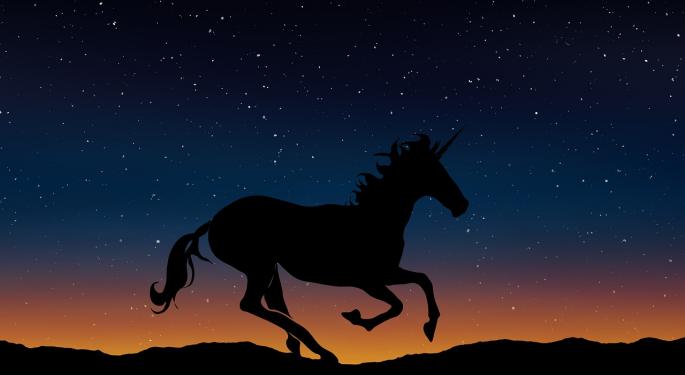 The United States is home to the most unicorn companies in the world, with over 100 such companies, according to a new report by HowMuch.
The term unicorn, used to describe a private company valued at at least $1 billion, was thrust into the spotlight after Uber became the ultimate unicorn as it took over the venture capital world.
Top 10 Most Valuable Unicorns
1. Uber ($68 billion): U.S.
Created in 2009 to lower transportation costs through crowdsourcing, Uber has become the ultimate unicorn despite its rocky history. The company has recently stated it will hit the public market in the next 12–18 months.
Related Link: How Is Go-Jek Different Than Uber?
2. Didi Chuxing ($50 billion): China
Dubbed the Uber of China, Didi Chuxing scaled Uber's revolutionary services to over 20 million rides daily.
3. Xiaomi ($46 billion): China
Xiaomi is a software and electronics producer founded in 2010. Maker of smartphones and laptops and creator of some of world's most popular apps, Xiaomi has quickly become one of the most successful private companies of all time.
4. AirBnB ($29.3 billion): U.S.
The platform has changed the hospitality industry forever. Founded in 2007 as a small bed and breakfast, AirBnB has since scaled worldwide to over 65,000 cities. The company saw 80-percent revenue growth from 2015 to 2016.
5. SpaceX ($21.2 billion): U.S.
The world's largest privately owned aerospace technology and space travel company. Elon Musk-founded SpaceX became the first private company to launch a spacecraft into orbit and recover it. SpaceX looks to lead the aspiration Mars Colonization and Lunar tourism.
6. Palantir Technologies ($20 billion): U.S.
Founded in 2004, Palantir has become the backbone of data analysis for counter-terrorism, cyber warfare and financial institutions. Just don't expect an IPO anytime soon.
7. WeWork ($20 billion): U.S.
While telecommuting has grown 115 percent since 2005, working from home can get lonely sometimes. WeWork was founded to provide shared workspaces and currently operates in 16 different countries. WeWork provides physical and virtual workspaces, employee benefits and social events for location independent workers around the world.
8. Lu.com ($18.5 billion): China
Lu.com is an online finance marketplace which started as a peer-to-peer lending platform. Since 2011 it has service over $2.5 billion peer-to-peer loans.
9. China Internet Plus Holding ($18 billion): China
Formed after a merger of two successful competitors, Meituan and Dianping, the company has becoming one of the world's leaders in online-to-offline services including restaurant bookings and event ticketing.
10. Pinterest ($12.3 billion): U.S.
Founded in 2009, the visual discovery social media platform serves as a catalogue of ideas for hobbyists, business and marketers. CEO Ben Silbermann is looking to keep his highly engaged social media company private for as long as possible.
Related Link: Tomorrow In History: The Strange And Very Surreal Summer Of 2017
View Comments and Join the Discussion!
Posted-In: Airbnb China Internet Plus HoldingEntrepreneurship Top Stories Success Stories Startups Media General Best of Benzinga