A Desire To Disconnect: How Urbanization Is Driving The Need To Explore Nature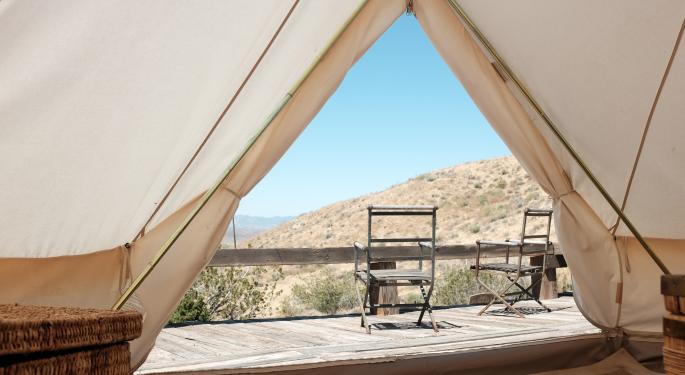 Urbanization has become a defining characteristic of the millennial generation.
Many American cities have been transformed by young professionals' preference for an urban lifestyle, complete with expensive coffee shops.
As the extremely connected generation moves downtown to experience the city lifestyle, it's created a parallel yearning to disconnect. Glamping, or luxury camping, has become a way to get out of the day-to day-life of the city but retain the comforts of home. What may have started as a 'joke' has turned into a serious industry.
Glamping And The Industry Gap Hipcamp Fills
"A lot of trends are defining our culture: People are moving into cities and urbanization is growing. Nature and camping is the perfect antidote to where society is going," Hipcamp CEO Alyssa Ravasio told Benzinga.
Hipcamp is an Airbnb-like platform for camping, capitalizing on the need to disconnect and experience nature like never before. As our world becomes more technology-driven and urban, the need to get out into nature becomes greater, Ravasio said.
Related Link: How The RV Industry Plays A Role In Helping With Harvey
"We hit a nerve on both sides of the marketplace. On the camping side, the need for more campsites is very real. People who live in cities who want to go camping want something that is private and is a unique experience to go somewhere they couldn't go before. The desire to have an experience in nature is really important."
Hipcamp has over 15,000 campsites across the country and is rapidly expanding. The variety of properties is massive, ranging from traditional camping in tents to unique properties, from treehouses 50 feet up in the redwoods to the Lost Teepee on Lake Superior. No longer do you need to book a campsite months in advance. Hipcamp encapsulates many tenets of millennials values: authenticity, sustainability and, of course, Instagram-worthy moments.
A Growing Industry, Populated By Multiple Generations, Driven By Millennials
Camping as a whole continues to see growth. Over 13 million households said they plan to camp more in 2017 than they did in 2016, and 1 million new households per year have started camping since 2014.
According to a 2017 North American Camping report by Kampgrounds of America, "Millennials are driving this growth as they take to the outdoors in greater numbers, and they have no intention of letting up."
Hipcamp is unlocking a generous portion of private land that was previously inaccessible for campers — and allowing landowners to make some extra income. The company's founder looks at the platform as a way to build community across the urban-rural divide, where enthusiastic urbanites can connect and share ideas with folks from the country.
The platform got some good exposure from the solar eclipse in August, when CEO Ravasio said Hipcamp saw the most bookings in company history.
While there is certainly an altruistic message in what Hipcamp is promoting, glamping is big business. The company has raised $2 million from O'Reilly AlphaTech Ventures, and revenues are expected to grow 500–1,000 percent year over year in 2017.
"We are on Day 1 of a powerful long-term trend where people care more about nature, and we have seen tremendous growth in the camping industry. Hipcamp has an important role to play in creating more access for people to do so," Ravasio said.
Related Link: Camping World Declares Regular and Special Dividend
__________
Image Credit: Used with permission.
Posted-In: Alyssa Ravasio campingPsychology Travel Top Stories Exclusives Interview General Best of Benzinga
View Comments and Join the Discussion!