Fitbit Tracking Higher After Deal With Dexcom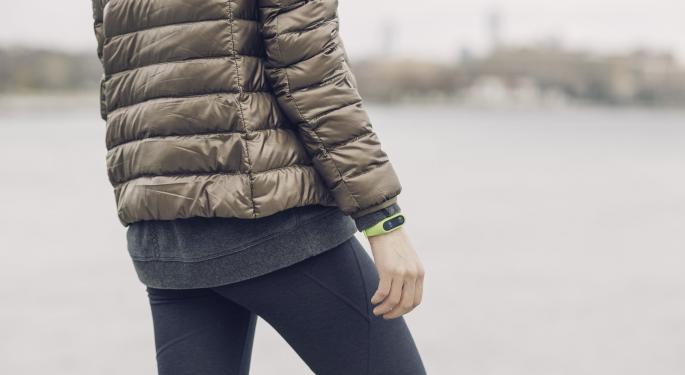 Fitbit Inc (NYSE: FIT) shares soared Thursday, as the fitness tracking smartwatch maker capitalized on the news that it has struck a partnership with DexCom, Inc. (NASDAQ: DXCM).
At the time of writing Thursday late afternoon, Fitbit shares were jumping 10.49 percent to $6.54, its highest level in over 7 months.
The News That Is Moving The Stock
Fitbit and Dexcom agreed to develop products to help people better manage their diabetes and to get a holistic picture of their health, with easy-to-use mobile tools.
As a first step, the companies planned to bring Dexcom's Continuous Glucose Monitoring data to Fitbit new smartwatch, the Fitbit Ionic. This would facilitate Android or iOS device users see their glucose and activity levels on their wristwatches.
"The strength of our brand and our ability to track critical health metrics continuously for up to 4+ days, coupled with Dexcom's market leadership in CGM, present a powerful combination that we hope will help millions of people better manage their diabetes," said James Park, CEO of Fitbit.
"With Ionic, we are focused on driving positive health outcomes and more health focused tools, and this collaboration is a wonderful example of how we plan to bring that vision to our users."
The Post-IPO Rally That Lost Steam
Fitbit IPO'd in 2015 by offering 36.575 million shares, priced at $20. On its Wall Street debut on June 18, 2015, Fitbit shares opened strongly at $30.40. Trading in a range of $29.50 to $31.90. the stock ended the session up at $29.68, up 48 percent.
The stock pushed higher and hit an all-time closing high of $51.64 on Aug. 5, 2015. Subsequently, the stock trended broadly lower until Feb. 2016. The stock was locked in a sideways trading range until October 2016.
Ironically, when most stocks and sectors participated in the post-Presidential-election rally, Fitbit took a leg down and was locked in another range, this time bouncing off around $5.
Ahead of today's rally, Fitbit had lost roughly about 71 percent of its value, although it was trading off its all-time intraday lows of $4.90 hit on June 22, 2017 and record closing low of $4.99 reached on June 21, 2017.
Strongly Supported At $5 Level
Every time the stock pulled toward the $5 level, buying emerged, helping it to hold support around this level. The stock came precariously close to breaking below the $5 level on two instances in August, on Aug. 1 and Aug. 21. However, each time the stock successfully held support.
See also: Putting On The Wearable Technology ETF
A Confluence of Catalysts Behind the Recent Rally?
The Dexcom collaboration announced on Sept. 7, 2017.
The unveiling of a smartscale on Aug. 28, 2017; Named Fitbit Aria 2" Wi-Fi Smart Scale, this was meant for accurate measurement of body composition including weight, body fat percentage, lean mass and BMI. The company said the product will be available in Fall 2017.
On Aug. 22, the Street speculated of a potential takeover of Fitbit.
Sell-Side's Silence
Notwithstanding the developments happening around Fitbit and its stock reaction, analysts are fairly quiet on the company. Incidentally, the company was a subject of several downgrades around November last.
Yahoo database revealed the last rating action on Fitbit as an initiation at Buy by Benchmark.
How Further The Stock Can Go Near Term
Fitbit's Thursday's high of $6.78 ran close to the May 4 high of $6.80. After the market close on May 3, the company reported a 40-percent plunge in its revenues, with the bottom line reversing to a loss.
On Aug. 2, the company reported another loss for its second quarter and an incremental 40-percent plunge in revenues. However, the performance wasn't as worse as feared. The stock rose about 15 percent in reaction to the results.
The $6.80 handle, which constrained the stock in early May could serve as upper resistance level this time around too.
Joel Elconin contributed to this article.
Related News: Vetr Upgrades Fitbit To 5 Stars
View Comments and Join the Discussion!
Posted-In: News Technicals Contracts Sports Movers Tech Trading Ideas General Best of Benzinga