Extra! Extra! Tronc Takes Over Gritty New York Daily News For $1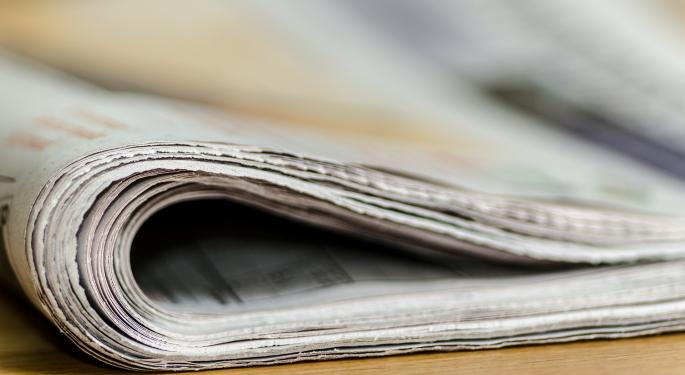 Tronc Inc (NASDAQ: TRNC), the newspaper chain that owns the Los Angeles Times and The Chicago Tribune, is buying the tabloid New York Daily News for the princely sum of $1, a sign of how far the fortunes of newspapers have fallen.
The tabloid, which has battled Rupert Murdoch's News Corp (NASDAQ: NWSA)'s New York Post for the hearts and minds of strap-hangers in the Big Apple for generations, was sold by billionaire Mortimer Zuckerman.
Tronc, formerly known as Tribune Publishing Company, will assume roughly $30 million in pension and operational liabilities.
"The paper's circulation currently stands at about 200,000 daily and 260,000 Sunday, placing it solidly among the top 10 U.S. newspapers," the Chicago Tribune wrote. "But it has not been profitable for some years, though Tronc executives anticipate they will be able to meet all financial obligations through the Daily News' cash flow."
Related Link: The Athletic's Model For Local Sports
New York Post Gloats Over Sale
While the Post leaned far right, the Daily News has generally embraced a far more liberal form of populism. The Post snarkily wrote that Zuckerman struck a deal with Tronc "to essentially give away its business."
The 98-year-old Daily News was once home to iconic columnists such as Jimmy Breslin and Pete Hamill and has won 11 Pulitzer Prizes.
Tronc also owns former LA Times-owned The Baltimore Sun, as well as newspapers in South Florida and Hartford, among others. Tribune Publishing owned The Daily News for decades before selling it to Zuckerman two decades ago.
In typical hard-boiled fashion, the Daily News reported its recent past thusly:
"A billionaire real estate developer who had previously ventured into publishing, Zuckerman rescued The News from the rubble of bankruptcy in 1993. The paper's longtime owner, the Tribune Company, had provoked a near-fatal strike by trying to break its unions and then sold the weakened title to British press lord Robert Maxwell. Subsequently, Maxwell fell off a yacht and drowned – and was soon revealed to have been a swindler."
View Comments and Join the Discussion!
Posted-In: Chicago Tribune Los Angeles Times Mortimer Zuckerman new york daily news New York PostM&A News Media Best of Benzinga