What's Next On Geopolitical Stage? Markets Appear Rattled At Uncertainty
Stepped up worries about North Korea missile testing appear to be rattling stocks in the early going today, following a two-day global selloff and futures yesterday that were indicating broad selling was ahead. This is all happening as the markets enter what has long been the most turbulent season for equities.
Late Monday, South Korea warned that it had detected signs that North Korea appeared to be getting ready to test another ballistic missile, only a day after North Korea conducted its sixth and most powerful nuclear test that it claimed was a hydrogen bomb. Also Monday, the U.S., pushing for a resolution for new sanctions against North Korea by Sept. 11, told the United Nations that the North Korean regime was "begging for war," according to published reports.
The markets have been shaking off much of the headline news all year, so it's interesting to see the reaction today. As we've noted here many times, the markets are not keen to uncertainty – and this ambiguity has been growing and looks to be the one geopolitical risk that matters.
Geopolitical situations often prompt investors to look for defensive measures, and it looks like some are headed to safe-haven assets like gold, which is nearing a one-year peak today. Copper and other precious metals also rose as the dollar slipped.
A trio of Federal Reserve speakers is on the docket today, potentially giving Fed watchers something to chew on in terms of interest rates hikes. Fed Gov. Lael Brainard has already spoken, noting dovishly that the Fed should make clear that it is "comfortable" with inflation moving "modestly above" its 2% target "for a time."
"We should be cautious about tightening policy further until we are confident inflation is on track to achieve our target," she said. Another dove, Minneapolis Fed President Neel Kashkari is scheduled to speak early this afternoon while Dallas Fed President Robert Kaplan is expected to be part of a panel this evening.
The S&P 500 finished Friday's session with six straight higher closes under its belt, with energy leading seven sectors to the upside. The Dow Jones Industrials and the Nasdaq Composite also closed, giving all three benchmarks solid gains for the second consecutive week.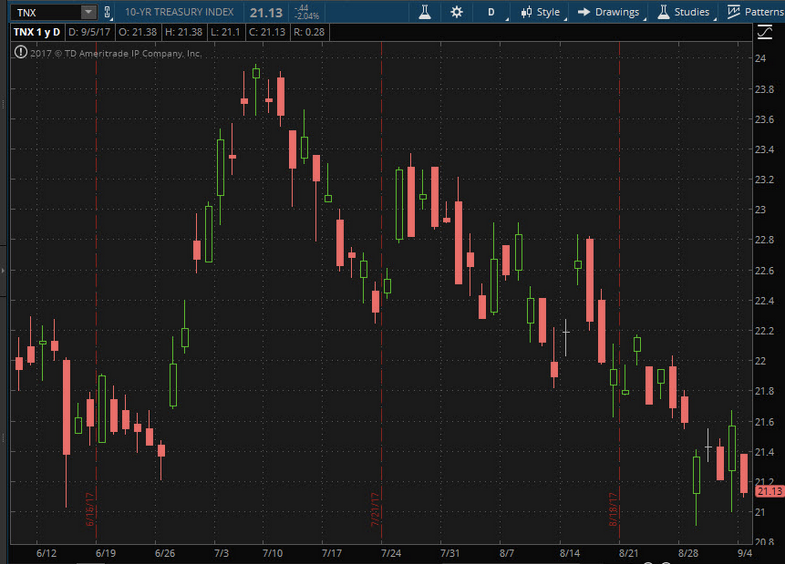 FIGURE 1: YIELDS TUMBLE AGAIN. Ten-year Treasury yields moved lower in early trading today amid geopolitical uncertainty and a trio of Federal Reserve speakers on the docket. Odds of a third Fed rate hike this year remain fell below 36%, according to CME Group futures. Data sources: CME Group, Standard & Poor's. Chart source: The thinkorswim® platform from TD Ameritrade. For illustrative purposes only. Past performance does not guarantee future results.
There Go Prices at the Pump
No surprises here that pump prices for gasoline are spiking after Hurricane Harvey forced some 22% of U.S. refining capacity to shut down, but this much? Over the long Labor Day weekend, when prices typically are elevated, retail prices were the highest since 2015.
By Friday afternoon, the national average for unleaded, regular gas stood at $2.535, according to GasBuddy.com. By this morning, it stood at 2017's peak of $2.652, up more than a dime, and higher by more than $0.25 from last week's average, nearly $0.31 from a month ago and close to $0.45 a year ago. That's leading some market watchers to wonder whether there's some surge-pricing activity going on.
Let the Games in Congress Begin
Summer is over for Congress too and its legislative agenda is long with little time. Among the issues to watch: Hurricane Harvey relief, expected to be put to a vote in the House on Wednesday, is a $7.85 billion ticket that the White House wants tied to raising the debt ceiling. "Without raising the debt limit, I am not comfortable that we will get money to Texas this month to rebuild," U.S. Treasury Secretary Steve Mnuchin said Sunday on Fox News.
Blockbuster Bust
Labor Day weekend also ended a long, painful summer for Hollywood at the box office, according to research group Comscore. Usually, summer movie-going accounts for some 40% of annual ticket sales. This summer's movie ticket sales are expected to ring up at $3.83 billion, 16% lower than last year, and marking the first time the season's count fell below $4 billion since 2006. The culprit? Not a whole lot out there beyond "half-baked sequels and remakes that are made by committee and primarily designed to sell merchandise," according to the New York Times.
Posted-In: JJ Kinahan TD Ameritrade The Ticker TapeNews Commodities Federal Reserve Markets
View Comments and Join the Discussion!