WWE's Labor Day Announcement: We're Working On Christmas And New Year's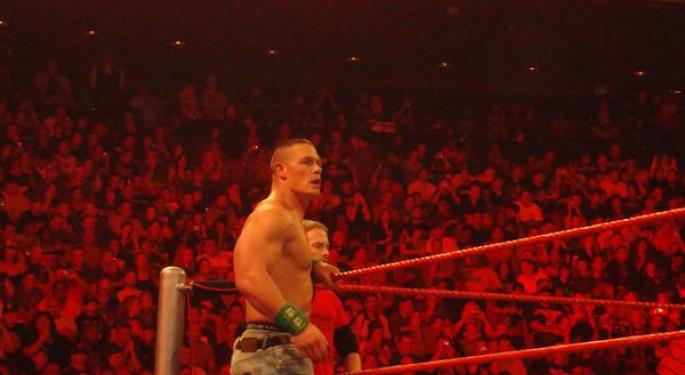 Instead of spending Christmas and New Year's Day with in-laws this year, wrestling fans will have the chance to spend both holidays with John Cena, Roman Reigns and all their favorite World Wrestling Entertainment, Inc. (NYSE: WWE) performers. On Monday, WWE announced it will be broadcasting live episodes of Raw on both Christmas and New Year's Day this year.
Ironically, WWE's announcement of its two upcoming holiday shows came on Labor Day, a holiday meant to celebrate the U.S. Labor Movement and worker's rights. Unlike most professional sports, WWE has no off-season for its performers, and it appears at least a number of talents will not even get two major holidays off this year.
Surprisingly, while WWE talents work a full-time schedule, the company classifies them as independent contractors. As independent contractors, performers must pay their own self-employment taxes and are not entitled to many of the job benefits that most workers get, including insurance, social security and Medicare.
There is no LABOR union for professional wrestlers, and past efforts to create one have failed.
Back in the 1980s, former Minnesota governor and pro wrestler Jessie "The Body" Ventura tried to get his fellow wrestlers to unionize. According to Ventura, WWE CEO Vince McMahon threatened to fire Ventura, who ultimately decided to simply leave the company.
"Wrestling operated under some of the most unfair working conditions in the country," Ventura wrote in his book. "I don't know how they got away with it for so many years."
While conditions have seemingly improved dramatically for today's talent, performers still have no union and they are still classified as contractors. WWE performers may actually enjoy bringing a bit of holiday cheer to fans by working on Christmas and New Year's Day. But without a union, they seemingly have very little say in the matter.
Related Link: WWE Network Enters China Just In Time For SummerSlam
_________
Image Credit: By Paolo Saccuzzo - Own work, Public Domain, via Wikimedia Commons
View Comments and Join the Discussion!
Posted-In: Vince McMahonNews Sports Top Stories Media General Best of Benzinga