HERB, The Fast-Growing Marijuana Media Company, Gets Investment From Joe Montana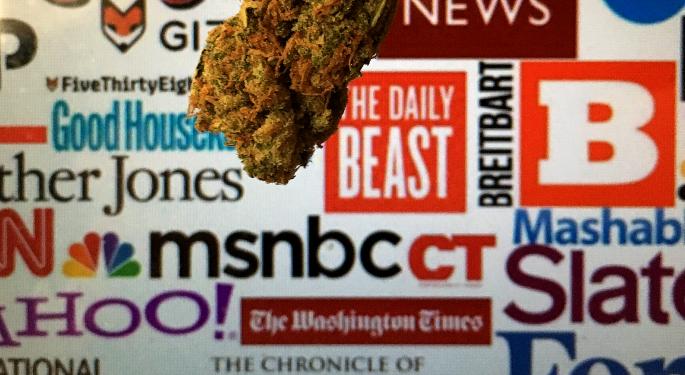 As cannabis legalization continues to spread, competition in the media space is becoming fierce. However, just a handful of outlets are driving most of the traffic.
Leading this bunch are High Times, which is set to start trading on the Nasdaq in October with a $250 million valuation through a reverse merger with Origo Acquisition Corporation (NASDAQ: OACQ); The more serious Leafly, focused on dispensary and products reviews; and HERB, the undisputed social media king, generating engagement levels comparable to those of Vice and Buzzfeed.
In this context, continued expansion is key to remain a front-runner., but growth is costly. Raising money for cannabis businesses isn't as easy as it might seem, given the lack of access to traditional financing. Nonetheless, the top companies in the cannabis industry tend to manage to get funded.
Quality Investors
If who's investing in a company can be seen as a proxy of a business' quality and potential, then HERB's recently-announced $4.1 million raise will have major VC firms in the cannabis industry drooling. On Tuesday, the media firm revealed it closed a seed-funding round of $4.1 million, led by Lerer Hippeau Ventures including participation from:
Slow Ventures, founded and run by early Facebook Inc (NASDAQ: FB) employees.
Michael Lazerow, who co-founded Buddy Media and then sold it to salesforce.com, inc. (NYSE: CRM) for $800 million.
Bullpen Capital.
Shiva Rajarama, a seasoned product manager with previous experience at Alphabet Inc (NASDAQ: GOOGL) (NASDAQ: GOOG)'s YouTube, Spotify and Twitter Inc (NYSE: TWTR), currently serving as chief procurement officer at WeWork and in charge of revamping Apple Inc. (NASDAQ: AAPL)'s video services.
Liquid 2 Ventures, NFL Hall of Famer and angel investor Joe Montana's VC firm.
Tobi Lutke, CEO at Shopify Inc (US) (NYSE: SHOP).
Harley Finkelstein, COO at Shopify.
Adam Zeplain, VC capitalist.
New Tech Platform
According to a press release, the proceeds of the funding round will be used to launch HERB's new technology platform, expand its video studios, hire new employees, and open two new office locations in Los Angeles and New York.
"This offering is well-timed with the ever-increasing demand for cannabis education as the plant continues to be accepted on a global level," HERB CEO Matt Gray told Benzinga. "The industry still bears the weight from decades of unfavorable representation, but we are committed to turning today's social stigmas into tomorrow's social norms."
"During our research into the cannabis industry, it became clear to both myself and our team at Liquid 2 Ventures that HERB was the most professionally run business for relevant, informative, cannabis content," Joe Montana said in the press release. "With the trend quickly leaning toward national or even global legalization, we think it will be imperative that there is a reliable source of educational content, which will ensure that cannabis consumers are well-informed about the benefits as well as the risks of using the plant."
If you're looking for cool fintech startups and access to top financial institutions, and are sick of attending stuffy corporate conferences, the Benzinga Fintech Summit is the event for you. Visit www.bzsummit.com for more details.
Connect with us on social media — use the hashtag #BZAwards and #Fintech to spread the word.
More From Benzinga:
Why Industrial Hemp Could Prove A Larger Economic Driver Than Marijuana
SuicideGirls Cannabis Coming To Nevada: SuicideGirls And Friday Night Inc Talk About Their New Partnership
View Comments and Join the Discussion!
Posted-In: Adam Zeplain Bullpen Capital CanabisCannabis News Financing Tech Media Best of Benzinga