Gary Cohn Speaks Out Against Neo-Nazis: 'As A Patriotic American, I'm Reluctant To Leave My Post'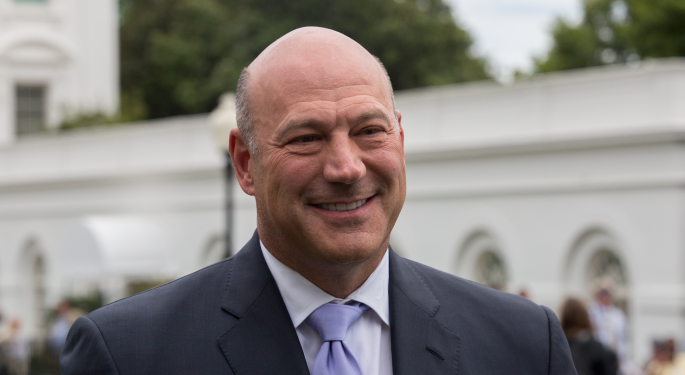 Gary Cohn serves at the pleasure of the president and isn't going to bow to public pressure and join the handful of other government officials who resigned from their post.
Cohn, a Jewish-American, leads the national economic council and faced pressure to join part ways with the White House after President Trump's condemnation of violence from "both sides" irked many people. In an interview with the Financial Times he acknowledged that the Trump administration "can and must do better in consistently and unequivocally condemning" hate groups including white supremacists but he is also "reluctant to leave my post."
'Duty To Fulfill My Commitment'
"I feel a duty to fulfill my commitment to work on behalf of the American people," he said in the interview.
Cohn noted that he also faced pressure from some among corporate America to remain in his post to continue promoting a pro-business agenda. In fact, some of the same CEOs who left President Donald Trump's advisory councils urged Cohn not to leave his post.
Cohn also took the opportunity to publicly denounce hate groups which attack his own heritage, including neo-Nazis, white supremacists and the KKK.
"As a Jewish American, I will not allow neo-Nazis ranting 'Jews will not replace us' to cause this Jew to leave his job," Cohn also told the Financial Times. "I feel deep empathy for all who have been targeted by these hate groups. We must all unite together against them."
Finally, Cohn said that the White House will embark on a campaign to introduce and market a tax reform plan in the coming days.
Related Links:
Yellen, Cohn In The Running For Next Fed Chair
Cashin, Sonnenfeld Differ On The Dow's Tumble If Cohn Resigns
__________
Image Credit: By The White House from Washington, DC - Regional Media Day: 7/25/17, Public Domain, via Wikimedia Commons
Posted-In: News Futures Politics Psychology Events Top Stories Markets Media Best of Benzinga
View Comments and Join the Discussion!