Highways To Hell: Freight Haulers, Motorists And Even Bicyclists Share Scary Roads Packed With Eclipse Watchers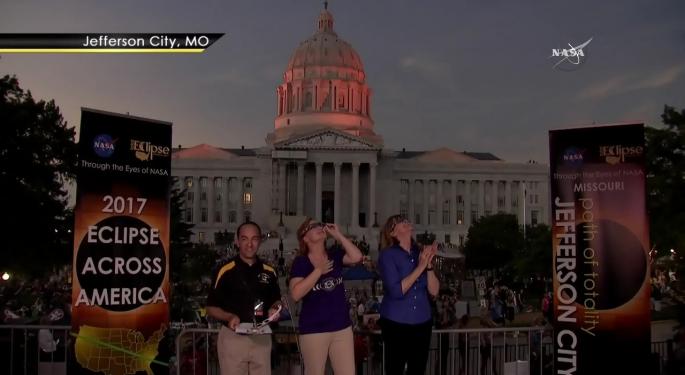 The total eclipse was a trucking nightmare.
Just as the industry warned, interstates in and around the 70-mile, coast-to-coast swath of totality were snarled with sungazers mingling, and in some cases colliding with, freight haulers from Oregon to South Carolina.
From Sea To Shadowed Sea
Tens of thousands of people descended on the southern Illinois town of Carbondale, where backups were reported as late as early Tuesday morning. Many trucks just pulled over to wait it out.
"There were trucks pulled over on the exit ramps, on the shoulders of exit ramps, on the shoulders of the highway," Ann McNamara, 56, told the Chicago Tribune. She said that it took her nearly 15 harrowing hours to get home.
Oregon's Department of Transportation had advised freight companies to reschedule their delivery plans and actually prohibited extra-wide loads between Aug. 18–22.
A look at some of the other fallout from the solar-powered overcrowding:
Outside Omaha, Nebraska, 19-year-old Creighton University student Joan Ocampo-Yambing of Minnesota was killed when a truck driver failed to notice that traffic had slowed and crashed into the car she was in, then struck a second vehicle, sending that car into yet another truck.
A 22-year-old man who allegedly stole an idled truck from the Harbor Freight parking lot in Kissimmee, Florida, was found standing by the vehicle, checking out the eclipse with a welding helmet. He was arrested.
Related Link: Total Eclipse Of The Trucking Industry
A Portland, Oregon, bike blogger said eclipse watchers on bikes ran afoul of the tight traffic. "The single most harrowing moment of the trip happened just south of Oregon City, when the driver of a semi truck veered entirely into the bike lane just in front of us, forcing us off of the road."
Also in central Oregon, a man who told police he was on drugs ran his SUV over two tents at a music festival filled with eclipse watchers, injuring one woman. The Oregonian said she suffered bruises. "She woke up by being run over by a car," the witness said.
In Anderson, South Carolina, hundreds of people were stuck in traffic after a key truck stop ran out of fuel. The state was prompted to issue an advisory telling people to steer clear of the congestion.
In Hyden, Kentucky, one woman was killed and another injured when a car struck them Monday. Station WMYT initially quoted officials saying the women were watching the eclipse but later said the accident remained under investigation.
An estimated 100,000 people descended on Oregon's Jefferson County fairgrounds in the little town of Madras, creating a traffic nightmare that began on Sunday and continued into the wee hours of Tuesday. The Oregon National Guard was called in to keep order.
The Bellville News-Democrat reported that a hiker from Indiana was injured was he fell from a cliff prior to the eclipse in Illinois. The Shawnee National Forest temporarily closed Sunday due to safety issues when 300,000 people converged on the park in Herod.
Beyond Accidents: Traffic And Fuel Problems
Traffic in Wyoming increased by some 536,000 vehicles as people entered the state to see the total solar eclipse, then left. The numbers eclipsed the previous record. "These are historic traffic numbers for Wyoming," Wyoming Transportation Director Bill Panos said in a news release.
There were reports of fuel shortages across the country and solar-powered Tesla Inc (NASDAQ: TSLA) wasn't immune. Long waits at charging stations were reported nationwide.
Vehicle traffic wasn't the only crowding. "I suspect there will be an increase in patient traffic to ERs, especially in the areas expecting a large influx of eclipse watchers," Becky Parker, MD, president of the American College of Emergency Physicians, said in a statement prior to the eclipse.
_______
Image Credit: By NASA - Screenshot of live stream that was broadcast at https://www.nasa.gov/eclipselive/#NASA+TV+Public+Channel, Public Domain, via Wikimedia Commons
Posted-In: solar eclipse total solar eclipseNews Psychology Topics Travel Events General Best of Benzinga
View Comments and Join the Discussion!