Times When Tesla's Musk Voiced His AI Fears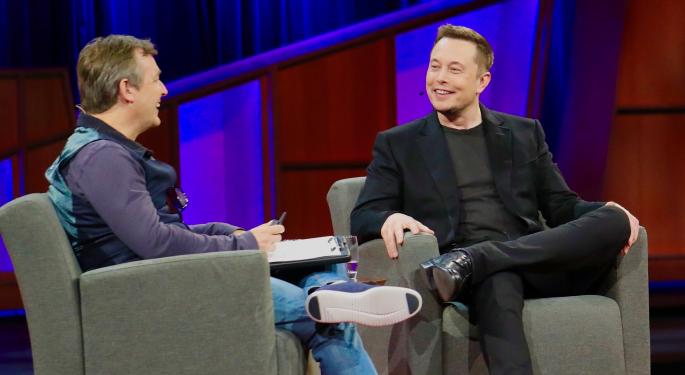 When Tesla Inc (NASDAQ: TSLA)'s Elon Musk made his fears surrounding artificial intelligence public, it came as a surprise to many.
People failed to see logic in the opposition by an executive who's spearheading new-age technologies such as electric vehicles, self-driving technology, sustainable energy and space travel.
AI, according to Techtarget, is the simulation of human intelligence processes such as learning, reasoning and self-correction by machines.
All the same, Musk has been resolute in his stance against AI, a technology many high-profile tech firms such as Alphabet In (NASDAQ: GOOGL) (NASDAQ: GOOG), Facebook Inc (NASDAQ: FB) and Microsoft Corporation (NASDAQ: MSFT) are developing.
While the debate over AI continues, it has made its presence felt and is slowly transforming into a sine qua non technology. Custom search engine results, social media alerts and notifications and e-commerce recommendations are powered by AI-based algorithms and models.
Serious Existential Threat
As early as 2014, Musk lashed out against AI, calling it the most serious threat to the survival of the human race. His comments came during an interview at the AeroAstro Centennial Symposium organized at the Massachusetts Institute of Technology.
"I'm increasingly inclined to think that there should be some regulatory oversight, maybe at the national and international level, just to make sure that we don't do something very foolish," the Guardian reported, quoting Musk.
Likening AI To Nukes
Via Twitter Inc (NASDAQ: TWTR) in June 2014, Musk said: "Worth reading Superintelligence by Bostrom. We need to be super careful with AI. Potentially more dangerous than nukes."
Repeats Existential Threat Rhetoric
At the bipartisan National Governors Association in Rhode Island in July, Musk said AI is a fundamental existential risk for human civilization and that the gravity of the situation is not appreciated. "AI is a fundamental risk to the existence of human civilization in a way that car accidents, airplane crashes, faulty drugs or bad food were not," he said.
At Loggerheads With Facebook's Zuckerberg
Facebook Inc (NASDAQ: FB) CEO Mark Zuckerberg recently spoke against AI naysayers in a Facebook livestream.
"I just, I don't understand it. It's really negative and in some ways, I actually think it is pretty irresponsible," Zuckerberg said.
Responding to Zuckerberg, Musk said in a tweet: "I've talked to Mark about this. His understanding of the subject is limited."
Graver Threat Than North Korea
As recently as this week, when the markets roiled in reaction to President Donald Trump's "fire and fury" comments against North Korea, Musk created a flutter by suggesting that AI is a far greater threat than North Korea.
"If you're not concerned about AI safety, you should be. Vastly more risk than North Korea," Musk tweeted.
With his stance against this emerging technology, it came as a no surprise when Musk invested in a project that focuses on making AI technology open-source, preventing AI from being controlled by one company.
Musk also touched upon the government's role in regulating AI on Tesla's second quarter earnings call. Musk suggested that at the least, governments should have understand and regulate the technology for the safety of the public.
"That is what I'm advocating for. I'm not advocating for that we stop the development of AI, or any of the sort of straw man, hyperbole things that have been written. I do think there are great benefits to AI. We just need to make sure that they're indeed benefits and we don't do something really dumb," Musk said.
Related Links:
3 Reasons To Believe In Elon Musk For The 'Future Of Humanity'
Artificial Intelligence, Machine Learning Could Threaten Apps
_______
Image Credit: By Steve Jurvetson from Menlo Park, USA - Elon Musk and Chris Anderson at TED 2017, CC BY 2.0, via Wikimedia Commons
Posted-In: Facebook Google Microsoft TeslaTech Media Best of Benzinga
View Comments and Join the Discussion!