McDonald's Proposed Chinese Expansion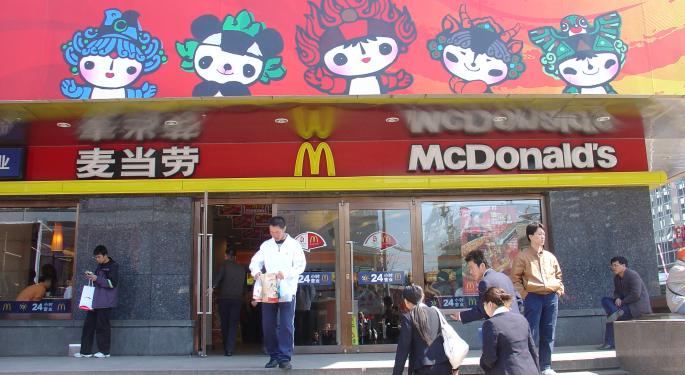 Despite the ordeal of climbing over the Chinese barriers, many companies have made a beeline to China and have persisted with their attempts despite the rebuffs. Fast food chain McDonald's Corporation (NYSE: MCD) isn't the one to let the Chinese opportunity go by and this was evident from an announcement made by the company last week.
The essence of the communication is this: The company intends to double the store count in China to 4,500 by 2022, more than the numbers it had estimated earlier. Currently, the company has 2,500 outlets in China.
Giving Up On Chinese Control
The expansion is set to be achieved with the help of forging alliance with The Carlyle Group LP (NASDAQ: CG) and state-run CITIC Ltd., with the U.S. firm selling a controlling 52 percent stake in its Chinese and Hong Kong divisions to CITIC Group. While McDonald holds a 20 percent, the remaining 28 percent stake is held by the Carlyle Group.
McDonald's targets double-digit annual sales growth in mainland China during this period. The Chinese expansion was aimed at taking a potshot at its rival Yum! Brands, Inc. (NYSE: YUM)'s KFC chain, which has a bigger share of the Chinese fast food market of the two.
Incidentally, Yum Brands was forced to spin-off its Chinese unit into a separately traded public company called Yum China Holdings Inc (NYSE: YUMC) in a bid to prop its struggling Chinese division.
Meanwhile, a report by South China Morning Post said McDonald's is tying up with China's largest homebuilder Evergrande Group.
"The strategic cooperation with Evergrande will prompt McDonald's restaurants to quickly expand its footprint throughout the country, especially in third- and fourth-tier cities," the South China Morning Post said, quoting Citic chairman Chang Zhenming.
"Evergrande will give McDonald's "priority" in site selection under its property developments nationwide, Citic said.
Related News: Whet Your Restaurant Sector Appetite: A 2017 Outlook
Shrinking Chinese Growth
The craze with which Chinese customers thronged McDonald's in its early years in China is now no longer visible. After opening its first outlet in mainland China in 1990, the company saw rapid growth through the '90s, as people enamored with Western food and lifestyle visited the company's outlets in droves, fueling rapid expansion.
However, the tables have now turned, as people look to get back to their roots, realizing the value in native cuisine. Additionally, the rising cost of operation in China, including labor costs and rental expenses, have made life in China difficult for these companies. There is homegrown competition to contend with, too.
McDonald's share of the Chinese fast food market has shrunk to 13.8 percent in 2015 from 16.5 percent in 2013, while Yum Brands' share has slipped to 23.9 percent in 2015 from 40 percent in 2012.
However, pursuing a different strategy from McDonald's, coffee retail chain Starbucks Corporation (NASDAQ: SBUX) recently bought out its Chinese partner and is targeting opening of 500 stores per year in mainland China. The importance of China as a market is starkly evident from the move.
Will McDonald's shrewd strategy of localizing its operations help the company overcome the handicaps and realize its potential in taking a major piece of the Chinese fast food market pie?
________
Image Credit: By Photo by: Johndhackensacker3dFuwa (Beibei, Jingjing, Huanhuan, Yingying, and Nini), the Beijing Olympics mascots were created by: Han Meilin. - Own work, CC BY 3.0, via Wikimedia Commons
View Comments and Join the Discussion!
Posted-In: Chang ZhenmingNews Emerging Markets Restaurants Global Markets Trading Ideas General Best of Benzinga