Subtext Of The Siege In Charlottesville: Virginia Makes $24 Billion Off Racial History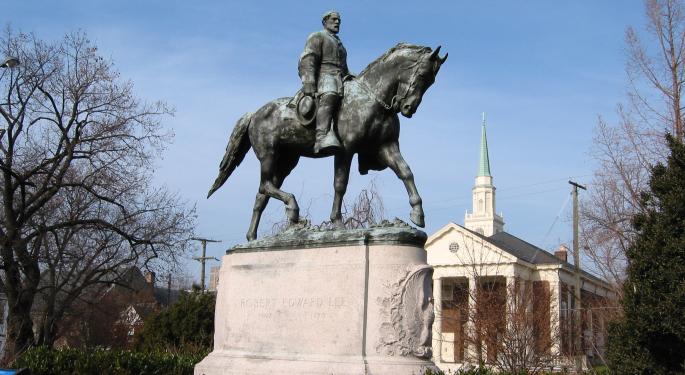 White supremacists clashing with anti-racism activists in Virginia has taken place in a city that has a history steeped in Civil War and civil rights, a place that profits greatly from people obsessed with landmarks and milestones that Charlottesville both symbolizes and markets.
As a nexus of both the Civil War, the slave trade and the civil rights movement, Charlottesville makes $1 billion dollars annually on tourism. Many other places in Virginia and elsewhere in the South have profited enormously from their history, however dubious.
Related Link: Trump's Transgender Ban Fell Near The Anniversary Of Truman's Decision To Desegregate Military
What Triggered This Violence?
The Charlottesville city council voted to sell off a statue of Confederate Gen. Robert E. Lee and rename the park where it stood from "Lee Park" to "Emancipation Park."
The removal of Confederate flags and statues of rebel icons across the South illustrates the great divide between a dwindling, working-class white demographic and everybody else, which the campaign of President Donald Trump played upon to win election.
How Much Does Money Play In Protests?
Virginia, a swing state that borders the nation's capital and elected the nation's first black governor, has played a historic role not just in the establishment of the United States, but in the history of the Civil War and race relations. And there is big money in history.
Virginia's tourism revenue reached $24 billion in 2016, a 3.3 percent increase over 2015, outpacing the national growth rate of 2.7 percent. It supported 230,000 jobs. Virginia gets more than 45 million tourists from around the world.
Here are just a few ways that Virginia cities have sought to use that history to boost their economy:
Appomattox
Site of a National Historical Park that recreates the small village where Lee's army surrendered to General Ulysses S. Grant. National parks fees are generally $10, but the real money is in concessions and hotels. Tourism revenues drive the regional economy.
Fredericksburg
Scene of the Confederate Army's greatest victory against the Union Army of the Potomac, the place has become a holy shrine to people enamored with the rebel side of the war. Fredericksburg National Cemetery is the final resting place of thousands of Union soldiers.
Shenandoah Valley
The area that was the site of some of the most brutal Civil War battles. This is a big-money venue for Civil War-reenactment aficionados, who often choose sides depending on how they feel about race.
Charlottesville
Even before Martin Luther King Jr.'s landmark "I Have A Dream Speech" in 1963, the city engaged in protests against widespread racism. The riots of today are reminiscent of what went before and after the day President Lyndon B. Johnson signed the 1964 Civil Rights Act, a bill that seems to many to have achieved little progress.
Charlottesville, where history and race and racism and the vestiges of slavery intersect in the street fights exploding today, may very well be a symbol of more to come.
______
Image Credit: By Cville dog (Own work) [CC BY-SA 3.0 (http://creativecommons.org/licenses/by-sa/3.0) or Public domain], via Wikimedia Commons
View Comments and Join the Discussion!
Posted-In: News Futures Politics Psychology Travel Events Global Markets Best of Benzinga