Your Quick, Handy Guide To The Grand Jury Investigation That Could Bring Down The President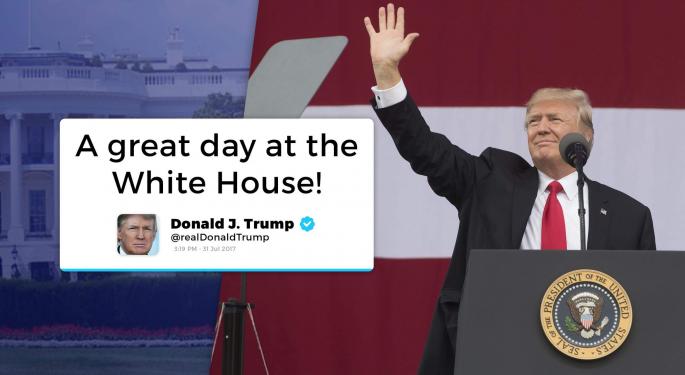 The convening of a grand jury to look into Russia's meddling in U.S. politics guarantees the issue will be a long, taxing drag on President Donald Trump's already side-tracked agenda, his family and the keyboard he uses to vent on Twitter Inc (NYSE: TWTR).
Though the grand jury's investigation could lead to an indictment and ultimately the ouster of the president, some analysts were playing down the news as an expected outcome of special investigator Robert Mueller's probe into the Trump camp's ties to the Kremlin.
"The existence of a grand jury is commonplace in special counsel or independent prosecutor investigations; as expected, it signals the investigation is likely to be a lengthy one that could last months if not years," Height Securities said in a note.
Likewise, Deputy Attorney General Rod Rosenstein suggested the move doesn't mean an indictment is now imminent.
Related Link: Special Prosecutor Holds Key For How A Trump Impeachment Might Unfold
"It doesn't say anything about the likelihood of indictments," Rosenstein told Fox News Sunday. "It's just a tool that we use like any other tool in the course of our investigations."
Still, considering the power it wields, convening a grand jury is no small deal.
Why Grand Juries Are A Big Deal
No sooner had reports surfaced that the grand jury was convened last week than Reuters reported that the panel had already issued subpoenas in connection with a June 2016 meeting by Donald Trump Jr., son-in-law Jared Kushner and then-Trump campaign manager Paul Manafort with a Russian lawyer, among others, to discuss dirt on Democratic rival Hillary Clinton.
Intelligence officials have already testified that the Kremlin indeed attempted to tip the presidential election in Trump's favor, and the grand jury is investigating whether the campaign colluded with Russia to smear Clinton.
News reports also said the Mueller probe also will investigate the far-ranging financial dealings of Trump and his associates.
A grand jury is made up of people selected in much the same way regular juries are chosen. They don't convict, however, but look at the evidence and decide whether to recommend criminal charges. Grand juries are required in all federal felony investigations and can contain up to 23 people. It only takes a majority to indict.
There are no defense lawyers. People subpoenaed can be questioned by jurors and prosecutors under oath and decide if there is reason to believe a crime has been committed. Even if they don't issue criminal indictments, federal prosecutors can use that information to bring charges.
There Are Now 2 Grand Juries Dogging The Trump Camp
This is actually the second grand jury convened in connection with Trump aides. Mueller already has a grand jury investigating Michael Flynn, a key Trump campaign aide who was briefly the president's national security advisor before being forced to step down because of his own contacts with Russians.
As The Hill points out, Mueller would not have impaneled a second such grand jury if he thought instances of wrongdoing were restricted to Flynn. And it's an indication that Mueller, who has assembled a powerhouse team that includes experts on international money laundering, suspects felonies have been committed.
Height points out that typical grand jury proceedings last 12-18 months; the Valerie Plame CIA leak investigation spearheaded by Special Counsel Patrick Fitzgerald dragged on for almost four years and involved two grand juries.
Should Trump be worried? You bet. Even though he continually dismisses the investigation as a "witch hunt" the impeachment of then-President Bill Clinton began with a grand jury probe into the Whitewater scandal and branched out into his affair with Monica Lewinsky.
And Clinton, of course, ended his term with approval ratings far higher than any Trump has experienced.
_______
Image Credit: By Donald Trump, Public Domain, via Wikimedia Commons
View Comments and Join the Discussion!
Posted-In: Bill Clinton CollusionNews Futures Politics Legal Markets General Best of Benzinga