Tesla's Most Unexpected Solar Competitor: IKEA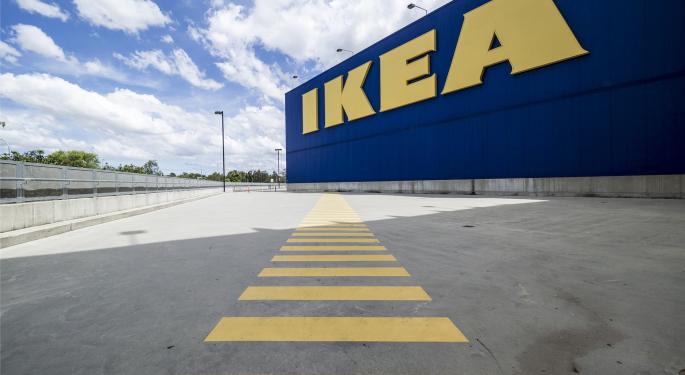 Less than a week after taking the first Model 3 cars off the line, Tesla Inc (NASDAQ: TSLA) also installed its first solar roofs. The company made the announcement during its second-quarter earnings call on Wednesday.
The solar roofs use solar panels in the shape of roof tiles to replace existing shingling, rather than the traditional method of placing panels on top of an existing roof. The tiles are designed to look as good as ordinary tiles and are up to three times as strong against impacts.
The solar panels are connected to a battery storage system, which can power a house off of the grid.
Like with the Model 3, the first solar roof customers are all Tesla employees. Management said it plans to use these first roofs to identify and fix any issues in the sales and installation process before offering them to the public.
An Unlikely Competitor: IKEA
Across its offices and warehouses worldwide, IKEA, the Swedish furniture giant, has installed hundreds of thousands of solar panels.
On Wednesday, IKEA announced it will begin selling a new solar power and storage product to consumers in the U.K. The battery can also be bought on its own to connect to existing solar panels.
It's not exactly the same as what Tesla is doing — IKEA's solar panels are meant to be added on to roofs, not replace them — but the news still brings the world's largest furniture retailer into competition with Tesla, which owns SolarCity Corp (NASDAQ: SCTY).
DIY Vs. Full Service Solar
It's unclear whether IKEA, or its partner Solarcentury, the U.K.'s largest solar company, will take care of all the installation work or leave it for consumers like IKEA does its furniture.
Even if it doesn't, IKEA wins on price. The price starts between about $4,000 to $9,200 depending on the configuration — the sum buyers can expect to save in energy costs over 12 years.
By comparison, Tesla's solar roofs will cost tens of thousands of dollars depending on the house' location and size. That cost is similarly offset by energy savings as well as tax credits.
Perhaps more importantly, IKEA has an infrastructure of hundreds of giant warehouses and showrooms that can be used to store and move its solar panels. Tesla, by comparison, is not even allowed to operate car dealerships in several states.
Tesla has a plan though. It wants to operate showrooms inspired by Apple Inc. (NASDAQ: AAPL) stores that will allow consumers to get hands-on not only with its cars, but its solar technology as well.
The showrooms are being placed in high-trafficked areas like malls and within department stores.
An IKEA showroom could actually be a prime place for Tesla to attract consumers.
Get the latest business and financial news in real-time with Benzinga Pro.
Related Links:
Gene Munster Goes The Distances On Tesla: A Look At Short- Vs. Long-Term Expectations
From X.com To SpaceX: Where The Most Interesting Man In The World Got His Start
View Comments and Join the Discussion!
Posted-In: IKEA SolarcenturyNews Tech Best of Benzinga