Serious About Seeing The Solar Eclipse? There's An App For That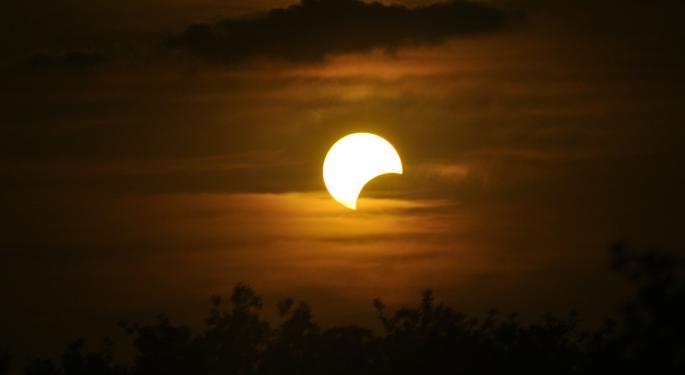 You don't need a shoebox with a pinhole to view the solar eclipse in a half-baked sort of way. You can see the real deal.
As Apple Inc. (NASDAQ: AAPL) would say (they actually trademarked this phrase), there's an app for that.
Wander over to the American Astronomical Society website for a slew of smartphone and computer applications that allow you to witness — even photograph — the rare lunar/solar event without scorching your corneas irreparably.
It takes place on Aug. 21, and several apps tell you how much of totality will be available in your zip code.
Then there is the event itself, which ophthalmologists warn you will injure your eyes if you look up when the moon phases in front of the sun and makes astronomers elated and sends astrologers into spastic ecstasies of muddled meanings.
The last time a total solar eclipse occurred in the continental United States was 1979. The next one that similarly goes coast-to-coast will occur in 2045. There are many sites online selling eyewear that protects you when you stare into the sun, but be careful: Plenty of them are fakes.
Related Link: Billionaires Boast Reusable Rockets, Motels In Space
The Solar Eclipse And The Meaning Of Life
Ancient civilizations viewed the apocalypse as either a divine message from a particular deity or the devil's utter damnation of grubby humanity. For instance:
Norse cultures blamed wolves for eating the sun.
Ancient China thought a skyward dragon was eating the sun (yes, there is a theme here).
Ancient Hindus once thought the deity Rahu was being beheaded for drinking the nectar of the gods, no doubt a fine Kentucky bourbon.
Some Native Americans thought a bear took a bite out of the sun, then the moon, and then ... you do the math.
Ancient Greeks thought (what else?) that the gods must be angry.
What Does NASA Think?
NASA will be there, because NASA is pretty much all over whatever is cool about the spaceways. You can actually stay indoors and look at the eclipse online without hurting your eyes any more than your usual squinting at a computer screen. Still, the space agency has its own safety tips.
Even the long-serving space folks staffing the International Space Station will be in an orbital phase that will catch at least some part of the solar eclipse.
In fact, most places in the United States will see only a partial eclipse. Click here to find out where you can see it in its rare totality.
Smartphone Downloads Eclipse Demand
Here's a roundup of smartphone downloads based on your operating system. Don't look up! Just walk around as usual, staring at your phone, oblivious to traffic both auto and otherwise, while you gaze into the cosmic forces beyond our ken.
Just be careful or you'll put your eye out.
View Comments and Join the Discussion!
Posted-In: American Astronomical SocietyNews Topics Events Global Top Stories Tech General Best of Benzinga