Michael Dell's Relationship With Shareholders: It's Complicated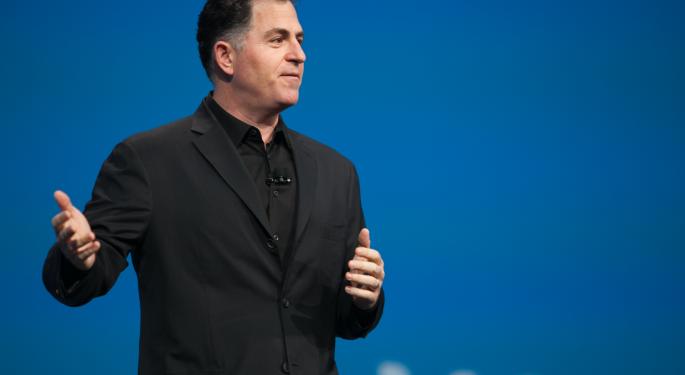 When it comes to relationships, it doesn't get more complicated than the one between Dell Technologies Inc (NYSE: DVMT) founder and CEO Michael Dell and the company's shareholders.
With more than $61 billion in 2016 revenue, Dell remains one of the largest technology companies in the world. Shares of Dell Technology are up 17 percent so far in 2017. But figuring out how to invest in Dell and what exactly a share of DVMT represents takes a bit of work.
Dell Drama
The Dell drama began back in 2013 when Michael Dell decided to take the company private in a $24.4 billion leveraged buyout deal. Blackstone Group LP (NYSE: BX) and billionaire Icahn Enterprises LP (NASDAQ: IEP) CEO Carl Icahn initially made a competing bid to buy Dell, but Blackstone later withdrew its bid. Dell eventually succeeding in completing the buyout at a price of $25 billion, or $13.75 per share. Shareholders that opposed the deal eventually took Dell and Silver Lake Partners to court over the buyout price.
"I agree with the shareholders that he was not paying a fair price for Dell and that they were getting hosed," Icahn said at the time.
Related Link: Department Store Sector Heats Up As Nordstrom Considers Go-Private Deal
As it turns out, Dell shareholders were justified in their outrage over the lowball bid. A Deleware judge ruled last year that the fair value of Dell at the time of the buyout was $17.62 per share, about 22 percent higher than the payout shareholders received.
Dennis Dick, proprietary trader at Bright Trading and co-host of Benzinga's PreMarket Prep morning show, was a Dell shareholder back when Michael Dell took the company private.
"The stock was trading near 52-week lows, so it felt like a classic scenario of Michael Dell taking advantage of the price of his stock," Dick says. "I would have held the shares, but obviously didn't have a choice as the stock was taken private."
But Dell's exit from the public market didn't last long. In October 2015, Dell announced a $67 billion merger with publicly-traded EMC. EMC itself had purchased cloud software company VMware, Inc. (NYSE: VMW) back in 2003 and released 15 percent of its ownership stake to the public market in a 2007 IPO.
Clear As Mud
As part of the Dell–EMC merger deal, the largest in tech history, Dell created a tracking stock that trades on the Nasdaq under the ticker DVMT. While the name given to the tracking stock is "Dell Technologies," the shares are far from an ownership stake in Dell. DVMT represents Class V shares of Dell, which it tied only to about a 65-percent stake in EMC's 81 percent stake in VMware. By definition, tracking stocks do not have voting rights or ownership rights to company assets.
In other words, DVMT may be called "Dell Technologies," but it actually represents a 65 percent stake of an 81 percent stake in a subsidiary of a subsidiary of Dell Technologies. It couldn't be any clearer.
At the same time, those shares of DVMT have literally no tie to the assets Michael Dell acquired in the 2013 buyout. At that time, the VMware interest that is now tied to the tracking stock was wholly-owned by EMC shareholders.
But just because the assets Michael Dell acquired in 2013 aren't tied to the tracking stock doesn't mean he hasn't been profiting off of the tracking stock's strong performance. SEC filings reveal Michael Dell has purchased more than 1.1 million shares of the DMVT tracking stock since it began trading, paying a price of $27.50 for the majority of the shares. __________
Image Credit: By Oracle PR from Redwood Shores, Calif., USA - Michael DellUploaded by Schreibvieh, CC BY 2.0, via Wikimedia Commons
View Comments and Join the Discussion!
Posted-In: DELL Michael DellNews Education Management Tech General Best of Benzinga