'Dunkirk' Takes Box Office For Second Weekend; 'Atomic Blonde' Doesn't Bomb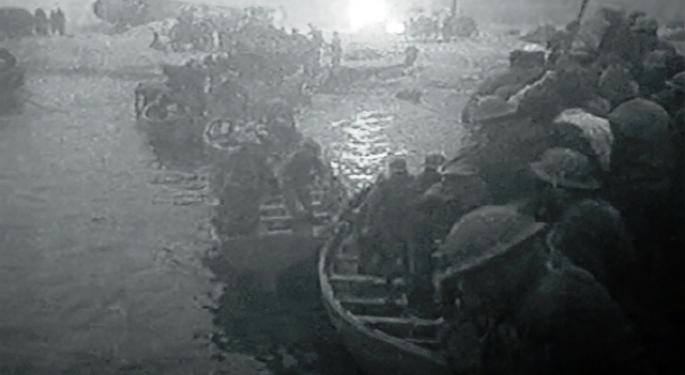 "Dunkirk," Christopher Nolan's movie about an Allied retreat that may have paradoxically won World War II, demolished Charlize Theron's Bondian action thriller "Atomic Blonde," but the latter's lean budget and potential legs are reminiscent of its director's "John Wick" franchise.
With a box office haul of $18.6 million, "Blonde" nearly made back its low budget of $20 million, got great reviews and continued Theron's transition to 40-something female action star that won her raves in the instant classic "Mad Max: Fury Road."
"Atomic Blonde" is exactly the kind of movie that Hollywood should be making (modestly budgeted and original) and along with "Baby Driver" provided one of the most exhilarating, exciting and freshest takes on the action genre in years." said Paul Dergarabedian, senior media analyst at comScore, Inc.
"With sequels and franchises always dominating the summer movie landscape, 'Atomic Blonde" shows that there are still filmmakers and studios willing to go all out to provide the antidote to the same old worn-out movie cliches and outmoded ideas of what the summer season need to represent as the most populist of all the seasons."
"Blonde" rips up the old movie-making playbook and via Charlize Theron's gender stereotype-smashing brilliance the cinematic experience gets elevated to a new and exciting level that the industry needs right now."
Wonder Women
"Blonde" comes on the heels of "Wonder Woman" — the biggest movie of the summer — and is yet another blow for women of a certain age proving to be popular in action flicks dominated by male actors. The director, David Leitch, made the two "John Wick" movies starring Keanu Reeves, heart-stopping thrillers with a hard-core cult following.
The leader for the second consecutive week was Time Warner Inc (NYSE: TWX)'s "Dunkirk," Nolan's gut-wrenching take on the evacuation of northern France that essentially saved up the British army to do battle with the Nazi invasion of Germany's European neighbors. It took first place at the domestic box office with $28.1 million, a scant 44 percent drop from its debut weekend.
Related Link: 'Wonder Woman' Woos Hollywood With Tremendous Box Office Legs
'Detroit' Plays Well In Limited Release
Coming in second was the critically unacclaimed "The Emoji Movie" with $25.7 million.
In third, just ahead of "Atomic Blonde," was Universal's R-rated comedy "Girls Trip." In its second week, the flick starring Queen Latifah, Jada Pinkett Smith, Regina Hall and Tiffany Haddish pulled in $20.1 million.
Oscar-winning director Kathryn Bigelow's "Detroit," about the race riots that tore through the Motor City in 1967, played on 20 screens in limited release and took in $365,455 for a heady per-screen average of $18,273.
And, a full two months after its release, "Wonder Woman," starring Gal Gadot and directed by Patty Jenkins, took in another $3.54 million domestically to officially seal the deal as the summer's biggest hit and one of the leggiest movies in history.
__________
Image Credit: "British troops lifeboat Dunkerque," By Frank Capra (film) [Public domain], via Wikimedia Commons
View Comments and Join the Discussion!
Posted-In: Atomic Blonde Baby Driver Charlize Theron Christopher Nolan comScoreNews Media General Best of Benzinga