We Spoke With The Experts, And Learned The Secrets Behind Beating The Penny Stock Market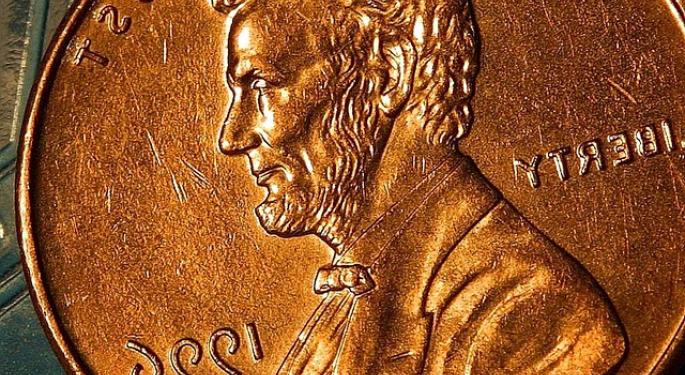 With their inorganic moves and promotional gimmicks, learning how to properly trade penny stocks could be extremely valuable for everyday investors.
Benzinga often receives reader inquiries on penny stocks. While that's not necessarily our cup of tea, providing education for all aspects of the stock market is important to us. With that being said, we had a chance to talk with three of the most successful penny stock investors to get some basic education on the best way to incorporate low-priced, possibly very low volume stocks into a trading strategy.
Getting Started With Penny Stock Trading
For a majority of the best penny stock traders, becoming a millionaire does not happen immediately and usually not without a few losses.
Ross Cameron, the founder of Warrior Trading, went into penny stock trading with the mentality that 50 percent gains were going to be easy.
"My first couple trades I got into penny stocks were $0.15 to $0.20 stocks, and I made like 50 percent gains. In my third or fourth trade I put in $15,000 or $20,000, lost like 75 percent of it, and I realized you can lose your money just as fast," he said.
After learning new strategies, Cameron ended up turning $583.15 into $100,000.
The Importance Of Finding A Better Strategy
Obviously, it is not as easy as it sounds to make 50 percent gains right away — even when considering the volatility of penny stocks. Timothy Sykes, an extremely well-known penny stock trader who has turned $12,414 to nearly $5 million, highlighted the importance of traders figuring out how to manage their risk.
After all, according to Sykes, "penny stock [companies] have one or two products, are mostly speculative, and many of them are just outright frauds that will try to do anything to get their stock price up." He highlighted these companies feed off misinformed penny stock traders.
So, Which Strategies Should You Use When Trading Penny Stocks?
1. Momentum Trading
For Cameron, who uses Benzinga Pro as a tool for trading penny stocks, he looks at the most recent headlines, and trades off of momentum.
If Cameron notices a penny stock starting to trade higher and he reads a noteworthy press release, he might buy in for only a few minutes. This process, known as momentum trading, is used when an investor feels like the momentum will continue to drive the stock price either higher or lower.
2. Being Creative
Peter Leeds, the author of "Penny Stocks For Dummies," takes a much more creative approach as he focuses on longer term penny stock trades.
"I sometimes go to the annual general meeting or I show up to companies unannounced at the head office just to see how they react, not to me, but see how they explain how things work."
3. Finding Patterns
Sykes highlighted the biggest benefit of trading penny stocks, the moves are very inorganic as the stock does not react to every piece of news immediately.
"Adding a dot com to the name, the stock might pop the stock five, or six days in a row and similar patterns still apply today. A pattern that has worked well for me is when a billionaire invests in a penny stock, and it usually takes a few days for the news to really spread and people to understand this could actually be meaningful. So, you have these one or two or three week runs with the stock.
4. Use Fake Money First
If a trader is just getting started, both Cameron and Leeds recommend trading penny stocks with a simulator first.
"The best way is to practice trading in a simulator before you trade with real money because the market is always going to be here. So, why don't you just take one or two months to practice trading with virtual money. If you prove you can be profitable in a simulator, then give it a try with real money since you have now learned how to manage your risks and choose the right stocks," Cameron said.
Recommended Brokers
There are so many brokers out there, which one should you use?
Cameron: Lightspeed Trading (Best for day traders)
Sykes: E-trade and Interactive Brokers
Leeds: TD Waterhouse, iTrade
Leeds highlighted how "having a broker is kind of like what kind of car do you drive, it varies by the person." A penny stock trader's broker will ultimately depend on his or her trading strategy.
Typical Holding Time
It depends on your trading patterns:
Cameron: About 10 minutes
Sykes: A few hours
Leeds: About six months
Diversification
Penny stock traders typically do not need to diversify their portfolios:
Cameron: Rarely holds more than one stock at a time in his day-trading account.
Sykes: At most, has one or two positions.
Leeds: Uses a pin-point investing strategy, so his portfolio is not very diversified.
Opportunities To Learn More About Trading Penny Stocks
Sykes, Cameron and Leeds all offer services to teach future penny stock traders. To learn more, check out the following links:
Penny stock traders are not going to be perfect, and there definitely is no trading strategy that guarantees you earn over a million dollars in a year. But, as Sykes said, "There's no magic bullet, there's no one right formula, it is all about finding these little patterns and riding them."
View Comments and Join the Discussion!
Posted-In: Peter Leeds Ross Cameron Timothy SykesEducation Top Stories Interview General Best of Benzinga