Tesla's Breakout Will Take Longer But Will Be Bigger Than You Think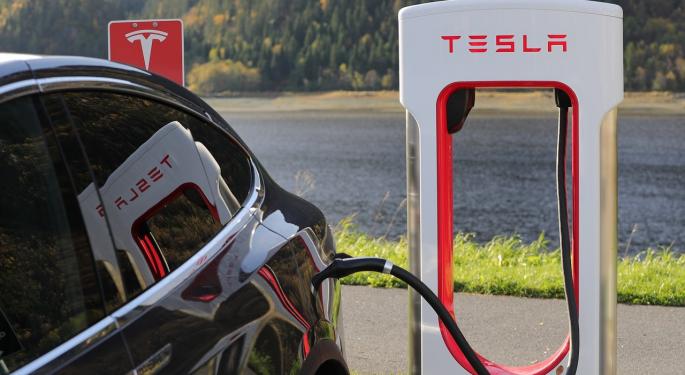 Loup Ventures managing partner Gene Munster believes patience will pay off in a big way for Tesla Inc (NASDAQ: TSLA) investors.
"We're believers that Tesla will play a central role in two upcoming paradigm shifts: 1) EV and autonomous transportation, and 2) renewable energy. We believe patient shareholders will be rewarded and expect 2023 to be a breakout year for the company," Munster wrote.
Why Munster's View Is So Unique
Munster noted how he expects it at least 2 additional year for Tesla to hit an inflection point, and at that time (in 2023), growth rates should accelerate. "Our estimated growth in units delivered goes from 30.4% in 2021 to 62.7% in 2023. Ultimately, we believe Tesla will deliver nearly 1.6M cars in 2023. To put this in perspective, BMW sold 2.3M cars in 2016," Munster said.
Related Link: Get 'Em While They're Hot: UK Sets 23-Year Deadline To Ban Sale Of Petroleum-Fueled Cars
Tesla's Demand Breakdown (Based Off Of Munster's Estimates)
2017 Vehicles Delivered: 100,000 (including 6,000 Model 3 units). Elon Musk noted by the end of 2017, Tesla will be producing 20,000 Model 3's every month.
2018 Vehicles Delivered: 310,000 including 217,2000 Model 3 units.
Munster highlighted how the demand for the Model 3 continues to heat up. "Right now, it's estimated that there are over 500,000 Model 3 reservations. If one were to order a Model 3 today, expected delivery would be in January of 2019. We feel that there is sufficient demand for the Model 3, and that Tesla's biggest challenge when it comes to delivering over 300,000 vehicles in 2018 is whether or not it can produce that many," he said.
Additionally, Munster expects Tesla to release the Model Y in Q4 or 2019, and for it to lead to a "cannibalization" of sales. He believes this is a conservative estimate, and long term, the Model Y will see even more demand than the Model 3.
Timeline No Longer As Important, But Keep An Eye On Legislation
While Munster expects the stock to continue to fluctuate around Tesla's new announcement, he sees the quarter-to-quarter timing for Tesla as much less important to the bigger picture of Tesla. He sees legislation have a much larger impact on Tesla's future.
"Even though Tesla's vehicles are expected to be fully autonomous within the next few years, it is highly unlikely that legislation will allow for that update. Full autonomy is touched on more when we discuss Tesla Fleet," Munster noted.
Musk's Big Bet On Renewable Energy
Just under a year ago, Tesla acquired SolarCity, and Munster noted he still believes "it will take some time to integrate the two businesses, or more specifically, for SolarCity to adopt Tesla's culture and operational style. Long-term, we believe that Tesla's energy generation and storage will become a much larger part of its business."
While Musk stated when SolarCity was acquired, that it could add $1B to Tesla's revenue numbers in 2017, however, Munster predicts it to add $864 million.
In the long term, Munster sees "energy generation and storage business will grow by 10% in 2018, 15% in 2019, 25% in 2020, 40% in 2021, and be growing at 50% annually in 2022 and 2023. By 2023, energy generation and storage would be a $4B business for Tesla."
Related Link: 3 Optimistic Assumptions For Model 3 Underpinning Tesla's Valuation
Expect Competition-Crashing Semi Announcement Soon
Musk has been hinting the Tesla Semi announcement throughout the year and is expected to be officially unveiled this September.
Munster believes the Tesla Semi draws no comparison to current diesel model semi trucks. "When asked how the electric semi would size up to current diesel models, Musk's comments lead us to think there will be little to no competition. The Tesla Semi will have a flat torque compared to a diesel truck's curved torque, allowing the electric truck to "out-torque" any diesel semi," Munster said.
Ultimately, according to Musk, the end goal for the Tesla Semi is to "deliver a substantial reduction in the cost of cargo transport, while increasing safety and making it really fun to operate."
The Long Road To Profitability For Tesla
Munster expects profitability in 2021 or later with Tesla's revenue reaching $11 billion in 2017, which is up 60 percent year over year. By 2023, Munster predicts Tesla's revenue to be at $77 billion and growing at a rate of 55 percent.
Additionally, Munster noted, "when it comes to EPS, we believe Tesla will become profitable in 2021, and ultimately reach an EPS of $28.09 in 2023. We expect Gross Margins to be 23.4% in 2017, and step down slightly to 23.2% in 2018, before climbing slowly, reaching 30% in 2022. The key to achieving 30% Gross Margins lies in Elon Musk's compensation plan."
Musk is going to be the biggest advocate of 30-percent gross margins as it is one of the two milestones left he needs to complete, by 2022, to receive a whopping $1.6 billion Tesla stock options. Munster expects him to reach this milestone, as Musk continues to move Tesla in the right direction towards profitability.
Posted-In: Elon Musk Gene MunsterNews Topics Travel Tech Trading Ideas General Best of Benzinga
View Comments and Join the Discussion!