Drunk And Hungry? Taco Bell And Lyft Hope To Solve Your Problems With 'Taco Mode'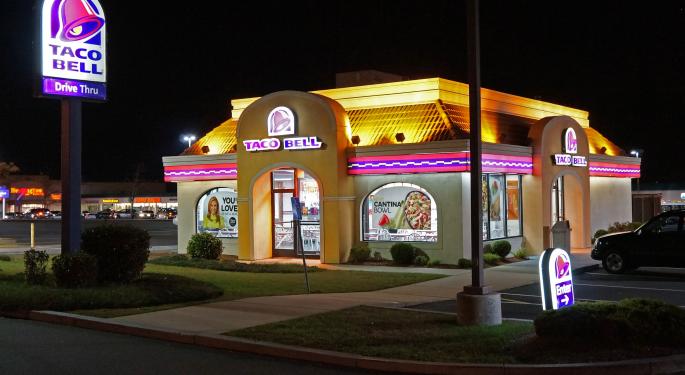 Gone may be the days when you have to tell your Lyft driver to make an impromptu stop at the Taco Bell when your on the way home from the bar.
Beginning Thursday, Yum! Brands, Inc.'s (NYSE: YUM) Taco Bell will test a feature that allows Lyft passengers to push a button to have their driver to take them to a drive-thru between 9 p.m.-2 a.m.
The experiment, dubbed "Taco Mode" will test in Orange County, California from July 27 to 29 and August 3 to 5, but plans to expand the service across the country in 2018.
Taco Mode will include a custom in-car menu, free Doritos Locos tacos, and a "taco-themed" car.
"We realized that for every person who has asked their Lyft driver to make a pit stop at Taco Bell — and we've seen many — there are likely those who weren't sure if this was possible," Taco Bell CMO Marisa Thalberg said in a statement.
"With the advent of this fantastic partnership with Lyft, we will erase any lingering uncertainty and celebrate the ability to 'ride-thru' in Taco Mode."
Lyft is hoping the partnership will add another reason for customers to pick its service over Uber. Taco Bell has held out of joining UberEats for fear that food would be delivered cold.
If the experiment tests well, we could see more partnerships with ride-sharing services and restaurants that want to attract customers on their drive home. It might be in the best interest of bars and restaurants to help subsidize a ride-sharing service cost if it means it will direct traffic to their business.
No more awkward conversations with your Lyft driver about making a quick stop through the drive through; with Taco Mode, drivers already know what's up.
Related Links:
The Breakfast War Is Heating Up With Taco Bell's New Salsa
Taco Bell Thinks Outside The Bun, Focuses On Growing Outside The U.S.
Image credit: By Anthony92931 (Own work) [CC BY-SA 3.0 (http://creativecommons.org/licenses/by-sa/3.0)], via Wikimedia Commons
Posted-In: Lyft Marisa Thalberg Taco Bell UberEATSTravel Restaurants Tech General Best of Benzinga
View Comments and Join the Discussion!