CTE Linked To Football: Largest Study Of Its Kind Finds 'Overwhelming Circumstantial Evidence'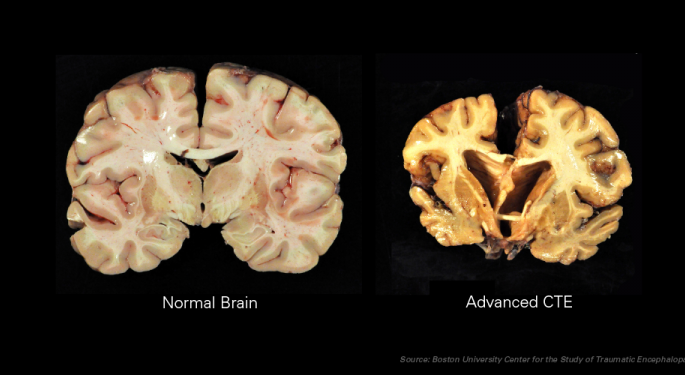 The link between professional football and Chronic Traumatic Encephalopathy has once more been strengthened, as a recent study of brains donated by the families of former NFL players showed 99 percent of those studied suffered from the neurogenerative disease.
"Obviously, this doesn't represent the prevalence in the general population, but the fact that we've been able to gather this high a number of cases in such a short period of time says that this disease is not uncommon," said neuropathologist Ann McKee, the researcher credited with some of the most high-profile CTE diagnoses.
"In fact, I think it's much more common than we currently realize. And more importantly, this is a problem in football that we need to address and we need to address now in order to bring some hope and optimism to football players."
The issue of studying football players' brains after their time on the field has come to a head after a string of high profile off-the-field events and issues seen from NFL stars after their retirement. CTE is an issue surrounding the NFL that is not going away anytime soon, adding to a host of problems the league is currently facing, including a decline in ratings in the 2016 season.
While the study does show an exceptional correlation of high-level football experience and this disease, the brains donated were from families who showed concern due to players behavior, which ultimately could skew the results be used as a defense by the NFL.
While the NFL has pledged $100 million for concussion-related research, with $60 million allocated toward technological development with an emphasis on improving helmets, unless there are major rule changes, it is unlikely much will change.
The study was the largest CTE case series ever published. Although the study wasn't focused on causality, there was "overwhelming circumstantial evidence that CTE is linked to football," said McKee.
_______
Image Credit: "Image of chronic traumatic encephalopathy" By Boston University Center for the Study of Traumatic Encephalopathy - http://www-tc.pbs.org/wgbh/pages/frontline/art/progs/concussions-cte/h.png, CC BY-SA 4.0, via Wikimedia Commons
Posted-In: Ann McKee CTE nflNews Health Care Sports Top Stories General Best of Benzinga
View Comments and Join the Discussion!