Chipotle Shares Continue To Hurl Downward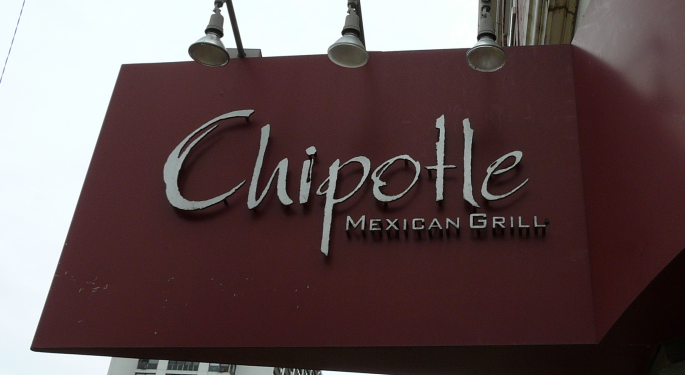 Shares of Chipotle Mexican Grill, Inc. (NYSE: CMG) continued to slide in the wake of an outbreak of sick customers exposed to a norovirus at a restaurant in Sterling, Virginia.
Shares were down 3 percent in early afternoon trading at $361.63, a low for the year.
The stock plunged after complaints about the eatery emerged on the site iwaspoisoned.com. It was confirmed that at least 133 people were sickened at the location.
Chipotle reopened the Sterling restaurant on Wednesday after a two-day closure and cleanup.
"While the restaurant was closed, multiple teams performed complete sanitizations of all surfaces," Chipotle CEO Steve Ells said in a statement to Business Insider Wednesday. "We also provided support to any customers or employees who had reported illness to ensure their well-being."
Stool sample tests from a diner who ate at the restaurant late last week were positive for norovirus, Victor Avitto, environmental health supervisor for the Loudoun County Public Health Department, told Reuters.
Rats In Texas
Meanwhile, traders were keeping an eye on other reports from different Chipotle locations at iwaspoisoned.com and eater.com of Dallas. The latter reported that a diner said rats had fallen from the ceiling of the Dallas location.
It printed this statement from Chipotle after posting its report:
"We learned yesterday that mice got into a restaurant from the outside. The restaurant immediately removed them and contacted professionals who identified a small structural gap in the building as the likely access point which is being repaired. This is an extremely isolated and rare incident but of course never anything we'd want our customers to encounter."
Chipotle had an outbreak of E. coli poisoning two years ago at restaurants in 14 states.
Related links:
With Food Safety Concerns Reemerging, BMO Downgrades Chipotle
Iwaspoisoned.com May Be Creating Opportunity For Long-Term Restaurant Investors
________
Image Credit: By http://www.flickr.com/photos/tacvbo/ [CC BY-SA 2.0 (http://creativecommons.org/licenses/by-sa/2.0)], via Wikimedia Commons
Posted-In: Business Insider ChipotleNews Health Care Restaurants Top Stories Media General Best of Benzinga
View Comments and Join the Discussion!