Tesla Vs. The Auto World Ahead Of Model 3 Launch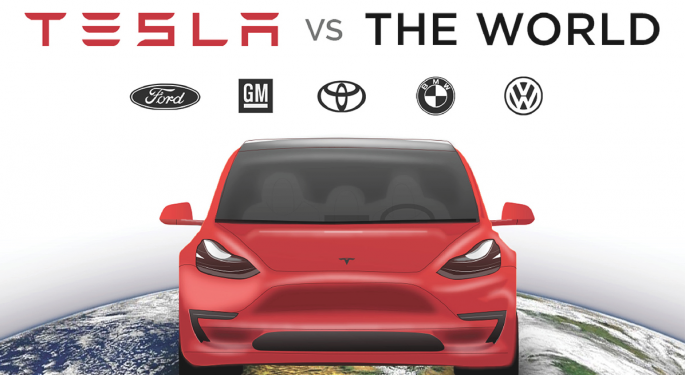 With Tesla Inc (NASDAQ: TSLA) on the brink of arguably its biggest launch ever with the Model 3, the company will bring its revolutionary technology to the mainstream at its most affordable price ever, with MSRP starting at $35,000 for the entry level model.
The Model 3 can go 0–60 miles per hour in 5.6 seconds and has a range per charge of 215 miles. Its basic features will include autopilot mode and pay-per-use supercharging abilities.
The Model 3 has production estimates of 500,000 by 2018.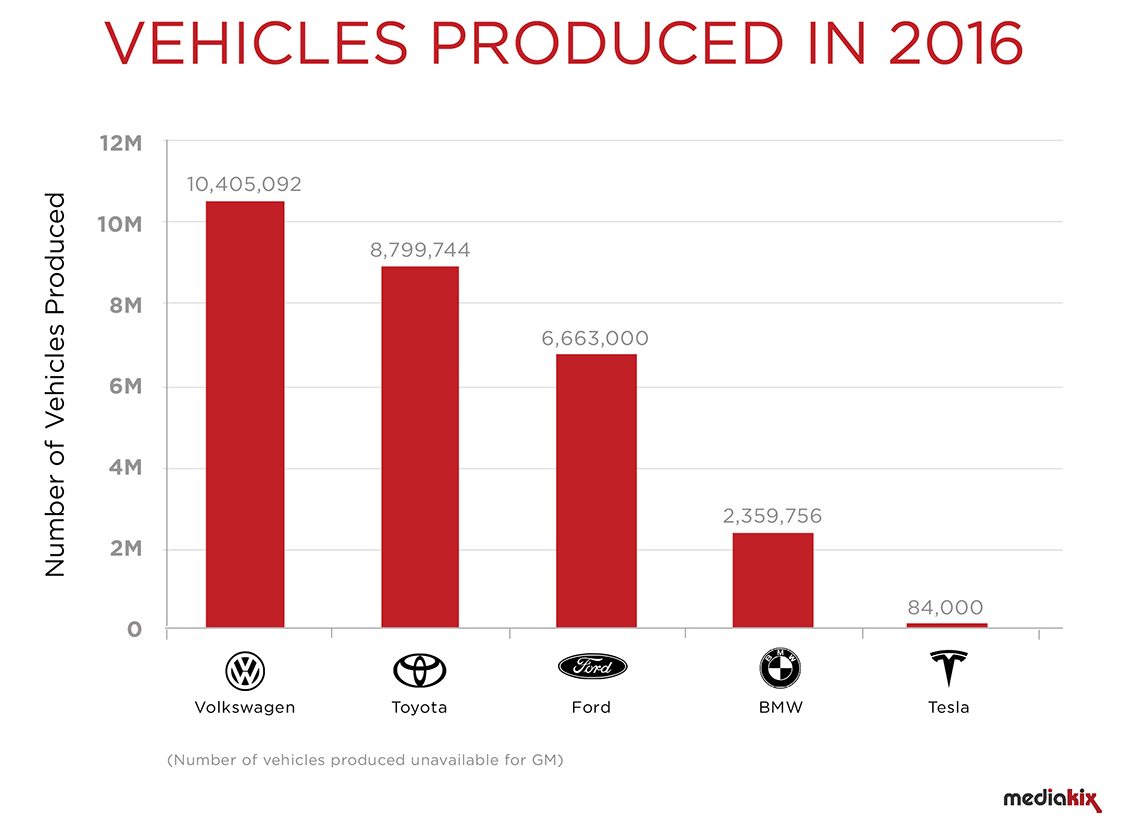 A remarkable feat by Tesla, it has been able to disrupt the entire automotive industry and create a lot of excitement among consumers without spending any money on advertising. This is largely due to the company's visionary leader Elon Musk.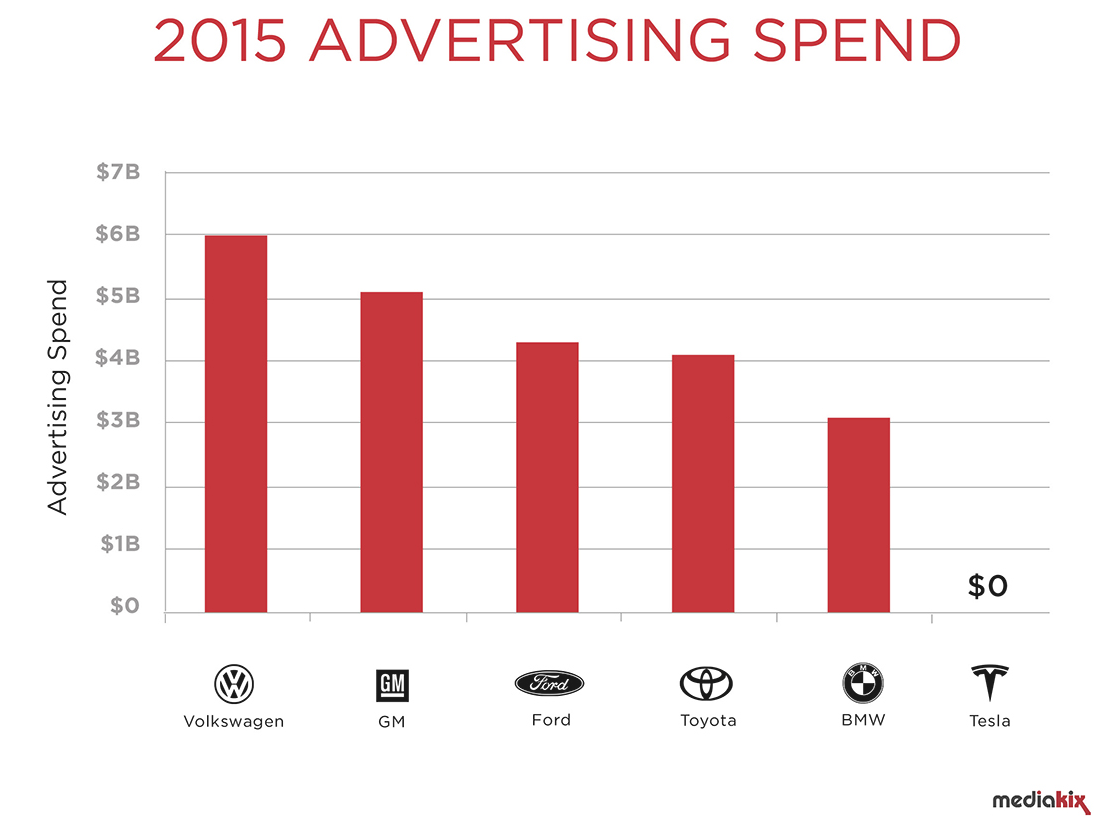 "Tesla is a singular entity in the field. Tesla's work has people excited to see what's coming next, and their excitement makes it possible for Tesla to spend $0 on advertising where other automakers are spending billions," according to a report by MediaKix.
Looking at the auto industry as a whole, Tesla has been the only major auto company whose market cap has increased in the past two years (from the first quarter of 2015 to Q1 2017), all while producing just 84,000 vehicles in 2016. Despite the value increase, Tesla has posted a loss in eight of the past nine quarters, as it racks up debt with research, development and infrastructure costs.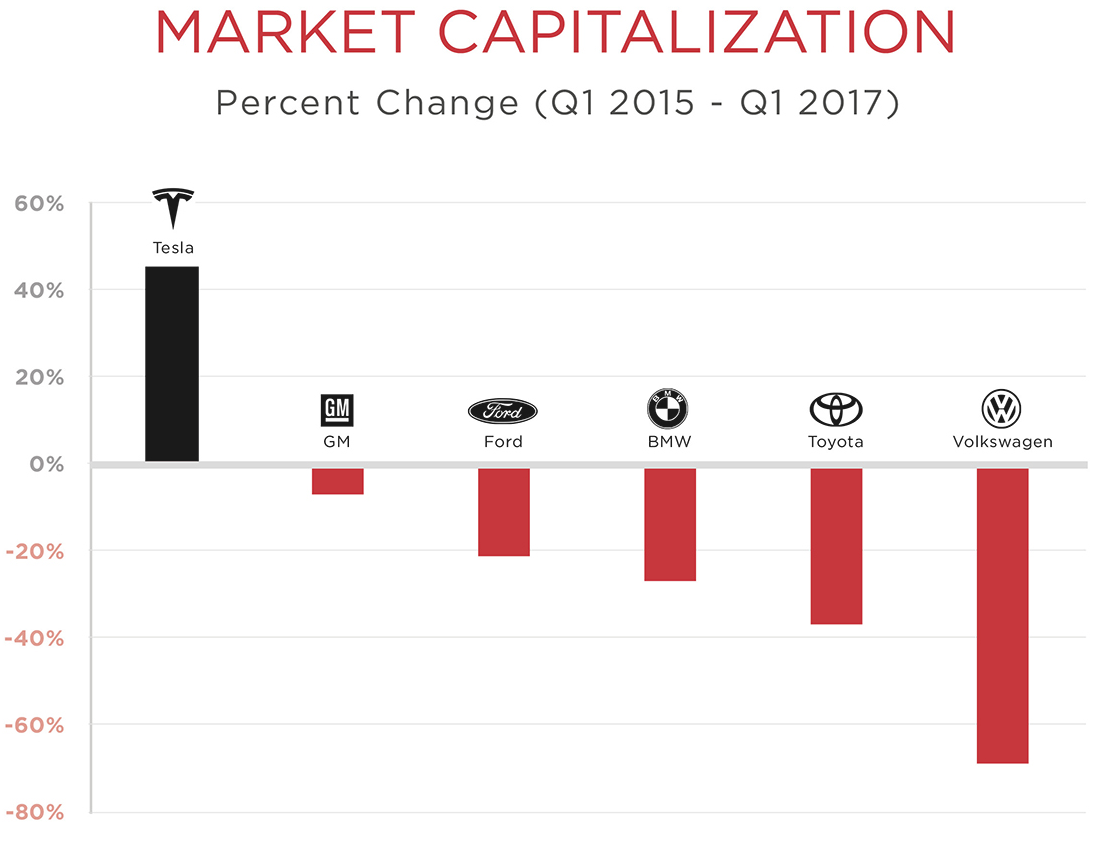 Investors are clearly banking on Tesla's future potential, and the Model 3 will serve as its first test with a mainstream audience. With the first delivery set for July 2017, the company will deliver 5,000 vehicles per week by December 2017. Tesla has an estimated 400,000 orders for the Model 3, and with a $1,000 required down payment, the company already has $400 million in deposits.
Tesla has all but cornered the market on electric cars, currently serving as the only company scaling electric only automobiles and infrastructure. The company has grown its capital to a point that it would make it difficult for its competitors to catch up at this point.
Related Links:
Pivotal Checkpoint: The Bull And Bear Sentiment Around Tesla
Tesla Shares $60 Off Monday's High
__________ Image Credit: Cropped infograph from MediaKix
Posted-In: BZTV Elon Musk MediaKixNews Travel Tech Media General Best of Benzinga
View Comments and Join the Discussion!