The Market Waits For Clues On Future Fed Moves With Release Of Last Month's Minutes
The Fed steps up to the plate Wednesday afternoon with minutes from its June meeting, and that's likely to be the main highlight in what looks otherwise like a quiet day on Wall Street.
Fed minutes come out at 2 p.m. ET, and could give more insight into the Fed's thinking last month when it raised rates for the second time in 2017 and about when the next rate hike might come. The Fed has signaled it plans one more increase this year, but timing is unclear, so maybe the minutes will give people some ideas. The minutes could also give more insight into the Fed's view on the overall economy, including employment and inflation.
Keep an eye on several markets today, including oil, 10-year Treasury yields, and the financial sector. All of these have been racing higher over the last week, and it could be interesting to see if the trend continues. Crude is getting smacked around early Wednesday, but remember it was up eight-straight days, so a little drop doesn't seem too surprising.
Another trend to watch that hasn't received as much attention is the Dow Jones Transportation Average (see chart), which on Monday rose to new all-time highs. Some airline stocks have started to see a little tailwind recently, along with some of the major railroads. Transports rallied big-time after the election last year, then stabilized before hitting new records. Strength in transports sometimes speaks to strength in the overall economy.
On the data front, May factory orders come out at 10 a.m. ET, and it makes sense to watch for the durable goods orders component, sometimes a decent indicator of consumer sentiment. New orders for manufactured durable goods decreased 0.8% in April following four consecutive monthly increases.
It's a short week due to the holiday, which means Friday's non-farm payrolls report is going to be upon us pretty quickly. Wall Street analysts expect June job growth to reach 173,000, according to Briefing.com, but some estimates are a little higher. It might also be worth checking to see if the government makes any revisions to the May number, which came in lower than analysts had expected at 138,000. Pay attention to the wages component of the report as well to see if there's any indication of a tight jobs market starting to bring about any salary inflation. Consensus among Wall Street analysts is for a 0.3% rise in hourly wages in June following a 2% increase in May.
Geopolitics might come back into the picture this week as well. North Korea's apparent test of an intercontinental ballistic missile during the U.S. holiday could turn attention back to the tension on the Korean peninsula, and if you remember, that issue caused some trepidation for the markets a few months back. Market participants might also be monitoring developments later this week when President Trump is scheduled to meet with Russian President Putin.
The North Korea news doesn't seem to be having much impact on markets, as Asian stocks actually rose for the most part earlier Wednesday. VIX, a closely watched "fear factor," remains lower. As of now, many in the markets seem to view the North Korea developments as simply noise.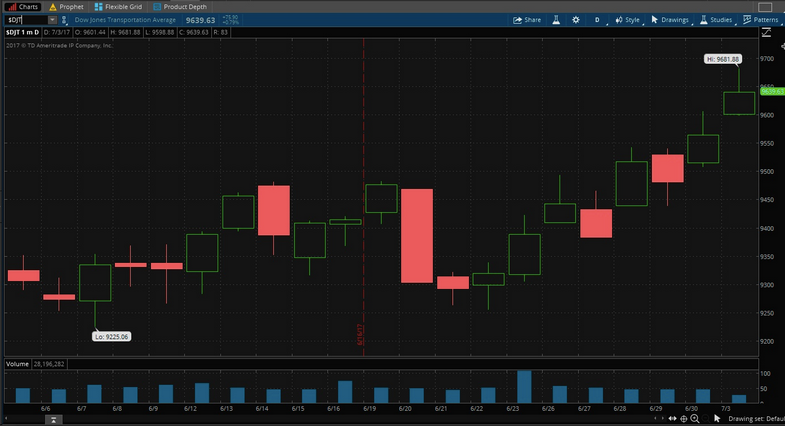 FIGURE 1: NUMBER ONE ON THE RUNWAY. The Dow Jones Transportation Average, tracked through Monday on the thinkorswim® platform from TD Ameritrade, rose to new all-time highs, perhaps another sign of strength in the economy. Source: Dow Jones & Co. For illustrative purposes only. Past performance does not guarantee future results.
In Case You Missed It
If you slept in Monday or ignored the market completely in a shortened session squeezed between a weekend and a holiday, you're forgiven. However, you missed some positive data, as ISM manufacturing for June rose to 57.8, well above the 55.1 that Wall Street analysts had expected and a jump from 54.9 in May. It's also the highest index level since late 2014. This follows much better than expected Chicago PMI data out last week. Though two reports are far from a sweeping analysis of the overall economy, the data could send a more positive signal about Q2 gross domestic product (GDP). On the other hand, vehicle sales dropped in June for the sixth-consecutive month, automakers said Monday, falling 3% from a year ago. That's despite truck and SUV sales climbing. If annual sales fall below 17 million (which they're on pace to do), it would be the first time that's happened since 2014.
Banking on Second Half
The second half began like the first half ended, with financial sector stocks driving higher Monday while info tech stocks sank. This trend, which arguably dates back to info tech's first big hiccup of the year in mid-May, hasn't let up, and could represent some sector rotation after info tech staged a major first-half rally while financials traded flat for much of 2017 until the last few weeks. The question is whether this state of affairs can persist once earnings season rolls around later this month. The financial sector is forecasted to report year-over-year earnings growth of 6.8%, the third highest out of the 11 sectors in the S&P 500, according to FactSet.
Another factor to watch is the bond market, which continues to sag. Ten-year Treasury yields rose above technical resistance at the 2.3% level and recently traded at 2.34%. Rising rates tend to be positive for banks, but the yield curve is still on the flat side.
What's in the Balance on Fed Minutes
Arguably the biggest news of the day today is the release of June Fed minutes, scheduled for 2 p.m. ET. The Fed raised rates at the June meeting, with only one participant — well-known dove Neel Kashkari — voting nay. Recently, there's been some hawkish talk from Fed speakers, so the minutes might reveal more insight as to the thoughts behind those comments. There's also a lot of speculation as to when and how the Fed might deal with its balance sheet, and Fed Chair Janet Yellen confirmed last month that the Fed expects to implement a balance sheet reduction plan this year. Minutes from the June meeting could provide more details about the Fed's plans.
Posted-In: JJ KinahanNews Bonds Commodities Global Econ #s Federal Reserve Markets
View Comments and Join the Discussion!