Flint Sued By State Over Drinking Water Source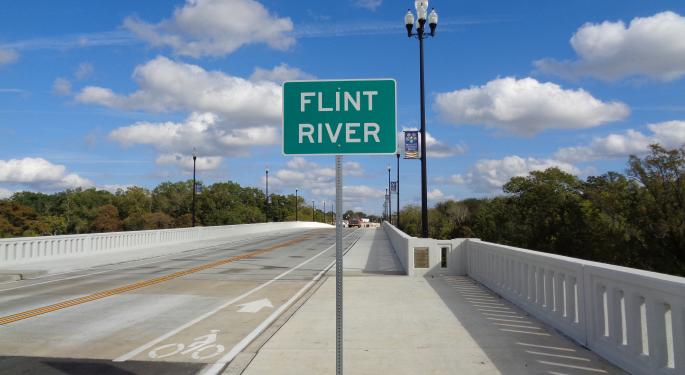 The state of Michigan is suing Flint — the city where the drinking water was poisoned with lead after a botched switch to the Flint River as its water supply — due to its lack of a long-term water source.
The city missed a deadline Monday to secure a long-term water source, something that "will cause an imminent and substantial endangerment to public health in Flint," the Michigan Department of Environmental Quality said in the federal lawsuit filed Wednesday, according to the Detroit News.
Flint contracts with the Great Lakes Water Authority for water piped in from Detroit. But that contract was extended by only three months in a vote of the Flint City Council, and some council members are seeking an alternative water source, according to the News.
The MDEQ is asking a judge to force the signing of a 30-year contract between Flint and the Great Lakes Water Authority negotiated by Mayor Karen Weaver. That contract has yet to be approved by council, the newspaper said.
Flint gets its drinking water from a pipe that Genesee County is expected to take back in October, according to MLive.
Six state officials were criminally charged earlier this month in the continuing aftershock of Flint's water crisis.
Nick Lyon, the director of Michigan's Department of Health and Human Services, faces charges of involuntary manslaughter and misconduct in office in connection with a Legionnaire's disease outbreak that occurred after the switch to the Flint River.
Fifteen current and former state and city officials have been charged in the wake of the contamination of the city's drinking water, according to MLive.
Related Links:
Flint Community Unites To Implement Short-Term And Potential Long-Term Solutions
This Detroit Woman Gave Up Her Twitter Handle To Dr. Pepper For An Awesome Exchange Of Goods
________
Image Credit: By Michael Rivera (Own work) [CC BY-SA 4.0 (http://creativecommons.org/licenses/by-sa/4.0)], via Wikimedia Commons
View Comments and Join the Discussion!
Posted-In: News Futures Politics Topics Legal Markets Media General Best of Benzinga