Politics' War On Media Heightens With Palin V. The NYT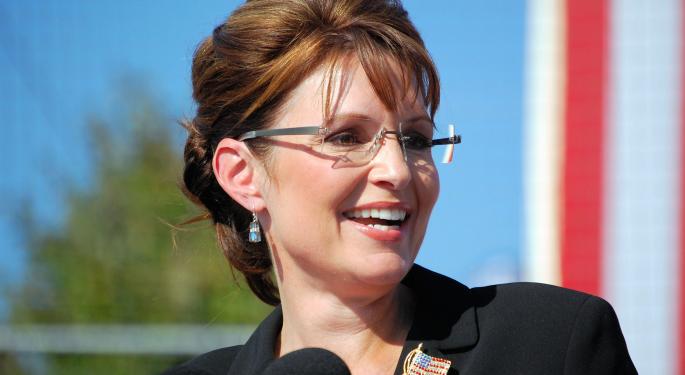 And the battle rages on.
Former Alaska Gov. Sarah Palin inflamed the ongoing conflict between the media and an unofficial alliance of readers and politicians by filing a defamation lawsuit against the New York Times Co (NYSE: NYT) Tuesday.
Palin claimed the newspaper knowingly published a false statement about her in a June 14 editorial, which linked her conservative rhetoric with the 2011 Arizona shooting that targeted then-Rep. Gabrielle Giffords.
"Before the shooting, Sarah Palin's political action committee circulated a map of targeted electoral districts that put Ms. Giffords and 19 other Democrats under stylized cross hairs," the editorial board alleged.
The Times subsequently issued a correction clarifying that "no such link was established."
We're sorry about this and we appreciate that our readers called us on the mistake. We've corrected the editorial. https://t.co/t1FZ3iEYQJ pic.twitter.com/k7WW5uJIQO

— NYT Opinion (@nytopinion) June 15, 2017
Palin was dissatisfied with the response, and her lawsuit contended that it "did not approach the degree of the retraction and apology necessary and warranted by The Times's false assertion that Mrs. Palin incited murder."
The Times intends to maintain its ground in the impending battle. "We have not reviewed the claim yet but will defend against any claim vigorously," a company spokeswoman said in a statement.
Media experts do not expect Palin to triumph.
"Generally, to collect, one must prove malice or intent to harm an individual," John K. Hartman, journalism faculty at Kent State University, said. "By quickly correcting and apologizing, the Times quickly reduced or eliminated proof of malice."
Media Vs. Everybody
Although long held to high public standards, the media has endured unusually tough scrutiny and unusually heavy fire since the start of the current, polarizing political cycle. Some have even dubbed the sentiment "anti-journalism."
"Anti-journalism" is on the rise. Activists promoting hatred and resentment of the press. https://t.co/JGbA0c2ez4 pic.twitter.com/XRiFBwk7Di

— Brian Stelter (@brianstelter) June 28, 2017
President Donald Trump has barred the likes of Time Warner Inc (NYSE: TWX)'s CNN from press briefings, tweeted criticism of "the failing New York Times" and accused The Washington Post of collusion with Amazon.com, Inc. (NASDAQ: AMZN).
"They are the enemy of the people because they have no sources," Trump said at a Conservative Political Action Conference. "They just make them up when there are none."
Even long-time subscribers have turned on their choice publications. In April, the Times suffered a #ShowYourCancellation Twitter Inc (NYSE: TWTR) campaign protesting the company's hiring of a conservative, climate-change denying columnist.
Despite the criticism, though, media companies have enjoyed significant subscription boosts since the fourth quarter of 2016, when the cadre sustained its first public-relations pummeling.
Related Links:
Online News Bounces Back From Post-Election Traffic Slump
Is $100 Million Enough To Defeat Fake News?
FDA Spokesperson: Administration Not Behind Screen Changes From CNN To Fox _______ Image Credit: By Therealbs2002 - Own work, CC BY 3.0, via Wikimedia Commons
Posted-In: News Futures Politics Topics Legal Markets Media General Best of Benzinga
View Comments and Join the Discussion!