Toshiba Sues Western Digital For $1 Billion In Dispute Over Chip Business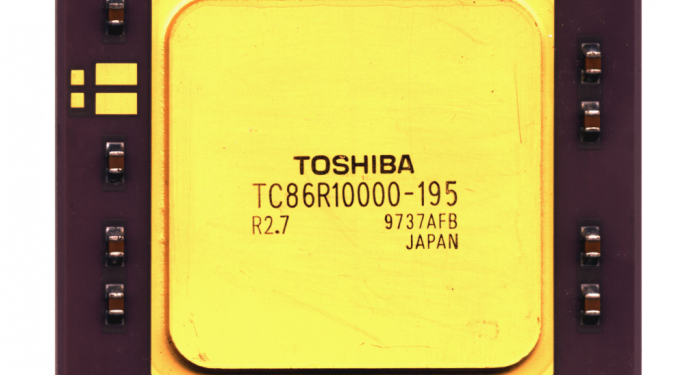 Toshiba Corp. has sued California-based Western Digital Corp (NASDAQ: WDC) for $1 billion for purportedly interfering with the struggling Japanese company's plans to sell off its lucrative flash memory unit.
Toshiba, teetering on the brink of death after an ill-fated foray into nuclear power, had plans to auction off its NAND chip unit to one of a list of suitors that included industry leader Samsung Electronics Co Ltd, U.S. chipmaker Broadcom Corporation (NASDAQ: BRCM) Taiwan's Foxconn and South Korea's SK Hynix Inc.
In a bid to keep the company in Japanese hands, Toshiba recently announced its preference was a Japanese government-led group that included U.S. private equity firm Bain Capital.
Western Digital has attempted to delay a deal by insisting it was the rightful inheritor of Toshiba's chip business because of a joint partnership between Toshiba and SanDisk, the latter of which Western Digital bought last year for $16 billion.
In its lawsuit, Toshiba alleges that Western Digital "improperly obtained" trade secrets by shifting SanDisk employees into Western Digital. Toshiba says it's shutting out Western Digital staff from that partnership. It said it wants Western Digital to stop making ownership claims.
The company released an update Wednesday saying no deal had been struck and negotiations were ongoing with the consortium. Western Digital made its latest attempt a day earlier to wrest control of the memory business, offering $14 billion alongside private equity firm KKR & Co.
Related link:
Toshiba Demise Could Help Rival NAND Chip Makers Close Gap With Samsung
Image: ZyMOS (CPU Grave Yard, my CPU collection) [GFDL (http://www.gnu.org/copyleft/fdl.html), CC BY-SA 4.0-3.0-2.5-2.0-1.0 (http://creativecommons.org/licenses/by-sa/4.0-3.0-2.5-2.0-1.0) or GFDL (http://www.gnu.org/copyleft/fdl.html)], via Wikimedia Commons
Posted-In: Bain Capital Samsung toshibaNews Politics Legal Tech General Best of Benzinga
View Comments and Join the Discussion!