Ackman Vs. Biden: Former VP Gets Fist-Shakingly Feisty With Hedge Fund Manager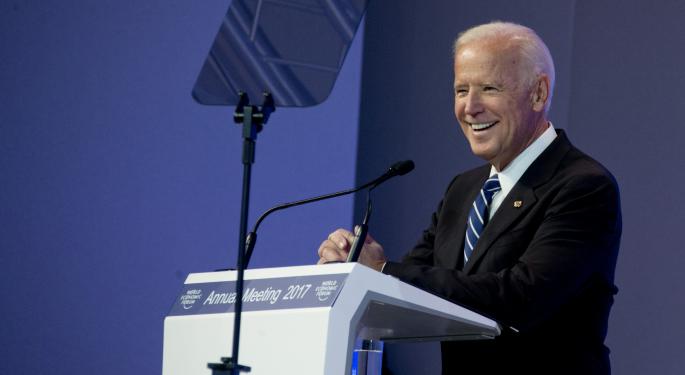 Joe Biden, the former vice president who once mused about beating up then-candidate Donald Trump last year, shook his fist at hedge fund trader Bill Ackman and may have even threatened to punch him out during a testy exchange at a ritzy dinner in Las Vegas, reports say.
A verbal skirmish took place in May at the SkyBridge Alternatives Conference, a Wall Street gathering for movers and shakers.
During a VIP dinner, the confrontation took place after former Republican presidential candidate Jeb Bush spoke to Biden, according to Fox Business and the New York Post's Page Six gossip column.
The two reports, both based on witness accounts, diverge from there.
From Fox
According to Fox, Bush asked Biden why he hadn't run for president, and the vice president said part of the decision stemmed from the death of his son, Beau Biden, who died of brain cancer in 2015.
Fox said Biden became emotional and said: "I'm sorry ... I've said enough."
Ackman blurted: "Why? That's never stopped you before."
Biden turned to someone seated near him, and asked, "Who is this asshole?"
Then Biden turned to Ackman and said, "Look, I don't know who you are, wiseass, but never disrespect the memory of my dead son!"
Ackman attempted an apology, to which Biden said, "Just shut the hell up."
And In This Corner
Page Six had a different account, saying Bush had asked Biden to comment on Trump.
The witness told Page Six, "Biden replied, 'I am going to have to be careful what I say' [referring to Trump]," and Ackman quipped, "After all these years, why start now?"
Biden told Ackman. "Address me with respect," and called him a "wiseass." Another witness added, "Biden clearly didn't like Ackman. [He] said something like, 'I'd like to knock this guy on his ass,' but it was taken as being in jest."
The column said Biden shook his fist in Ackman's face and said, "If I could, I'd punch you in the face."
Page Six quoted Ackman as saying, "I have enormous respect for Vice President Biden. It is unfortunate that a totally false press report would suggest otherwise." Biden's spokeswoman declined to comment, the Post column said.
Related Link: Bill Ackman Is Killing It In Chipotle
_____
Image Credit: By U.S. Embassy Bern, Switzerland - https://www.flickr.com/photos/usembassybern/31572170603/, CC BY-SA 2.0, via Wikimedia Commons
View Comments and Join the Discussion!
Posted-In: News Rumors Futures Hedge Funds Movers & Shakers Politics Events Markets Best of Benzinga