Marijuana Venture Capitalist On CanopyBoulder's Investments: We Focus On Co's That Can Scale To Spectacular Levels Very Quickly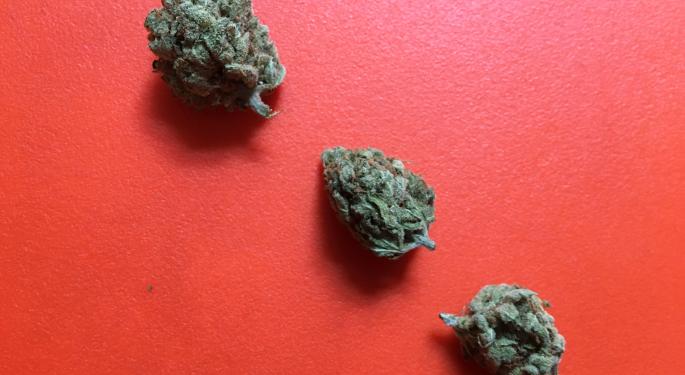 "How does one start a business in the cannabis industry? What are the biggest hurdles to overcome?" —Benzinga
In a recent conversation with Benzinga, Andy Williams — co-star of MSNBC's "The Pot Barons of Colorado" and founder and CEO of Medicine Man Denver, Medicine Man Technologies Inc (OTC: MDCL) and several other companies — said the largest challenges are raising capital and "keeping up with the ever-changing regulation."
In this context, firms like CanopyBoulder become indispensable — or at least very important.
Meet Canopy
CanopyBoulder is a seed-stage investment program and mentorship-driven business accelerator for startups in the cannabis industry. The firm is a partner of the Arcview Group and focuses on ancillary products and services.
In other words, it only invests in companies that do not touch the plant. Since 2014, the firm has made roughly 60 investments into various early-stage companies, mostly in the software sector.
Related Link: Meet Tradiv: A Startup Bringing Cannabis Wholesale Into The Digital Age – Before It's Too Late
Interested in Canopy's investments, which include very successful businesses like Tradiv, BDS Analytics, Würk and Front Range Biosciences, Benzinga reached out to Micah Tapman, managing director and partner, and asked him about the firm and its objectives.
"Canopy formed as a venture capital fund with the idea of helping to finance these innovative startups that are taking advantage of a green-field opportunity," he said, pointing out that the cannabis industry is one with much more room for business than competition.
When making an incursion into the legal marijuana industry, "you are not hamstrung with old legacy systems and enterprises that have been around for 50 years," Tapman continued. "These businesses are all new by definition, and the industry as a whole is new."
But, why does Canopy invest only in-ancillaries, staying away from companies that are touching the plant?
On the one hand, the firm has an approach to venture capital that's about "investing in companies that can scale to really spectacular levels very, very quickly," Tapman explained, noting that businesses touching the plant, like cultivators, are almost unavoidably going to move toward commoditization. "From a venture capital point of view, it doesn't really make a lot of sense because it's hard to ever envision any one cultivation company becoming a billion-dollar company, particularly because — most of the time — you're looking at companies that really are going to have to do state by state operations [because] they are not able to do national operations in the U.S."
On the other hand, "there is some legal consideration around investors not wanting to touch the plant due to the fact that it's federally illegal in the United States to process or handle the plant." Nonetheless, Tapman added, the fear of prosecution is "typically overstated.
"If you are complying with state law in the United States, I don't think there is too much risk from a practical point of view, particularly as an investor who is a minority shareholder in a cultivation facility, for example. In fact, I think there is a great opportunity there for people who would like to have cash flowing businesses around the plant." Having said this, he added, cultivation and retail are not venture capital-types of businesses.
Investors And Investments
Discussing investors, Benzinga inquired about the origin of Canopy's money.
"The cannabis industry is funded, pretty much exclusively, by high net worth individuals and some family offices. That is pretty much the only funding source for the industry at this point in time," Tapman responded. "Our investors very much fit that mold: they are high net worth individuals and they are family offices. We've got a total of about 40 to 45 investors who provide funding to our venture funds ... and we protect them from immature entrepreneurs who are unable to get out of their own way."
We then moved on to discuss a few Canopy alumni who were not pleased with the results following the boot camp.
"We make a lot of investments so I fully expect that 5 percent or 10 percent of our investments are going to go south and they're going to end up failing. Sometimes those will cause some heartburn with different people," the managing director answered.
But, does he stand by his choice of selecting them to be a part of the Canopy program notwithstanding? Or does Tapman look back at it as a mistake?
"I think it's very easy to pretend like we made a mistake selecting some companies, but the reality is that you make decisions based on data that you have available at the time," he said, sharing a sports metaphor. When a team wants to recruit a new athlete, it's usually better to find a young man or woman with potential and invest in his/her future, instead of acquiring an extremely expensive, acclaimed athlete. Nonetheless, investing in young players is risky, so almost by definition, teams will make some bad acquisitions from time to time.
Despite not always hitting the bull's-eye, Canopy seems to be quite successful with its investments. According to Tapman, only about 16 percent of its portfolio investments have been written off completely. "My job is to build a structured portfolio to give an opportunity and to create an opportunity for terrific success. At the end of the day, venture capital is about taking risks. If you're not taking risk as a venture capitalist, then you are not fulfilling the obligation with your investors, who want to see returns north of 25 percent IRR."
So, how has Canopy fared so far?
While the firm does not have a definitive figure for performance, mainly because it's pretty hard to estimate the value of cannabis companies due to the closed nature of the market, Tapman estimates that the fund has returned between 300 percent and 400 percent since inception.
Check back soon for Tapman's views on the sub-sectors in the cannabis industry that offer the most opportunity.
More From Benzinga:
Banking Problems In The Cannabis Industry Are 'Somewhat Overblown In The Press'
Consumer Study Shows Which Cannabis Brands Are Winning The Design Race And Why
Image Credit: Javier Hasse
View Comments and Join the Discussion!
Posted-In: Cannabis Topics Top Stories Success Stories Startups Small Business Exclusives Interview Best of Benzinga