U.S. Finally Joins Other Countries In Banning Bad Beef In Brazilian Bribery Scam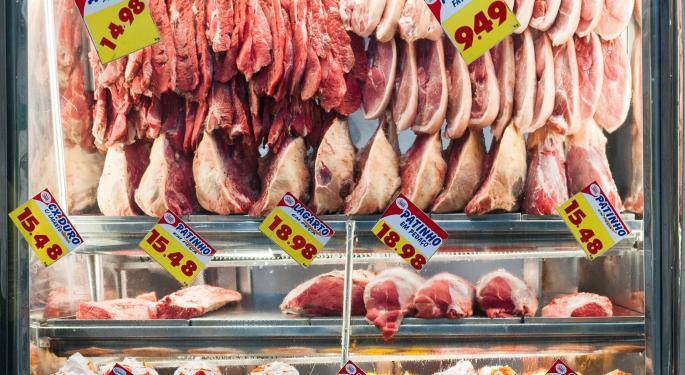 A scandal involving spoiled meat from Brazil has prompted the United States to finally join other nations in banning imports from the country, where food inspectors were purportedly bribed to turn a blind eye to bad beef.
The ban was announced Thursday by U.S. Agriculture Sonny Perdue, an appointee of President Donald Trump whose own ethics came under scrutiny when he continued to run meat plants even after he was elected governor of Georgia.
The U.S. Department of Agriculture said in a statement that it decided to ban Brazilian imports after inspections that began in March found 11 percent of Brazilian beef was rotten.
"That figure is substantially higher than the rejection rate of 1% of shipments from the rest of the world," it added.
More Than 1 Million Pounds Of Beef Turned Back
"Since implementation of the increased inspection, (USDA) has refused entry to 106 lots (approximately 1.9 million pounds) of Brazilian beef products due to public health concerns, sanitary conditions, and animal health issues," the statement said. "It is important to note that none of the rejected lots made it into the U.S. market."
Perdue said in a USDA press release that "ensuring the safety of our nation's food supply is one of our critical missions, and it's one we undertake with great seriousness."
How Did Rotten Meat Make It So Far?
The BBC reported that Brazil is the world's biggest red meat and poultry exporter, selling more than $12 billion a year mainly to China, Europe and the United States. A federal investigation called "Operation Weak Flesh" was launched in March and federal police raided 194 locations.
The investigation found evidence that some food managers bribed health inspectors and Brazilian politicians to certify the spoiled meat. More than 30 companies have been accused of being complicit in the scam.
Several Brazilian beef customers banned the imports after the allegations first surfaced back in March. It's unclear why the United States was among the last of Brazil's main customers to follow suit.
Related Links:
Wedbush Upgrades Shake Shack Shares, Sees 16% Upside From Here
The Beef Boom Has Come To An End: Here's Why It Matters To Tyson's Investors
Posted-In: News Futures Commodities Politics Topics Legal Global Markets Best of Benzinga
View Comments and Join the Discussion!