'Wonder Woman' Breaks $600 Million Globally, On Pace To Shatter 'Man Of Steel'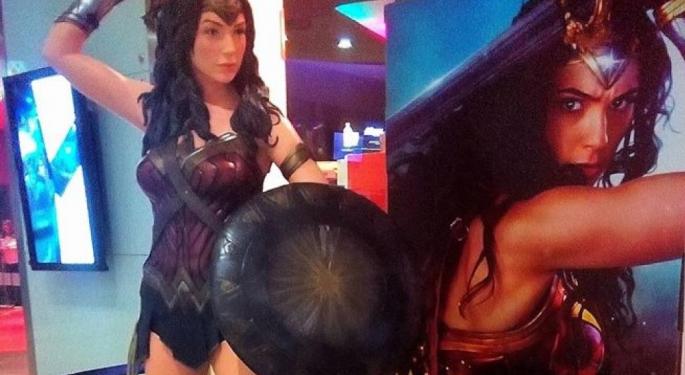 "Wonder Woman" passed the $600 million mark globally on Thursday and was on pace to outmuscle the testosterone-fueled flick "Man of Steel," breaking box office records and gender barriers in the process.
The movie, starring Gal Gadot and directed by Patty Jenkins, has shown remarkable staying power for a summer blockbuster, the likes of which usually drop dramatically after the opening weekend.
The Time Warner Inc (NYSE: TWX) movie fell just 45 percent from its first weekend domestically and only 29.5 percent in its third weekend. Last year's critically reviled "Batman v. Superman: Dawn of Justice," fell a staggering 69 percent in its second weekend.
As of Wednesday, the film has made $289.2 illion domestically and $312.4 million abroad for $601.6 million worldwide gross in three weeks.
Men Performing Poorly
It's been a disappointing summer at the domestic box office so far, with poor showings by star vehicles such as Tom Cruise's "The Mummy," Dwayne Johnson's "Baywatch," Johnny Depp's latest "Pirates of Caribbean" and Michael Fassbender's "Alien: Covenant," though "Mummy" and "Pirates" are recouping their big budgets overseas.
"Wonder Woman" is remarkable in that it was the first $100 million domestic opener for a woman director and shattered the imaginary glass ceiling for female superhero movies.
"I think this summer has made it clear that there are less true movie stars than people thought," Melissa Silverstein, founder and publisher of Women and Hollywood, told Variety. "But what it underscores for me is the consistent, persistent underestimation of women."
Even though it was made for a far smaller budget, "Wonder Woman" is on pace to pass 2013's "Man of Steel," which took in $668 million internationally and was the start of Time-Warner's efforts to create a shared universe like the stunningly successful superhero universe of rival Marvel Studios, which is owned by Walt Disney Co (NYSE: DIS).
The two installments that followed "Man of Steel" -- "Batman v. Superman" and "Suicide Squad" -- made money, but fell short of the $1 billion global standard set by Marvel's "The Avengers" franchise.
They were also critical failures, while "Wonder Woman's" reviews have been stellar. That, and great word-of-mouth, contributed to the movie's staying power.
As Forbes said in a recent headline, "'Wonder Woman' Box Office: She's Got Legs (And She Knows How to Use Them)."
Related Link:
'Cars 3' Takes Lead, But 'Wonder Woman' Stays Strong
Image Credit: "A statue of Wonder Woman with the film's poster behind it taken at Athens Metro Mall." By Panagiotis Zois - Own work, CC BY-SA 4.0, via Wikimedia Commons
Posted-In: disney Man of Steel Time Warner Wonder WomanNews Events Media Best of Benzinga
View Comments and Join the Discussion!